In a changing of the federal guard, Tom Frieden, MD, MPH, intends to submit his resignation as director of the Centers for Disease Control and Prevention (CDC) once President-elect Donald Trump is sworn in on January 20.
Appointed by President Barack Obama in 2009, the 56-year-old Dr Frieden has headed the CDC longer than any of his predecessors except for the late David Sencer, MD, who served from 1966 to 1977.
CDC directors have stayed on for a year or so in a new administration, as did Jeffrey Koplan, MD (1998-2002). Dr Frieden told Medscape Medical News that protocol, however, requires all federal appointees to submit their resignations when a new president takes charge.
"I would certainly consider it if they wanted me to stay on for some transition period," he said. The resignation, though, "will stand unless it is not accepted."
Dr Frieden said he is weighing options for life after the CDC, which he did not not disclose. However, public health remains his compass going forward.
"I've made every career move based on answering the simple question, 'How can I save the most lives?' " he said. "That's the question that will determine what I do next."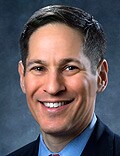 Looking at his tenure as CDC director, Dr Frieden said the agency answered the "most lives" question by helping Americans to be safer and healthier. The CDC did so not only by putting out infectious-disease fires such as Ebola but also by quietly strengthening the infrastructure of public health both here and abroad.
His colleagues in healthcare said Dr Frieden pursued his public health goals in an undaunted, driven, and science-minded fashion.
"The thing I notice about him is his courage," Donald Berwick, MD, a former administrator of the Centers for Medicare & Medicaid Services under Obama, told Medscape Medical News. "He really tries to do the right thing. He was always gracious, but fearless in defending the health of the American people.
"He's been one of the most effective leaders in bringing science to bear on public health. I'd love to see his work continue."
"He didn't run away from the tough issues that showed up on his watch," added Georges Benjamin, MD, director of the American Public Health Association (APHA). "When you compare him to other CDC directors, he will score favorably well."
"The Guy You Want in an Emergency"
Although his departure may be predictable, Dr Frieden leaves a job that is anything but that. He was immediately thrust into managing the nation's response to the global H1N1 influenza pandemic when he assumed his post on June 8, 2009. "We're faced with a situation of uncertainty," he told reporters 3 days later in the first of many briefings on the new strain of influenza, adding, "This is...nowhere near the severity of the 1918 pandemic."
He would reprise this role of explainer/calmer-in-chief with the Ebola and Zika outbreaks.
"As a public health physician, he had an enormously effective bedside manner," the APHA's Dr Benjamin told Medscape Medical News. "He's able to give people the bad news without making them overly concerned. At the same time, he gave them what they needed to know to make informed decisions.
"He is clearly the guy you want in an emergency."
Dr Frieden's stint as CDC director was his second go-around with the agency. He first served there from 1990 to 2002, making a name for himself in battling tuberculosis. He helped lead a campaign that stopped the spread of drug-resistant tuberculosis in New York City. As a CDC assignee to the World Health Organization for 5 years, he contributed to tuberculosis control efforts in India credited with saving 3 million lives.
From 2002 to 2009, he was director of the New York City Health Department, where he was instrumental in halving the teen smoking rate and reducing death from AIDS by 40%. He also spearheaded the city's efforts — in the face of considerable opposition — to ban smoking in bars and restaurants, and trans fats in chain restaurants.
The person who hired him, former New York City Mayor Michael Bloomberg, once said that Dr Frieden "has the single most important quality that you want in a public servant: fearlessness."
Another character trait is high intensity. Dr Frieden is notorious for racing down CDC hallways in Atlanta and setting too fast a pace for colleagues.
"One special assistant told me she had broken three sets of high heels trying to keep up with me in her first month," said Dr Frieden. "Then I found a special assistant who runs marathons, and we were fine."
Travels to West Africa and Dallas
Dr Frieden said that of all the CDC's accomplishments while he was director, the one affording him the most satisfaction was stifling the Ebola epidemic. The real challenge, he said, was defeating the virus in its West Africa epicenter.
"We ultimately had 4000 people working on the response, including 1400 who went to West Africa," said Dr Frieden, who also made the trip. "We went into every community where Ebola was spreading and did contact tracing, infection control, and support for clinical care. And with that, we stopped the epidemic." Without the CDC's leadership, it could have been a real global catastrophe.
Unlike West Africa, the United States was spared a massive death toll.
An imported case of Ebola in a Dallas hospital set off a near panic, but the virus went no further there than two nurses, who both recovered. CDC assistance played a big part in keeping the outbreak miniscule, said Zachary Thompson, director of the Dallas (Texas) County Department of Health and Human Services (DCHHS). His department and its state counterpart worked hand in glove with the CDC, Thompson said, thanks in part to the rapport that Dr Frieden had built with a get-to-know-you trip to the DCHHS the preceding year.
"It showed how much he valued local health departments," Thompson told Medscape Medical News. "It showed his leadership."
"We Doctors Tell Each Other Tough Things Sometimes"
To Dr Georges Benjamin at the APHA, Dr Frieden also displayed leadership by calling attention early on to the epidemic of opioid abuse. "He was one of the voices crying in the wilderness," said Dr Benjamin.
Dr Frieden rubbed many physicians the wrong way when he declared last year that the wave of prescription opioid overdoses was "doctor-driven." But doesn't the epidemic include street opioids, such as heroin and illicitly made fentanyl, some physicians asked. And weren't we told just a few years back, the argument went, that we were underprescribing opioid painkillers? We don't deserve the blame.
The CDC director counters that promiscuously prescribed painkillers have fueled the use of illegal opioids, thus connecting physicians to the entire epidemic, not just part of it. "Three quarters of the people using heroin started out on prescription opioids," Dr Frieden said.
He sympathizes with the perspective of physicians who feel whiplashed by drastic changes in pain management guidelines. Nevertheless, clinicians must do "a better job of managing pain and managing addiction," he said. "For most patients in chronic pain, opioids aren't worth it."
"It was difficult for physicians to hear that they played a role in the epidemic," noted Dr Benjamin. "But we doctors tell each other tough things sometimes."
"He Made a List and He Stuck to It"
CDC directors make headlines when they respond to emergencies such as the Zika outbreak. However, Dr Frieden also set an agenda early on to proactively and methodically tackle public health problems. He called it CDC Winnable Battles. There are six of them, each with its own objectives that were to be achieved by 2015 — tobacco, healthcare-associated infections, motor vehicle safety, teen pregnancy, HIV, and a broad category encompassing obesity, nutrition, physical activity, and food safety.
Some battles are being won, according to the CDC. As of April 2015, the nation was on track to reduce the percentage of adults who smoke by 17.5%. Likewise, the goal of reducing central line–associated blood stream infection in hospitals by 60% looked attainable. That doesn't appear to be the case, however, for reducing new HIV infections by 25%.
Carlos del Rio, MD, the immediate past chair of the HIV Medicine Association, said that Dr Frieden pursued Winnable Battles despite naysayers who contended that the goals were too ambitious. Win some, lose some, but "he made a list and he stuck to it," said Dr del Rio, who teaches at the Emory University School of Medicine.
Another pet project of Dr Frieden's, one with a longer timeline, was expanding a pilot project launched during the Bush administration. The Public Health Associate Program (PHAP) places early-career public health professionals in state and local agencies for 2 years of hands-on training in work such as finding and stopping infectious disease outbreaks. Roughly 350 trainees are in PHAP now, and alumni number close to 1000.
"That program will be protecting Americans for the next several decades," said Dr Frieden. "The people who graduate are rejuvenating the field of public health."
During the Ebola and Zika outbreaks, Dr Frieden often remarked that the United States was only one airline flight away from a virus ravaging another country. Accordingly, the CDC has played a leading role in an Obama administration initiative called the Global Health Security Agenda (GHSA), designed to stamp out and prevent infectious diseases before they get on a US-bound airplane.
GHSA grades participating nations — about 70 so far — on the progress they've made in public health preparedness, whether it's achieving high immunization rates, preventing antimicrobial resistance, fielding enough personnel, or operating a robust laboratory system. The US lends a hand in helping other nations improve their scores in what Dr Frieden calls an "accountability framework."
"That kind of system didn't exist before," he said. "It exists now. Americans are safer."
Advice for His Successor
In February 2016, President Obama asked Congress for $1.9 billion in emergency funding — much of it intended for the CDC — to battle the Zika virus, which was beginning to come ashore from Latin America. Lawmakers took more than 7 months before they authorized $1.1 billion.
That snail's pace of the federal government, said Dr Frieden, was one of the most frustrating aspects of running the CDC.
"It's very hard to get the government to move as quickly as needed," he said. "That's one of the reasons why a future Congress needs to approve a rapid response fund (for disease outbreaks) so if there is an emergency, we don't have to wait."
Red tape on spending emergency funds needs to disappear as well, he said. "Even when we got the Ebola dollars, it took on average 6 months to get contracts written, and months to hire staff.
"We need to work within hours and days, not months."
There's speculation in some quarters that Dr Frieden, not a man given to small talk, perhaps could have slowed down and schmoozed lawmakers to secure the appropriations needed by his agency. For his part, Dr Frieden said he enjoyed comfortable relations with members of Congress, whom he described as harboring "enormous respect" for the agency.
"More often than not," said Dr Frieden, "when I visit a congressman or senator, they say, 'Can I get a picture with you so we can put it in the newsletter to show the folks back home?' "
Enormous respect doesn't necessarily translate into adequate funding. The CDC is like a highway or water treatment plan — an infrastructure that often gets overlooked until it doesn't work, according to Dr Frieden.
"When we're the most successful, the public isn't aware of what we do," he said. One example is Middle East Respiratory Syndrome (MERS), which put the nation on guard a few years back.
"Remember that huge MERS outbreak in the United States?" he asked. "No. Because it didn't happen!
"We helped hospitals rapidly diagnose and effectively control the virus. We had a couple of MERS cases. It didn't spread."
Controlling and preventing disease, the stated mission of the agency, is a 24/7 enterprise, Dr Frieden said. That's one of the first pieces of advice he offers to his successor — yet unnamed — to the director's post. Get used to boarding airplanes.
The director also must be an effective communicator, especially during a public health crisis, he said. "As I have always tried to do, you have to level with the public and tell them what you know, when you know it."
Then there is the overarching principle of formulating policy that always seeks to maximize health in light of the best science. To that end, scientific independence "has to be preserved."
"Scientific independence" have become fighting words, as critics of the incoming Trump administration fear that the new administration will discount science — such as climate-change science — in the pursuit of its economic agenda.
"I don't think we should ever take it for granted," Dr Frieden said about scientific independence. "Like freedom, you always have to guard it."
Follow Robert Lowes on Twitter @LowesRobert
Medscape Medical News © 2017 WebMD, LLC

Send comments and news tips to news@medscape.net.
Cite this: CDC's Tom Frieden, MD, Looks Back on the Work of Saving Lives - Medscape - Jan 06, 2017.