HOUSTON — Researchers may have identified a common pathologic lesion in many patients with post-stroke epilepsy (PSE).
Their study also showed that lesion size and a patient's age may be other factors affecting risk for PSE.
The study was presented here by lead author Beate Diehl, MD, PhD, reader, University College London Institute of Neurology, United Kingdom, at the American Epilepsy Society (AES) 2016 Annual Meeting.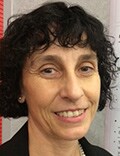 The analysis included 450 stroke survivors from an existing database — Predicting Language Outcome and Recovery After Stroke (PLORAS) — that contains high-resolution MRI scans. None of the study patients had a history of epilepsy before their stroke.
Of the total, 369 patients had sustained a left hemispheric stroke (LHS), of whom 11.4% had PSE, and 81 had a right hemispheric stroke, 11.1% of these with PSE.
Those with and without PSE were similar regarding sex and handedness.
Size Matters
Looking at the size of the lesion, investigators found that patients with PSE had significantly larger lesions than those without PSE (148 cm vs 73 cm; P < .0001).
"We found that lesion size clearly matters," said Dr Diehl.
When examining mapping of the lesion location, the researchers found that one particular region, which "fits in the periventricular area, but also touches on the parahippocampal gyrus," seemed to be important, said Dr Diehl.
The parahippocampal gyrus is a gray matter cortical region of the brain that surrounds the hippocampus.
Of the 42 patients with LHS who had damage in that region, 27 (64%) developed PSE. However, 55 of 327 (17%) of patients with LHS who didn't develop epilepsy also had damage in that region.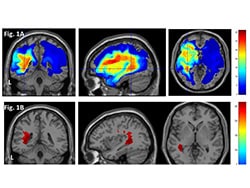 "If you look at all the patients who had damage to this region, 33% of them then had post-stroke epilepsy," said Dr Diehl.
It's not entirely clear why lesions in this region make some patients more susceptible to epilepsy, she said. "You could obviously speculate that perhaps the proximity to the parahippocampal gyrus and to the hippocampus might play a role, but I don't think this study can determine that."
She also stressed that not all patients experiencing damage in this region developed epilepsy.
"So it's not a super-specific finding," she said. "Location likely has some importance, but lesion size is probably the most important factor."
Age Risks
Researchers also looked at patient age. They found that patients with PSE were significantly younger than those without PSE (44 vs 56 years; P < .0001).
Age is "a little bit speculative" as a risk factor, noted Dr Diehl. "Younger patients tend to have bigger strokes, so we think that if you're younger and have bigger stroke, you're definitely at higher risk."
The two factors — younger age and bigger strokes — often "go hand in hand," she added.
"If you have someone with a really big lesion who is younger, you should have a really low index of suspicion that they might have seizures."
This new information could be important down the road, when a therapy to prevent epileptogenesis is identified. At that time, those at risk of developing epilepsy "would be the kind of population you might want to offer such a drug to," said Dr Diehl.
"However, that is the future because we don't, at this point, have a robust way of preventing epileptogenesis; we don't have the right drugs."
Common Lesion
For comment, Medscape Medical News approached Michael R. Sperling, MD, Baldwin Keyes Professor of Neurology, and director, Jefferson Comprehensive Epilepsy Center, Thomas Jefferson University, Philadelphia, Pennsylvania.
The finding of larger lesions having a greater association with stroke isn't new, noted Dr Sperling.
"The interesting aspect of this report is the attempt to uncover a common pathological lesion underlying post-stroke seizures. The areas mapped as common are in the deep gray matter, including basal ganglia and thalamus."
These structures, said Dr Sperling, have been implicated in the regulation of cortical excitability, particularly thalamus and caudate nucleus. "Neurons in these areas participate in modulation of cortical neuronal firing and, in the case of the thalamus, in feedback loops with layer 5, which contains pyramidal cells, in the cortex."
Why some people get seizures after a stroke while others don't remains a mystery, Dr Sperling agreed.
"A better understanding of the pathophysiology and anatomic derangements underlying post-stroke seizures could lead to novel interventions that might either prevent seizure development or inhibit seizure occurrence after a brain area becomes epileptic."
Stroke is the cause of epilepsy in up to 45% of patients older than age 60 years.
The study was supported by Epilepsy Research UK and the National Institute for Health Research University College London Hospitals Biomedical Research Center.
American Epilepsy Society (AES) 2016 Annual Meeting. Poster 1.008. Presented December 3, 2016.
For more Medscape Neurology news, join us on Facebook and Twitter
Medscape Medical News © 2017 WebMD, LLC

Send comments and news tips to news@medscape.net.
Cite this: Specific Brain Lesion Linked to Post-Stroke Epilepsy - Medscape - Jan 05, 2017.