Physician Burnout
The current Medscape survey once again asked about burnout among US physicians, which is defined in this and other major studies as a loss of enthusiasm for work, feelings of cynicism, and a low sense of personal accomplishment.[5] In this year's report, 51% of all physician respondents reported being burned out, up from 40% in 2013, the first year that Medscape asked this question. A recent major survey supports these findings, reporting that burnout and satisfaction with work-life balance had worsened between 2011 and 2014, with more than half of physicians reporting burnout.[6]
The highest percentages of burnout in Medscape respondents occurred among physicians practicing emergency medicine (59%), followed by ob/gyns (56%) and family physicians, internists, and infectious disease physicians (55% for all). The top four are all physicians who deal directly with patients with a range of complex problems. In Medscape's 2015 and 2016 reports, emergency medicine physicians, family physicians, and internists were also within the top five. Not surprisingly, other research has found high burnout rates in these three specialties.[5,7,8]
Who Is Susceptible to Burnout?
Burnout and race/ethnicity. The survey showed some association between ethnicity and burnout, with a range between 46% (Asian Indian) and 56% (Chinese). Of white/Caucasian physicians, 52% reported burnout, slightly above the median. Hispanic/Latino (51%) and black/African American (48%) physicians were slightly less burned out (Figure 1).
A 2007 study of ethnicity and burnout in medical students found that 47% of students experienced burnout, but the rate was lower among minorities than non-minorities.[9] The authors posited that minority students might have had life experiences that made them more resilient than their non-minority peers. Notably, however, minority students who had adverse experiences during medical school due to their race had a higher burnout rate than their minority peers who did not have these experiences.
A 2007 analysis of data from the American Medical Association (AMA) looked at the relationship between physician race and stress and found that Hispanic/Latino—and, to a lesser degree, black/African American—physicians reported higher work satisfaction levels than their white peers. They also reported no difference in stress levels than their white peers, although, in general, minority physicians faced a more demanding patient base than white physicians. Asian and Pacific Islanders averaged higher stress than white physicians.[10]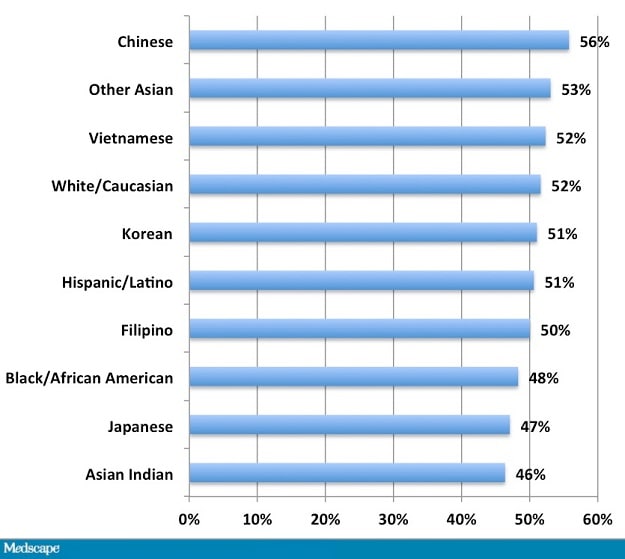 Figure 1. Race/ethnicity and burnout.
Burnout and gender. In this year's report, as in prior reports, burnout among all physicians was noted by a higher percentage of female physicians (55%) compared with their male peers (45%). Percentages have trended up for both men and women since this question was first asked by Medscape in 2013. That year, 45% of women and 37% of men reported burnout. However, burnout appears to be leveling off in both women and men. In last year's report burnout rates were the same in women (55%) and nearly the same in men (46%).
Medscape Business of Medicine © 2017 WebMD, LLC

Any views expressed above are the author's own and do not necessarily reflect the views of WebMD or Medscape.
Cite this: Carol Peckham. Bias, Burnout, Race: What Physicians Told Us About the Issues - Medscape - Jan 10, 2017.