SAN ANTONIO – The first-ever randomized clinical trial of a modern scalp cooling device to prevent hair loss from chemotherapy has found that the device is "highly effective" and tolerable, reported investigators here at the San Antonio Breast Cancer Symposium (SABCS) 2016.
But the degree of efficacy was questioned at the meeting because the study's primary endpoint, hair preservation, was assessed after only four cycles of chemotherapy, which means for participants who received longer regimens, later hair loss might not have been recorded.
Lead author Julie Nangia, MD, of the Baylor College of Medicine in Houston, acknowledged that the new data were from an interim analysis from the Scalp Cooling Alopecia Prevention Trial (SCALP). She said more data were forthcoming.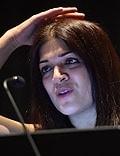 The studied device, known as the Orbis Paxman Hair Loss Prevention System, consists of a compact floor-based refrigeration unit that circulates coolant via a tube into a silicone rubber cap that is placed on the head and is adjusted for a tight fit.
In the study, scalp-cooling was done 30 minutes prior to, during, and 90 minutes after each chemotherapy session.
"The fit of the cap is key — if you have any gaps, you have hair loss," Dr Nangia told reporters at a press conference here.
The threat of hair loss can lead to less-than-optimal treatment for breast cancer patients, said an expert.
"The whole side effect of hair loss, even though it is transient, is an obstacle to chemotherapy," observed Marissa Weiss, MD, of breastcancer.org. Dr Weiss is a radiation oncologist from Philadelphia who attended the meeting press conference.
"There have been studies that indicate women dread hair loss more than mastectomy," she commented.
In the new study, 50.5% of the 95 patients randomly allocated to receive the cooling intervention had "success," in comparison with 0% of the 47 patients who did not receive the intervention (P < .0001).
Success was defined as either no hair loss (grade 0) or loss of up to 50% (grade 1). Thus, patients who had more than 50% loss (grade 2) did not meet the criterion for success.
Dr Nangia did not specify what percentage of the successful patients had no hair loss vs some hair loss.
The trial, which took place at seven US centers, had intended to enroll 235 patients, but the trial was stopped early after a planned interim analysis of 142 patients showed the results surpassed the superiority boundary.
All of the participants were women with stage I-II breast cancer who had received at least four cycles of neoadjuvant or adjuvant anthracycline- or taxane-based chemotherapy.
The study design rankled Steven Vogl, MD, a medical oncologist in private practice in New York City.
He was upset that the primary outcome of hair preservation was assessed after only four cycles of chemotherapy.
Dr Vogl observed that in past studies of other scalp cooling techniques, there was also evidence of efficacy — "they decreased alopecia." But he also said that the chemotherapy "caught up with you," meaning that in the studies, after each successive chemotherapy cycle, fewer and fewer patients retained their hair. Eventually, patients experienced baldness. "So they were just bald later," said Dr Vogl.
He suggested that the current study may not have included data for all the hair loss experienced by those patients who received eight cycles of chemotherapy, which would have been the case for those who received taxanes.
"It doesn't matter how fast it comes out, it matters whether it is out or not," said Dr Vogl regarding the fact that primary endpoint was assessed after only four cycles.
Dr Nangia countered that the interim analysis was conducted after four cycles of chemotherapy but that a final analysis will follow.
Dr Nangia told Medscape Medical News that she expects some drop in the rate of hair preservation in the final analysis. But she expected that the study would continue to indicate significant efficacy.
In the current interim analysis, the type of chemotherapy was a key to the success of hair preservation.
In the group of patients who received the cooling therapy, 65% of those patients who received taxane-based chemotherapy had success, in comparison with only 21.9% of the patients who received anthracyclines (P < .0001).
Dr Nangia said that she expects that whatever drop in rate of hair preservation that might come to light in the final analysis would mainly be due to the data on women treated with taxanes followed by anthracyclines.
Scalp cooling, in various product manifestations — including ice and cryogel packs, such as the Penguin Cap — is applied during chemotherapy infusion and is a clinically tested method for reducing hair loss; in fact, studies date back as far as the 1970s.
Scalp cooling causes blood vessel vasoconstriction, which reduces blood flow and chemotherapy distribution to the chilled area. It is theorized that this reduces hair follicle cell destruction.
The cold can be too much for some patients.
In the current study, headache was the most common side effect, with 10% to 11% of patients reporting it at cycles 1 and 2. Notably, the percentage dropped at cycles 3 and 4.
Overall, the intervention was well tolerated; the patients most commonly reported it to be "reasonably comfortable." Only a handful of patients reported the scalp cooling device as "very uncomfortable," and after each cycle, 11.9% to 16.7% reported the process to be "very comfortable."
Dr Nangia said scalp cooling technology has been slower to catch on in the United States than in Europe, in part owing to concerns over cost and potential metastasis to the scalp. In December 2015, the US Food and Drug Administration (FDA) gave clearance to DigniCap, a scalp-cooling system made by Dignitana Inc, which has not been studied in a randomized controlled trial.
The Orbis Paxman Hair Loss Prevention System has been submitted for FDA clearance, according to press materials.
Dr Nangia also addressed the concern about scalp metastases.
She said a literature review of European studies indicated that single-site scalp metastasis is "extremely rare"; when metastasis does occur, it usually involves multiple metastases. These other studies, which include thousands of patients, indicate that there is not an increased risk for recurrences of scalp metastases.
The SCALP trial will help inform this literature. Participants will be followed for 5 years after the conclusion of the study to assess time to first recurrence, overall survival, site of first recurrence, and incidence of isolated scalp metastasis.
The story of the development of the Orbis Paxman Hair Loss Prevention System is one of family loss combined with family technical skill and was reported by Medscape Medical News earlier this year.
This study was funded by Paxman Cooling. Dr Nangia has disclosed no relevant financial relationships.
San Antonio Breast Cancer Symposium (SABCS) 2016. Abstract S5-02. Presented December 9, 2016.
Follow Medscape senior journalist Nick Mulcahy on Twitter: @MulcahyNick
For more from Medscape Oncology, follow us on Twitter: @MedscapeOnc
Medscape Medical News © 2016 WebMD, LLC

Send comments and news tips to news@medscape.net.
Cite this: First-Ever RCT: Cold Cap Works for Chemo Hair Loss - Medscape - Dec 09, 2016.