Measuring brain activity in high-functioning older individuals while they perform a cognitively demanding walking-and-talking task may help predict their risk for falls, new brain imaging research suggests.
A cohort study of 166 participants older than 64 years of age and deemed cognitively normal underwent functional near-infrared spectroscopy (fNIRS). Those who showed high levels of activation in the prefrontal cortex while undergoing the dual-task condition had a significantly higher adjusted risk for falls over almost 3 years of follow-up compared with those with lower prefrontal cortical activation.
In fact, each 1-unit increase in prefrontal activation intensity during the task was linked to a 32% increased fall risk.
In addition, these results "remained robust after accounting for multiple confounders and for cognitive status, slow gait, previous falls, and frailty," report the investigators, led by Joe Verghese, MBBS, professor of neurology and medicine at the Albert Einstein College of Medicine, Bronx, New York.
Dr Verghese told Medscape Medical News that the results suggest these brain activity changes may occur before more common physical symptoms, such as gait disturbances.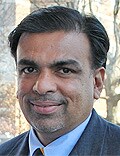 "Brain activity levels while these high-functioning older adults were attempting to do the challenging task turned out to be significant predictors for falls and may precede the clinical changes that are associated with falls," he said.
"A lot of older people have mental and physical reserves. But this type of test can put a strain on your cognitive reserves to the point where abnormalities start appearing."
Although the results need to be validated before any recommendations can be made for clinical practice, if that happens, "this test could be used in high-functioning older people to determine fall risk," said Dr Verghese. "Even though they may be high-functioning today, the nature of aging is that it is accompanied by decline. And I'm sure they would like to know if they are in the early stages of risk."
The findings were published online December 7 in Neurology.
Falls Help Determine Mobility, Independence
"Falls are often the deciding event whether somebody is going to live successfully in the community or if they're on a downward track towards decreased mobility and loss of independence," said Dr Verghese.
"And they're associated with a lot of bad outcomes, such as head injuries. So there are many reasons why it's important to understand what causes falls, to identify those who are at risk of falling, and to find preventive strategies," he added.
The investigators examined 166 participants (51% women; mean age, 75 years) in the Central Control of Mobility in Aging study. All were found to have no dementia or disability at baseline, had a normal gait, and underwent baseline fNIRS between June 2011 and December 2013.
Further measures of fNIRS were conducted to assess oxygenated hemoglobin level changes in the prefrontal cortex while the participants only walked at a normal pace, only recited alternate letters of the alphabet, and then did both at the same time.
A total of 116 falls were self-reported by 71 participants over 33.9 months of follow-up (+11.9 months), and 5.2% of the falls resulted in fractures.
After adjustment for age, sex, education, and comorbidities, the risk for falls was higher for the participants with higher levels of prefrontal cortical activation during the walking-and-talking task (hazard ratio [HR] corresponding to 1-unit increase in oxygenation level, 1.32; 95% confidence interval, 1.03 - 1.70).
"Important Insights" Into Aging
Although older age and being a woman were also both predictors of falls (adjusted HRs, 1.04 and 2.05, respectively), these factors were not significantly associated with activation levels during the dual task.
In addition, no associations were found between falls and brain activity levels during the walking-only or talking-only tasks.
"This group of high-functioning adults was performing at such a high level that activation during just the single tasks didn't predict falls. But if you put the two tasks together, it becomes more challenging and the brain has to work harder," said Dr Verghese.
Overall, the results show that older individuals at risk for falls "have alterations in brain activity patterns without obvious behavioral manifestations, which can be used to assess fall risk and to implicate neural processes early in the pathogenesis of falls," write the researchers.
However, they note that more studies are needed to understand the mechanisms behind these processes.
Dr Verghese said that in addition to helping to identify people at risk for falls, if validated, the results might also be used to identify novel interventions to reduce or even prevent falls.
"That's certainly one of the next steps that we need to explore," he said. "The whole area of exploring how the brain affects physical function is giving us important insights into the diseases of aging."
The study was funded by grants from the National Institute on Aging and an intramural grant from the Resnick Gerontology Center at the Albert Einstein College of Medicine. Dr Verghese and 3 of the other 4 authors have disclosed no relevant financial relationships. One author reports having "a very minor share" in the company that manufacturers the fNIRS device used in this study.
Neurology. Published online December 7, 2016. Abstract
Follow Deborah Brauser on Twitter: @MedscapeDeb. For more Medscape Neurology news, join us on Facebook and Twitter
Medscape Medical News © 2016 WebMD, LLC

Send comments and news tips to news@medscape.net.
Cite this: Measuring Brain Activity During Walk-Talk Task May Predict Falls in Elderly - Medscape - Dec 09, 2016.