The "cancer moonshot" unveiled by President Barack Obama and spearheaded by Vice President Joe Biden has spurred some controversy because it would direct $1 billion toward curing cancer, raising the question of whether that money wouldn't be better spent on cancer prevention. In fact, a prestigious group of health experts expressed that very concern in a letter to Biden earlier this year. Still, a "blue ribbon panel" recently issued recommendations for the program that included only one aimed at reducing cancer risk.
So, what's the current state of cancer prevention efforts? Medscape and WebMD recently surveyed both primary care practitioners (PCPs) and consumers to get a better idea. We asked PCPs which prevention strategies they are implementing in practice—and which ones they personally adhere to. We also asked consumers about their experience with their own healthcare providers.
What we learned was surprising.
Do You Hear What I Hear?
The majority of Medscape respondents were physicians (n = 574), but physician assistants (n = 80) and nurse practitioners (n = 80) also shared their views. Specialties included in the survey were family medicine (n = 361), internal medicine (n = 233), and obstetrics/gynecology (n = 160).
Most PCPs (71%) said they initiate discussions about reducing cancer risk with all of their patients, and 90% said they discuss the patient's family history of cancer. In the consumer survey, however, only 27% of patients reported that their PCP initiated a discussion about risk reduction, and only 57% said their PCPs had ever asked about family history.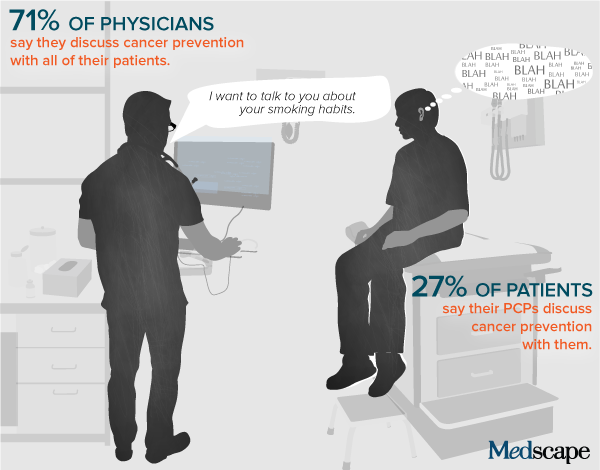 Some of the most notable areas of divergence are seen in the Table.
Table. Results From Medscape/WebMD Cancer Risk Reduction Survey
 
Patients say
PCPs
discuss:
PCPs
say they
discuss:
Difference
Family history of cancer
57%
90%
-33%
Smoking cessation
49%
96%
-47%
Limiting alcohol
44%
70%
-26%

Why the disconnect? Some possible explanations seem obvious. For example, clinicians rightly view a discussion about weight reduction as a multipronged intervention that reduces risk for a myriad of obesity-related diseases, including cancer. Patients, however, may not view this as a cancer prevention talk.
What other explanations might there be?
Medscape Family Medicine © 2016  WebMD, LLC

Any views expressed above are the author's own and do not necessarily reflect the views of WebMD or Medscape.
Cite this: Do You Hear What I Hear? Physician-Patient Disconnect on Cancer Prevention - Medscape - Dec 13, 2016.