Physicians in the United States are generally ill-equipped to identify victims of human trafficking when they encounter them in their practices, and they are often unaware of the prevalence of the problem.
"The US State Department estimates that, in this country, we've only managed to identify 1% of the people trafficked here. Human trafficking is a hidden crime and we are not the best detectives," said Susie Baldwin, MD, MPH, from the Department of Public Health in Los Angeles County, who is president of the board of directors of HEAL Trafficking, an organization dedicated to ending human trafficking.
Physicians are generally not trained to address issues of physical, sexual, or psychologic abuse with their patients, she explained.
"Many of us don't ask our patients about exposure to violence or coercion because we don't know how to or we don't know where to refer them if someone admits to us they need help. Also, frankly, sometimes we don't ask simply because we don't have time," she said at TEDMED 2016 in Palm Springs, California.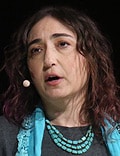 Around the world, there are 20.9 million people who are currently victims of human trafficking, according to the United Nations International Labour Organization.
In a previous survey, less than 10% of nearly 500 pediatric residents reported that they might have encountered a human trafficking victim, and only 20% said they would know what steps to take if they did (J Pediatr Adolesc Gynecol. 2014;27:e45).
People trafficked in the United States defy stereotypes. They are male, female, transgender, adults, children, and come from every religious group and ethnic background in the world, Dr Baldwin reported.
Trafficking can involve a wide range of exploitation and coercion, from forced work and debt bondage to sexual slavery. The nature of the situations victims are in often brings them to emergency departments and doctors' offices.
Physicians must learn to engage patients so that they feel comfortable opening up, she said. That might not happen on the first visit, but the talk could open a door for the victim to reach out to a physician or someone else down the road.
And "we can familiarize ourselves with the resources in our communities that support trafficked people on their journey toward healthier lives," she said.
One number to know is the National Human Trafficking Hotline (1-888-373-7888), which is a toll-free hotline that takes calls from anywhere in the United States around the clock in more than 200 languages. The mission of the hotline is to connect human trafficking victims and survivors with support and services.
In addition, the Office on Trafficking in Persons, which is part of the Department of Health and Human Services, provides resources for healthcare professionals.
Signs of Trouble
A video on the website of Physicians Against the Trafficking of Humans (PATH) shows recovering victims of trafficking talking about their experiences and physicians talking about what to look for and what questions to ask, said Suzanne Leonard Harrison, MD, professor of family medicine and rural health at the Florida State University College of Medicine in Tallahassee, who is a cochair of PATH.
Organizations such as PATH were created because "people don't see this as a domestic problem; they see it as an international problem," she told Medscape Medical News.
Sometimes clues that someone is being controlled by another person come out in conversation. Sometimes the conversation can sound scripted, and when you ask victims something they aren't prepared for, they can't answer. Details of their story might not add up.
"It's the process of building that rapport and getting the patient to trust you that allows you to recognize some of these things," Dr Harrison explained.
Some trafficking victims are branded, and tattoos that look more like labels than designs can be a clue. In Florida, she said, they are starting to see people with radio-frequency identification chips implanted under the skin.
Trafficking victims might be afraid of losing a job they hate, have injuries in unusual places, or be malnourished. They might also pay with cash, she said.
In cases of labor trafficking, people can have injuries that should have received attention much earlier. Abused workers often put off seeking care because of fears about losing a job or getting deported, she added.
But identifying and tracking numbers on human trafficking is difficult.
The Mount Sinai Human Rights Clinic in New York City is helping to educate medical students and providers about trafficking, said clinic director Elizabeth Singer, MD, MPH.
She reported that her team is also working to develop a screening tool to identify trafficked patients that is shorter than the current Trafficking Victim Identification Tool, which was developed by the Vera Institute of Justice in New York City and takes about an hour to complete.
If the shorter tool is validated, it could help pin down the prevalence of human trafficking, she said.
Dr Baldwin, Dr Harrison, and Dr Singer have disclosed no relevant financial relationships.
TEDMED 2016. Presented November 30, 2016.
Medscape Medical News © 2016 WebMD, LLC

Send comments and news tips to news@medscape.net.
Cite this: Physicians Missing Clues That Patients Are Being Trafficked - Medscape - Dec 05, 2016.