Case Presentation
A 24-year-old man presents to the trauma unit following a motorcycle accident, with obvious deformity of his right hand. He was wearing a helmet at the time of injury and arrived alert and oriented, with a Glasgow coma score of 15. The patient reported only right hand and foot pain; review of systems was otherwise negative. On exam, his right hand showed edema and deformity at the level of the wrist, but all compartments were soft and there were no neurovascular deficits. The patient had very minimal active flexion and extension of all digits secondary to pain and swelling.
Imaging of the right hand and wrist demonstrated fourth distal phalanx tuft fracture, fourth metacarpal midshaft fracture, first metacarpal base comminuted Rolando fracture, fifth metacarpal neck and base fracture, fracture of scaphoid and hamate, radial styloid fracture, and dorsal dislocation of the 2-5 carpometacarpal joints (Figure 1). Trauma workup was negative with the exception of multiple closed fractures of the right foot.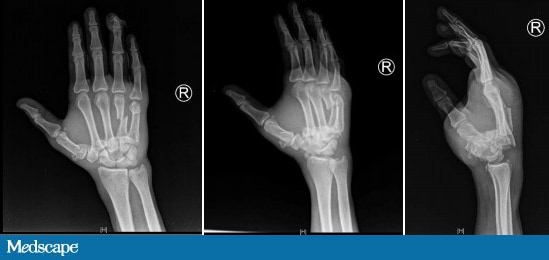 Medscape Plastic Surgery © 2016  WebMD, LLC

Any views expressed above are the author's own and do not necessarily reflect the views of WebMD or Medscape.
Cite this: Case Challenge: How Would You Treat This Hand Deformity? - Medscape - Dec 02, 2016.