LAS VEGAS — Philip Katz, MD, woke up feeling healthy, as usual. The 6′ 3″, 195-pound, 60-year-old gastroenterologist had never spent a night in the hospital as a patient, had no remarkable recent medical history, and took no medications except a statin to manage hypercholesterolemia.
But that evening, October 4, 2013, he had a cardiac arrest. In an instant, Dr Katz had become a patient. He was in the cardiac catheterization lab 45 minutes after the emergency medical technicians arrived.
"My view from the other side of the bed has given me insight into a part of medicine that I'd never experienced," Dr Katz said during the David Graham Lecture he delivered here at the American College of Gastroenterology (ACG) 2016 Annual Scientific Meeting. "Can it make you a better doctor? Probably. I believe I am. But I wouldn't recommend this as a way to become a better doctor, not in the least."
Dr Katz had a total occlusion in his left anterior descending coronary artery from a ruptured plaque. "I arrived at the ER with a pulse and blood pressure that I'm told went in and out quite frequently," he explained. He developed flash pulmonary edema and required a balloon pump and extracorporeal membrane oxygenation. Two stents were placed to keep the artery open.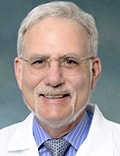 Ten days after admission, Dr Katz awoke from his coma. "I was lost, confused, unsure, perplexed, disoriented, and bewildered. The simple thought I had when I opened my eyes was, 'Why did this happen to me?'"
During his hospitalization, Dr Katz was not passing feces. And although every clinician who took care of him was unbelievably attentive and thorough, he was not getting better. "What do you do when you don't have full confidence in the people taking care of you and the expertise you think you need is not available, even if you know everybody is doing the best they can?" he asked. A surgeon at the local hospital suggested surgery.
"I couldn't figure out what to do," said Dr Katz, who is chair of gastroenterology at the Einstein Medical Center in Philadelphia.
He explained that he sought a second surgical opinion from an academic, well-respected colorectal surgeon "with a surprisingly good bedside manner." By this point, Dr Katz had lost approximately 50 pounds. The surgeon recommended he not undergo a primary repair for multiple reasons, "not the least of which was that I probably didn't realize what I looked like and how risky it would have been to have even a major laparoscopic operation at that point." Dr Katz reluctantly agreed to have a temporary ileostomy.
"I finally had a normal meal on Thanksgiving," he reported, which was "55 days from the time I arrested."
After being discharged home, the ileostomy bled and became obstructed. One option was to be taken care of by the local surgeon, the same one Dr Katz initially chose who recommended surgery. Another choice was to travel out of state. "Any of you tried to call a physician who is not near you for help?" he asked. "It's not easy, and it shouldn't be. We're busy and we can't be available all the time."
"I kept that in mind going forward. I have a referral population of patients who come from distances. Communication between doctors and between doctors and patients is obviously key in this situation."
Dr Katz regained 20 pounds and had the ileostomy removed at 3 months. Although the surgical intensive care unit is "a scary place," the nurses were incredible, he said. He was slow to pass flatus, liquids did not work well, and he developed bad abdominal pain after a few days. He returned to the operating room for an intra-abdominal hernia with suspected incarcerated bowel.
"This time, it was the surgeon on call because it was a holiday weekend. The on-call surgeon did a phenomenal job," he explained. "The lesson here is trust your colleagues, trust the people who take care of you to have good backup, and everything will work out alright."
Recovery from his open laparotomy small bowel resection involved "home nurses, minimal activity, and too much Dilaudid." Then he developed a fecal impaction and was back in the hospital again.
"I finally healed and, in early April, hit my first golf ball. I thought that was the end of my travail," Dr Katz explained. But when he traveled to Ireland in June 2014, he experienced a gastrointestinal bleed as he walked off the plane. He went to a hospital, got infused, received intravenous iron, and "finally was all good."
I actually think I'm alive because of everything good about our profession.
"It took 8 months to recover and become some element of normal," he reported.
"I actually think I'm alive because of everything good about our profession. I believe I am the beneficiary of everyone doing their best. To me, that's our obligation every day — to be our best, no matter how freaking hard our job is," Dr Katz said. "That's why I'm here. That's why I'm alive."
Lessons Learned
For physician-patients, access to information, consultation, personal test results, and options from other colleagues "is obviously difficult" to manage, Dr Katz said. "It's hard to maintain boundaries in relationships with colleagues, physicians, and friends."
And physicians should not "make assumptions about patient knowledge and health behaviors. Acknowledge the physician's background and negotiate care, but then treat him or her like any other patient," Dr Katz advised. "It's difficult, challenging, and I believe imperative to treat us as you would any other patient."
I think I'm a hell of a good doctor but I found it difficult taking care of myself.
"I think I'm a hell of a good doctor, but I found it difficult taking care of myself."
"It's nice to be taken care of by someone you know and trust. I recommend, if you need a physician, that you find someone you have confidence in. It may be difficult for them, but my bias is that it's better for you as a patient," especially if the patient knows something about the area.
"There are also issues related to what I call the niceties," Dr Katz said. Examples are charting at the bedside instead of at the nurses' station, asking patients if they have any questions at the end of each interaction, acknowledging when you keep patients waiting, and providing information about the medical decision-making process.
"Patients do care about our interpersonal skills, but they also care about our doctor skills," said Dr Katz. He added that clinical skills come through better when interpersonal skills complement physician knowledge.
"Communication about why we do the things we do will overcome many of these issues," he explained. "Every time someone talked to me, it was helpful."
"Finally, I would ask you to understand and communicate in the best way you can with your patients. Validate their feelings and validate their illness. Be with them. Be empathetic if you can."
Live life to the fullest, have no regrets, work your butts off, and enjoy your profession.
Part of recovery for any patient, including a physician-turned-patient, is adapting to a new reality. "Am I 'completely recovered'? I'm normal with minor exceptions, but it still feels lousy to have those exceptions," Dr Katz said. "It helps me, in taking care of my patients, to understand that."
"I think it's really important for all of us to see things from both sides," said Kenneth DeVault, MD, from the Mayo Clinic in Jacksonville, Florida, who is immediate past president of the ACG and who selected Dr Katz to deliver the lecture on this topic.
"If you have a real bucket list, do it when you can," said Dr Katz. "You can always make another one. There's no rule about only having one. Live life to the fullest, have no regrets, work your butts off, and enjoy your profession."
Dr Katz's lecture ended with a standing ovation from the audience.
Dr Katz is a consultant for Pfizer Consumer Health and Torax. Dr DeVault has disclosed no relevant financial relationships.
American College of Gastroenterology (ACG) 2016 Annual Scientific Meeting. Presented October 19, 2016.
Medscape Medical News © 2016 WebMD, LLC

Send comments and news tips to news@medscape.net.
Cite this: Surprising Lessons Learned by a Physician-Turned-Patient - Medscape - Nov 15, 2016.