NEW ORLEANS, LA — Contrary to conventional wisdom, there was no improvement in 5-year outcomes using bilateral vs single internal mammary artery (IMA) grafts in patients with symptomatic CAD, according to an interim report from the Arterial Revascularization Trial   (ART)[1].
All-cause mortality was 8.7% with bilateral IMA and 8.4% with single left IMA plus vein grafts (hazard ratio [HR] 1.04; P=0.77).
The composite of death, MI, or stroke at 5 years was also similar (12.2% vs 12.7%, HR 0.96; P=0.69), as were rates of repeat revascularization and angina, according to data reported here at the American Heart Association 2016 Scientific Sessions and   simultaneously published online in the    New England Journal of Medicine.
Principal investigator Dr David Taggart (University of Oxford, UK) told     heartwire from Medscape that the results are somewhat surprising, but "at     this stage, for people who believe in arterial grafts because of the very convincing angiographic data, they're not going to stop doing them."
He noted that the trial was designed for a 10-year primary mortality outcome to be reported in 2018 and the lack of a benefit signal at 5 years "might just     be as simple as the fact that the medical therapy is so strong and good that vein grafts are not failing as quickly as they used to."
Indeed, aspirin and statins were being used by 89% of patients at 5 years, ACE inhibitors/angiotensin receptor blockers by 73%, and beta-blockers by 75%.
Commenting to heartwire , Dr Vincent Bufalino (Advocate Health Care, Chicago, IL) said, "It's a long-term thing, so to wait for the     10-year numbers is very reasonable. But the interesting thing to me as a cardiologist is that it tells us medical therapy is getting better.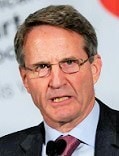 "I think it's going to be that [physicians] who haven't been doing bilaterals will say, 'See, I told you, it's no better' and [physicians] who are doing     bilaterals will say, 'You've got to wait, it's too early.' It's going to be one of those situations where you've got a foot in each canoe, but for me the conclusion     is we're probably doing a better job of medical therapy, and that's what's really making the difference hard to see."
Dr Craig Smith (Columbia University, New York, NY) told heartwire he's been using bilateral mammary artery grafts almost exclusively for years     and that the results run counter to observational evidence showing that the benefit only gets better with time.
He added, "This may be one of those things that teaches us a whole new lesson, but it is a relatively short follow-up, and I'm a little disturbed by the 14%     crossover."
Among the 1554 patients randomized to single IMA, only 2.4% crossed over to a bilateral graft, whereas 14% of the 1548 bilateral IMA patients received a     single mammary only.
"Not everyone in a randomized trial is going to be equally comfortable doing it—it takes some practice," Craig remarked.
Taggart said fewer than 10% of CABG patients in Europe and less than 5% in the US receive bilateral IMA vs more than 60% in Asian countries.     Part of the hesitation has been the increased technical complexity and lack of randomized data, but there also have been concerns about increased mortality     and morbidity.
Sternal Wound Complications
During the formal study presentation, AHA program chair and discussant Dr Frank Sellke (Center for Heart & Vascular Health, Newark, DE) pointed out that     sternal wound complications were 84% greater in the bilateral IMA group than the single IMA group (3.5% vs 1.9%; P=0.005).
The need for sternal wound reconstruction was also threefold higher with bilateral grafts (1.9% vs 0.6%; P=0.002).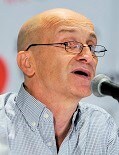 Taggart said the early excess of sternal wound reconstruction was mainly in patients with diabetes and a high body-mass index. This translated into a     number needed to harm of 78, but when these patients were excluded wound reconstruction rates were similar between groups.
He told heartwire that being an obese patient with diabetes can be an exclusion to the bilateral approach. "In the elective situation, I     give patients a chance. I say to them, 'Go and lose 15 kg, and if you come back and you've lost 15 kg, you're telling me you want me to do two internal     mammary arteries. If you come back and you've not lost any weight, then you're telling me you don't want two arteries.' "
Rates of other adverse events were low and similar between groups: MI occurred in just over 3%, stroke in 2.5% of bilateral and 3.2% single IMA patients,     and repeat revascularization in 6.5% vs 6.6%, respectively.
Taggart said, "Part of this is designed to show that—at least out to 5 years—you can do this bilateral operation as safely as the conventional operation,     excluding obese diabetics."
Panelist Dr Timothy Gardner (Center for Heart & Vascular Health, Newark, DE) said that, in light of existing graft-patency data, "I would still favor multiple     arterial grafting including bilateral mammary grafts for younger patients—those into their early 60s with a life expectancy of 20 years or more." The mean age of   patients at randomization was 63 years and about 85% were male.
        The study was funded by the UK Medical Research Council, British Heart Foundation, and UK National Institute of Health Research Efficacy and Mechanistic         Evaluation and sponsored by the University of Oxford. The authors and Bufalino declared no relevant financial relationships. Smith reported         reimbursement for expenses related to the PARTNER trial. Sellke reported consulting for Boehringer Ingelheim and Stryker.
Follow Patrice Wendling on Twitter: @pwendl . For more from theheart.org, follow us on     Twitter and Facebook .
Heartwire from Medscape © 2016  Medscape, LLC

Cite this: ART: No Gain From Bilateral vs Single IMA Bypass Graft - Medscape - Nov 14, 2016.