NEW ORLEANS, LA – A new study may provide more options for anticoagulation and antiplatelet therapy in patients with atrial fibrillation (AF) undergoing PCI with stenting.
The complex, open-label PIONEER AF-PCI trial compared standard anticoagulation with a vitamin K antagonist plus dual antiplatelet therapy (DAPT) with a P2Y12 inhibitor plus aspirin for 1, 6, or 12 months with either low-dose rivaroxaban (Xarelto, Bayer/Janssen) plus a P2Y12 inhibitor for 12 months or very-low-dose rivaroxaban plus DAPT for 1, 6, or 12 months[1].
Both approaches were associated with a lower rate of bleeding vs standard therapy, and the three groups had similar efficacy rates, although the researchers point out that "the observed broad confidence intervals diminish the surety of any conclusions regarding efficacy."
"The bottom line is you would only have to treat about 11 or 12 people with one of these strategies to prevent a bleeding event, and you'd only have to treat 10 to 15 people to prevent one rehospitalization effectively," lead author Dr C Michael Gibson (Beth Israel Deaconess Medical Center, and Harvard Medical School, Boston, MA) told heartwire from Medscape.
"So I think it's good news for patients, particularly on the safety side; it looks like we can give them a safer option that also looks to be acceptable in terms of effectiveness," he said. "And from a health-economic perspective, the risk of rehospitalization went down very dramatically."
The study was presented at the American Heart Association (AHA) 2016 Scientific Sessions and published online November 14, 2016 in the New England Journal of Medicine. Results from this trial with regard to rehospitalization were also published online simultaneously in Circulation[2].
PCI in AF
It's estimated that about one-quarter of patients with AF will at some point undergo PCI, Gibson said. AF requires anticoagulation and stenting requires DAPT, and to date the strategy has been to add the therapies, he said. The result is triple therapy, which is associated with excess bleeding.
The safety and efficacy of the newer anticoagulants in this setting is not clear, he said. In the PIONEER AF-PCI trial, they compared two rivaroxaban-based strategies with standard therapy in patients with paroxysmal, persistent, or permanent nonvalvular AF undergoing PCI with stenting.
The trial included 2124 patients, who were randomized within 72 hours of sheath removal, once the INR was 2.5 or lower. Before randomization, the treating physicians selected the duration of treatment, 1, 6, or 12 months, and the P2Y12 inhibitor they intended to use.
The first strategy, established in the WOEST trial, was low-dose rivaroxaban (15 mg once daily) plus a P2Y12 inhibitor, the treating physician's choice of clopidogrel 75 mg once daily, ticagrelor (Brilinta/Brilique, AstraZeneca) 90 mg twice daily, or prasugrel (Effient, Lilly/Daiichi-Sankyo) 10 mg once daily for 12 months (group 1).
The second strategy, studied in the ATLAS ACS 2-TIMI 51 trial, was a very low dose of rivaroxaban (2.5 mg twice daily) plus DAPT including low-dose aspirin and the physician's choice of the same doses of clopidogrel, ticagrelor, or prasugrel, for 1, 6, or 12 months (group 2).
These regimens were compared with warfarin therapy dosed to an INR of 2.0 to 3.0, plus DAPT using low-dose aspirin and a P2Y12 inhibitor, for 1, 6, or 12 months (group 3).
The primary safety outcome was clinically significant bleeding, defined as a composite of major or minor bleeding according to TIMI criteria or bleeding requiring medical attention.
The secondary end point was cardiovascular death, MI, and stroke, either ischemic, hemorrhagic, or of uncertain origin.
There were no patients lost to follow-up, Gibson said, "which is in contrast to our ATLAS experience, so we had complete ascertainment of survival."
When they looked at treatment durations selected by physicians, most selected 12 months of therapy and the vast majority used clopidogrel (95%).
They found that bleeding was significantly reduced with both rivaroxaban regimens compared with the warfarin/DAPT group.
PIONEER AF-PCI: Primary Outcome
| | | | | | | | |
| --- | --- | --- | --- | --- | --- | --- | --- |
| End point | Group 1 (%) | HR for Group 1 vs Group 3 | P | Group 2 (%) | HR for Group 1 vs Group 3 | P | Group (%) |
| Clinically significant bleeding | 16.8 | 0.59 (0.47–0.76) | <0.001 | 18.0 | 0.63 (0.50–0.80) | <0.001 | 26.7 |
The relative reductions in bleeding were consistent across all TIMI criteria, as well as other bleeding scales including ISTH, GUSTO, and the new BARC bleeding scale.
The clinical end points were similar between the groups, but he emphasized that "there were so few efficacy events that this is very underpowered, and no real conclusions can be drawn regarding efficacy in this study."
The rate of death from cardiovascular causes, MI, or stroke was 6.5% in group 1, 5.6% in group 2, and 6.0% in group 3 (P=nonsignificant for all).
There was no heterogeneity between subgroups in bleeding events, he noted.
He also presented data on a combined end point of all-cause mortality or all-cause hospitalization for an adverse event, an analysis that was also published separately online in Circulation.
Both rivaroxaban groups had lower rates of this combined outcome, mostly driven by hospitalization.
PIONEER AF-PCI: All-Cause Mortality and All-Cause Hospitalization for an Adverse Event
| | | | |
| --- | --- | --- | --- |
| End point | Group 1 (%) | Group 2 (%) | Group 3 (%) |
| All-cause mortality and all-cause hospitalization for an adverse event | 34.9 | 31.9 | 41.9 |
"P value stands for more than just statistical significance now; I think it also stands for the purchasing value or the price value, that P has changed its meaning," Gibson told heartwire . "And here I think we are probably going to get more for our health-outcome dollars with this kind of strategy."
A "Critical Advance"
Invited discussant for this trial, Dr Philippe Gabriel Steg (Bichet Hospital, Paris), called the question of optimal anticoagulant and antiplatelet therapy in AF patients undergoing PCI addressed in this trial an important and complex clinical problem.
"PIONEER AF-PCI is one of very few prospective, randomized trials to address the issue and, to the best of my knowledge, is the only one to address the issue with novel anticoagulants," he noted. "And there are so many advantages to the novel anticoagulants that this is a critical advance to the field."
These trials are extremely difficult to conduct, he noted, and "I think the investigators deserve tremendous congratulations for conducting this monumental trial."
The main results can be summarized in one sentence, Steg said. "Two rivaroxaban regimens combined with either P2Y inhibition or dual antiplatelet therapy reduced bleeding compared with a combination of vitamin K antagonist and dual antiplatelet therapy, and that is a robust finding," he noted. "It's very clear regardless of the definition of bleeding, regardless of patient type."
However, three points should be borne in mind when interpreting the results, he said. One, the doses of rivaroxaban were reduced doses that have not been formally investigated or approved. Two, the dose of rivaroxaban was reduced, but not the INR target of warfarin therapy, although he acknowledged that this would have complicated an already-complex study.
Finally, that bleeding was lower with lower doses of anticoagulant is not really a surprise, Steg noted, "but it raises the question of whether the safety of anticoagulation with lower doses of rivaroxaban was clearly established in terms of preventing stroke, which is the other big challenge of combination therapy in this setting.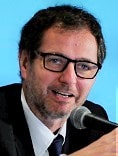 "The trial did not establish or even test, frankly, noninferiority of rivaroxaban-based strategies compared with what is the standard of care of vitamin K antagonist plus DAPT for stroke prevention," he said. The confidence intervals for stroke allow for up to a potential threefold increase in stroke.
"My conclusion is that this is an important and robust contribution to the evidence base in this area, which is actually very limited, and given that we have nothing, having this piece of evidence may very well change practice," he said. "I think this is the question: will we change practice on the basis of this trial and adopt a rivaroxaban strategy for atrial-fibrillation patients receiving stents?"
The recurrent hospitalization data are "intriguing" and potentially important, but since they are from a post hoc analysis, they be viewed as hypothesis-generating, Steg noted.
In an editorial accompanying the Circulation article[3], Dr Deepak Bhatt (Brigham and Women's Hospital Heart & Vascular Center, Harvard Medical School, Boston, MA) is less cautious and more ready to adopt the new strategies.
"PIONEER was not powered for efficacy. In particular, patients at very high stroke risk were relatively few," Bhatt writes. "Nevertheless, it is important to realize that the gold standard of aspirin, clopidogrel, and warfarin was never validated as such. This article may be one of those rare circumstances where the secondary post hoc analysis is more insightful than the primary prespecified analysis, having both greater statistical power and a more clinically relevant end point.
"Of course, from a statistical point of view, this stance may be viewed as heretical, but in actual practice physicians need to make complex decisions with the best available data," he said.
He points to several studies that are ongoing in patients with AF patients undergoing stenting or with acute coronary syndromes, including REDUAL PCI with dabigatran (Pradaxa, Boehringer Ingelheim); AUGUSTUS with apixaban (Eliquis, Bristol-Myers Squibb/Pfizer); and ENTRUST-AF-PCI with edoxaban (Savaysa/Lixiana, Daiichi Sankyo), although, again, none is powered to compare clinical events.
"However, if there is no substantial heterogeneity, perhaps pooling the data may provide further clarity about the optimal antithrombotic cocktail," he concludes. "For the time being, in patients not in clinical trials, full-dose oral triple therapy with dual antiplatelet agents and full-dose anticoagulation should be avoided as a routine practice."
The study was funded by Janssen Scientific Affairs and Bayer Pharmaceuticals. Gibson reports receiving consulting fees from the Medicines Company, Boston Scientific Research Institute, Eli Lilly, Gilead Sciences, Novo Nordisk, Pfizer, and WebMD and grant support from Angel Medical, Bayer, CSL Behring, Ikaria, Janssen, Johnson & Johnson, Portola Pharmaceuticals, Stealth Peptides, and St Jude Medical. Disclosures for the New England Journal of Medicine coauthors are listed on the NEJM website. Disclosures for the Circulation coauthors are listed in the article. Bhatt reports being on the advisory board for Cardax, Elsevier Practice Update Cardiology, Medscape Cardiology, Regado Biosciences; Board of Directors: Boston VA Research Institute, Society of Cardiovascular Patient Care; Chair of the American Heart Association Quality Oversight Committee; serving on data monitoring committees for Duke Clinical Research Institute, Harvard Clinical Research Institute, Mayo Clinic, Population Health Research Institute; receiving honoraria from the American College of Cardiology, Belvoir Publications, Duke Clinical Research Institute, Harvard Clinical Research Institute, HMP Communications, the Journal of the American College of Cardiology, Population Health Research Institute , Slack Publications, Society of Cardiovascular Patient Care, WebMD; receiving research funding from Amarin, Amgen, AstraZeneca, Bristol-Myers Squibb, Eisai, Ethicon, Forest Laboratories, Ischemix, Medtronic, Pfizer, Roche, Sanofi, and the Medicines Company and royalties from Elsevier; being a coinvestigator for Biotronik, Boston Scientific, St Jude Medical and a trustee for the American College of Cardiology; and performing unfunded research for FlowCo, PLx Pharma, and Takeda.
For more from theheart.org, follow us on Twitter and Facebook.
Heartwire from Medscape © 2016 Medscape, LLC

Cite this: PIONEER AF-PCI: New Strategies for AF Patients Undergoing PCI Cut Bleeding - Medscape - Nov 14, 2016.