NEW ORLEANS, LA — In patients age 70 and older with an intermediate risk of cardiovascular disease, 5.6 years of taking blood-pressure lowering therapy did not improve their cognitive function, but statin therapy did not worsen this ability, in a new study[1].
Dr Jackie Bosch (McMaster University, Hamilton, ON) reported these findings from a subset of older patients who were part of the Heart Outcomes Prevention Evaluation-3 (HOPE-3) trial in a press briefing prior to a late-breaking clinical trials session here at the American Heart Association (AHA) 2016 Scientific Sessions.
These findings should "put to rest" any concerns that statins may cause memory loss (that stops when the drug is stopped), she told heartwire from Medscape. "The [US Food and Drug Administration] FDA put a boxed warning based on observational postmarketing surveillance data as did the UK [Medicines and Healthcare Products Regulatory Agency] MHRA, but randomized controlled trials never showed the same issues . . . . Our study clearly shows that there is no negative effect on cognition."
This is a good news, bad news story, according to AHA spokesperson Dr Mark Creager (Harvard Medical School, Boston, MA). "The good news is that no harm was done in the statin arm, and it should allay the fears of our patients who are so reluctant to take statins. . . . The bad news is blood-pressure lowering in this population is not effective for cognition," despite the hope that better control of hypertension would delay cognitive decline.
"Rosuvastatin was and should be considered for [patients at intermediate risk of cardiovascular disease], because of the 24% relative risk reduction in cardiovascular events—that's big," Dr Bosch emphasized.
The study has "an important silver lining," said the discussant at the press briefing, Dr Ralph L Sacco (University of Miami Health System). "We probably need to treat higher-risk patients, at a younger age, and treat longer" to see any potential benefit in delay of cognitive decline, he said, and Drs Bosch and Creager agreed.
"We've got to tackle high blood pressure in more people and do it earlier, because then we're going to forestall a number of events including the big one—stroke—but also the cognitive decline that we know occurs in people with high blood pressure," said Dr Creager.
Cardiovascular Benefits, Cognition Risks in Older Patients in HOPE-3
As reported by heartwire , HOPE-3 randomized moderate-risk individuals from 228 centers in 21 countries to receive either candesartan/hydrochlorothiazide or placebo and rosuvastatin or placebo. Blood-pressure lowering reduced cardiovascular events by 24% only in patients with hypertension, and the statin reduced cardiovascular events by 25% in all.
"The original HOPE-3 study said 'everyone in this intermediate risk group benefited,' " Dr Bosch explained. The current study delved deeper to see the effect on cognition.
In HOPE-3, patients age 70 and older completed tests to assess cognition—the Digit Symbol Substitution Test (DSST), the 11-item Montreal Cognitive Assessment (MoCA), and the Trail Making Test Part B (TMT-B)—and function at baseline and at study end.
Of 3086 men and women in this older age group in HOPE-3, 1626 completed baseline and study-end questionnaires that assessed cognition.
At baseline, the patients had a mean age of 74 years and 59% were women. Their mean blood pressure was 140/79 mm Hg, and their mean LDL cholesterol was 127 mg/dL. Their blood pressure fell by a mean of 6/2.9 mm Hg, and their LDL-cholesterol dropped by a mean of 24.9 mg/dL.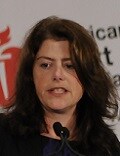 But there were no significant changes in DSST, the primary study end point, between patients taking placebo vs rosuvastatin, placebo vs candesartan /hydrochlorothiazide, or placebo vs both drugs.
The DSST test is part of the Wechsler Adult Intelligence Scale (IQ test), which measures a person's ability to think quickly, Dr Bosch explained. "It's rather stressful . . . but it's very sensitive to any change in processing speed."
There was a trend (P=0.04) for a beneficial effect on cognition in patients with highest baseline BP and LDL in patients taking combination treatment vs placebo, which would need to be investigated further, and the benefits of early initiation and longer-term treatment remain unclear, she concluded.
Dr Creager put the study into perspective this way: "It doesn't change my approach as a clinician; I think statins, using our guidelines, are incredibly effective and have contributed to the decline in cardiovascular events and death," he said. "This gives me more evidence to tell my patients, when I'm discussing the use of statins, that they need not be concerned that these will impair their ability to think."
The study was sponsored by unrestricted grants from the Canadian Institutes of Health Research and AstraZeneca. Dr Bosch has no relevant financial relationships.
For more from theheart.org, follow us on Twitter and Facebook.
Heartwire from Medscape © 2016 Medscape, LLC

Cite this: Statin Did Not Harm, BP Therapy Did Not Help Cognition: HOPE-3 - Medscape - Nov 13, 2016.