NEW ORLEANS, LA — A long-awaited trial suggests the selective cyclooxygenase-2 (COX-2) inhibitor celecoxib has similar cardiovascular safety as naproxen and ibuprofen in arthritis patients at increased CVD risk but is unlikely to be the last word, given questions about interpretation of the data[1].
Celecoxib achieved noninferiority for the primary CV end point—the Antiplatelet Trialists Collaboration (APTC) composite of CV and hemorrhagic deaths, nonfatal MI, or nonfatal stroke—for the intention-to-treat (ITT) and on-treatment populations.
Ibuprofen also just met the noninferiority criteria compared with naproxen (P=0.025).
Patients randomized to celecoxib, however, had significantly fewer gastrointestinal events than either nonselective nonsteroidal anti-inflammatory drug (NSAID) and fewer renal events than naproxen in the Prospective Randomized Evaluation of Celecoxib Integrated Safety Versus Ibuprofen or Naproxen.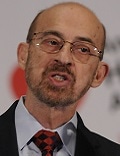 "After the withdrawal of rofecoxib [Vioxx, Merck] everybody thought they knew the answer; that COX-2 inhibitors have an unfavorable cardiovascular profile. We didn't find that, and this type of study once again teaches us that if we jump to conclusions about this based on mechanistic considerations we often make very bad decisions," principal investigator Dr Steven Nissen (Cleveland Clinic, OH) said in a media briefing at the American Heart Association (AHA) 2016 Scientific Sessions,  where the data were formally presented and published simultaneously in the New England Journal of Medicine.
Dr Clyde Yancy (Northwestern University, Chicago, IL) told heartwire from Medscape said the noninferiority data are "reassuring" but as a clinical trialist expressed concerns about treatment doses, a 68.8% treatment discontinuation rate, and 27.4% loss of patients to follow-up, which "appears to be even above the threshold that would qualify as an acceptable data set.
"We've done a nice job on following through on a still-extant question, but I don't think this necessarily changes our behavior," he said. "The horse really is out of the barn."
Dr Roxana Mehran (Mount Sinai Medical Center, NY, NY) told heartwire that in general the trial included low-risk patients as evidenced by their long-term outcome and that lack of certainty on adherence crossovers and different dosing regimens make the conclusions less precise than what one would need.
She added, "I am afraid that while noninferiority was shown, I am still not confident that we have all the answers for patients at high risk for CV events who require NSAIDS."
Nissen acknowledged during formal presentation that the trial "wasn't perfect" and that discontinuation rates "were higher than we'd like but were similar across treatment arms."
The trial, designed in the aftermath of the 2004 worldwide withdrawal of rofecoxib, enrolled 24,081 patients with osteoarthritis (90%) or rheumatoid arthritis with established CVD or at increased risk who required NSAIDs for at least 6 months. Patients were randomly assigned to celecoxib 100 mg twice daily, ibuprofen 600 mg three times daily, or naproxen 375 mg twice daily, with the option to increase therapy for unrelieved symptoms. All patients also received esomeprazole 20 to 40 mg for gastric prevention. About 45% of patients reported previous aspirin use.
After a mean follow-up of 34.1 months, the primary APTC end point occurred in 188 celecoxib patients, 201 naproxen patients, and 218 ibuprofen patients in the ITT analysis and in 134, 144, and 155 patients, respectively, in the on-treatment analysis.
Noninferiority Analysis for Primary APTC End Point
Group
HR (95% CI)
P
Intention-to-treat
Celecoxib vs ibuprofen
0.85 (0.70–1.04)
<0.001
Celecoxib vs naproxen
0.93 (0.76–1.12)
<0.001
Ibuprofen vs naproxen
1.08 (0.90–1.31)
<0.02
On-treatment
Celecoxib vs ibuprofen
0.81 (0.65–1.02)
<0.001
Celecoxib vs naproxen
0.90 (0.71–1.15)
<0.001
Ibuprofen vs naproxen
1.12 (0.89–1.4)
<0.025
Secondary Outcome Analyses
Exploratory analyses of secondary outcomes, which were not adjusted for multiplicity, showed the time to a major adverse CV event was 15% higher with ibuprofen than celecoxib in the ITT group but fell just short of statistical significance (P=0.06).
Death from cardiovascular causes was lowest with celecoxib, while all-cause mortality was 25% higher with naproxen than celecoxib, which was right on the borderline of significance (P= 0.052).
Compared with celecoxib, major GI event rates were 54% higher with ibuprofen and 41% higher with naproxen than celecoxib in the ITT group (P =0.002; P=0.01, respectively) and at least twice as high for ibuprofen and naproxen in the on-treatment group.
Surprisingly, the time to renal events was 64% with ibuprofen in the intention-to-treat analysis, and in the on-treatment analysis both ibuprofen and naproxen had higher event rates than celecoxib, with relatively early separation of the curves.
Taken together, "These findings challenge the widely held view that naproxen provides superior cardiovascular safety," Nissen said.
Formal study discussant Dr Elliott Antman (Harvard University, Boston, MA) noted that the antiplatelet effects of aspirin can be inhibited by an interfering NSAID such as naproxen and ibuprofen but not by celecoxib, which could systematically bias the results in favor of celecoxib and influence interpretation of GI toxicity because the development and healing of ulcers is influenced by aspirin coadministration.
"What we've learned is that the cardiovascular profiles of the three drug regimens tested here were approximately the same but in a very low-risk population, but our original question about what do we do in patients with known heart disease, who really are much higher risk than the patients in this study, remains," Antman said.
AHA immediate past president Dr Mark Creager (Heart and Vascular Center at Dartmouth-Hitchcock Medical Center, Lebanon, NH) told heartwire the primary question cardiologists are faced with when managing patients with CVD is the concurrent use of NSAIDs but noted that only about 25% of patients in the trial had established CVD. "So I don't think we really have that answer; so the position that we expressed previously in an [2007] American Heart Association statement is that nonsteroidal anti-inflammatory drugs if they are required should be used at the lowest dose possible for the shortest time possible to reduce the risk of cardiovascular events."
In an atypical move, a competing journal, Circulation, weighed in with an editorial[2] in which Dr Garret FitzGerald (Institute for Translational Medicine and Therapeutics, Philadelphia, PA) wrote: "There are so many problems with the interpretation of PRECISION that it fails to inform clinical practice. Thus, despite the enrollment of >24,000 patients and more than a decade of study, we are no closer to being able to advise millions of patients with chronic arthritic pain regarding relative efficacy and safety of the treatments available to them."
He echoed Antman's suggestion to use precision medicine approach in these patients and called for deep phenotyping studies to identify factors that predispose to benefit and risk at an individual level, thereby bringing "more precision to the use of NSAIDs."
The study was funded by Pfizer. Nissen reported consulting for many pharmaceutical companies and research grants from Abbvie, Amgen, AstraZeneca, Cerenis, Eli Lilly, Esperion, Novartis, Novo Nordisk, Medtronic, the Medicines Company, and Pfizer. Disclosures for the coauthors are listed on the journal website. Fitzgerald reported serving as a consultant for Pfizer. Creager reported no relevant financial relationships.
Follow Patrice Wendling on Twitter: @pwendl. For more from theheart.org, follow us on Twitter and Facebook.
Heartwire from Medscape © 2016 

Cite this: PRECISION: Celecoxib Similar to Ibuprofen, Naproxen for CV Risk - Medscape - Nov 13, 2016.