SAN FRANCISCO — About-face advances in the treatment of food allergies will be at the center of the upcoming American College of Allergy, Asthma & Immunology (ACAAI) 2016 Annual Scientific Meeting.
"The Learning Early About Peanut [LEAP] study has changed, by 180 degrees, how we counsel mothers of children at risk for peanut allergies and other food allergies," said Stephen Tilles, MD, from the Northwest Asthma and Allergy Center in Redmond, Washington, who is program chair and incoming president of the ACAAI.
The LEAP study will be at the heart of much of this year's food allergy discussion, he told Medscape Medical News.
Food allergy treatment will also be a key topic at the annual Great Raft Debate, where experts talk fast to "stay afloat" by convincing the audience their approach is the best one, Dr Tilles explained.
At this year's debate, Kirsten Beyer, MD, will argue for oral immunotherapy; Kari Nadeau, MD, PhD, will advocate for desensitization with and without omalizumab treatment; David Fleishcher, MD, will argue that epicutaneous immunotherapy with a patch is the best approach; and Matthew Greenhawt, MD, will take a stay-the-course approach and advise, "just do nothing."
The college has taken the debate style into scientific sessions, with pro and con speakers on topics that range from how to treat food allergies other than peanut in light of the LEAP study, to whether or not to treat wheezing in preschool children with oral corticosteroids.
Embracing Change
The theme of this year's meeting — Practice Advancement: New Times. New Treatments. New Standards. — is all about embracing change, and that means getting up to date on all the new developments, Dr Tilles said.
"New therapies are reflecting very new scientific concepts," he pointed out. "These are not things members would have learned in their training; they're just too new."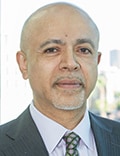 The best approaches to practice and practice management are also high on this year's agenda. Meeting organizers are excited about keynote speaker Abraham Verghese, MD, who was awarded a National Humanities Medal by the White House last month for being an exemplary clinician. Dr Verghese will talk about the importance of physical touch in patient interaction, and discuss other ways to interact with patients that "transcend the electronic record."
"He's very talented and articulate, and in this era of negativity, we think it's nice to have a session where we talk about acknowledging what people are feeling," said Dr Tilles.
The opening ceremony will include presentations on sublingual and subcutaneous immunotherapy, delivered by Stephen Durham, MD, and on why the doctor–patient relationship is key to physician-led healthcare reform, delivered by Mark O'Hollaren, MD.
In addition, organizers have put together a "boot camp" to help practitioners adjust to healthcare reform changes and to lower reimbursement and use models.
This session will let our members know, "we feel your pain," Dr Tilles explained. "There are physicians retiring early and becoming depressed. We ask, is there a way to be actively involved in shaping the future for the specialist?"
This will be "the first of the ACAAI annual meetings to incorporate grassroots content suggestions, and we are very excited about the overall breadth of the topics covered," said Dr Tilles. Some of those are nontraditional, including a talk on stress, mindfulness, and the allergic patient by Gailen Marshall, MD, PhD.
Nonmainstream Therapies
There will also be a presentation on how physical conditioning applies to immunity in the allergic patient, by Randy Horwitz, MD, PhD, and discussions on how acupuncture and nutrition can help the suffering patient.
"We're not advocating any kind of therapy at this point, but this is our initial attempt to broaden minds and show respect for something we don't do every day," Dr Tilles explained. "We don't want to ignore potentially helpful ideas for therapy that we're not used to doing."
By addressing some of these therapies, "we can feel more confident in discussion with patients," he added.
"We're not saying go on this unproven diet; this is a step toward acknowledging what we don't understand. Still, we want to keep it evidence-based," he said.
Diagnostics Also in Focus
Another important issue to be addressed at the meeting will be diagnosis, Bradley Chipps, MD, from Sutter Health in Sacramento, California, who is incoming vice president of the ACAAI.
"We are going to look carefully at using appropriate diagnostic techniques and not giving false diagnoses — especially in patients with food allergies," he told Medscape Medical News.
Dr Chipps said he is excited about the workshops and the meet-the-professor sessions. "We'll be teaching technical skills like fiber optic examination of the upper airway. These are practical things providers can take home and use," he explained.
Over the years, the ACAAI has become an organization that really works to respond to clinician needs on all fronts, including education, legislative, and advocacy sides, said Dr Chipps. "We've become a more responsive organization. As a result, the organization is becoming a better reflection of those practicing — not just old timers!"
Medscape Medical News © 2016 WebMD, LLC

Send comments and news tips to news@medscape.net.
Cite this: Controversial Food Allergy Options Hotly Debated at ACAAI - Medscape - Nov 04, 2016.