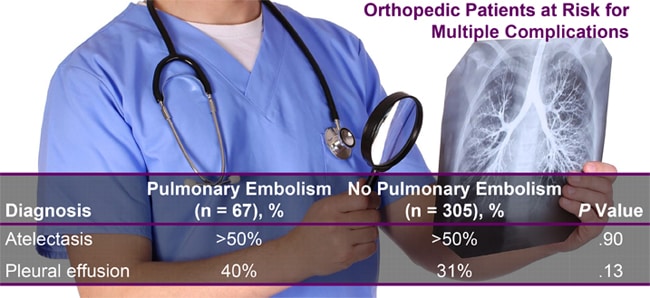 LOS ANGELES — Orthopedic patients who experience postoperative pulmonary embolism often have other diagnoses that contribute to their cardiorespiratory symptoms, new research indicates.
"Our findings suggest that pulmonary embolism rarely exists in isolation in the high-risk postorthopedic-surgery population," said lead investigator Jonathan Mendelson, MD, a pulmonary, critical care, and sleep medicine specialist at the NYU School of Medicine in New York City.
"Clinicians should have a low threshold for diagnostic workup for pulmonary embolism in this population, even when an alternative etiology for cardiorespiratory compromise may be present," he told Medscape Medical News here at CHEST 2016.
We expected to find either a pulmonary embolism or an alternative explanation for the symptoms. Instead, we often found both.
Dr Mendelson and his colleagues reviewed chest CT angiograms for 372 consecutive postoperative orthopedic patients assessed because of clinical decompensation.
"All patients were scanned because of symptoms that could be explained by pulmonary embolism and because they represented a group at high risk for pulmonary embolism," Dr Mendelson explained. "We expected to find either a pulmonary embolism or an alternative explanation for the symptoms. Instead, we often found both," he pointed out.
In general, baseline demographic and clinical characteristics were similar in the two groups.
Table. Baseline Clinical Characteristics
| | | | |
| --- | --- | --- | --- |
| Clinical Characteristics | Pulmonary Embolism, % | No Pulmonary Embolism, % | P Value |
| Previous deep vein thrombosis | 4 | 2 | .34 |
| Fracture | 9 | 10 | .71 |
| Chest pain | 13 | 9 | .21 |
| Lower extremity edema | 30 | 20 | .07 |
| Hypotension | 44 | 39 | .26 |
| Hypoxia | 22 | 20 | .32 |
"An alternative diagnosis in a high-risk postop group, therefore, may not be suffice to skip a scan. Clinicians must maintain extra vigilance in this context," Dr Mendelson said.
Overall, there was no significant difference in survival between those with pulmonary embolism and those without (100.0% vs 98.3%).
"It's reasonable to conclude that a pulmonary embolism may not be the only diagnosis one finds," said Jonathan Vigdorchik, MD, an orthopedic surgeon at the NYU Langone Medical Center in New York City.
"Solely treating the pulmonary embolism will undertreat the other causes that can also lead to clinical symptoms," Dr Vigdorchik told Medscape Medical News. If you find a pulmonary embolism, you should also make sure you look for other things."
Dr Mendelson and Dr Vigdorchik have disclosed no relevant financial relationships.
CHEST 2016: American College of Chest Physicians Annual Meeting. Presented October 16, 2016.
Medscape Medical News © 2016 WebMD, LLC

Send comments and news tips to news@medscape.net.
Cite this: Comorbidities Common With Pulmonary Embolism After Surgery - Medscape - Nov 04, 2016.