WASHINGTON, DC — For patients who need a new aortic valve but who are poor candidates for either surgery or transcatheter aortic-valve replacement (TAVR)     through femoral-artery access, a transcaval approach appears to be a safer and more comfortable alternative to the fallback transthoracic route[1]. Observers     say the innovative technique might well be extended to other transcatheter procedures calling for a large-caliber sheath.
The success rate of TAVR performed via percutaneous transcaval access was 98%, and all patients received an aortic-valve replacement in a multicenter     single-arm investigational device exemption trial, led by Dr Adam B Greenbaum (Henry Ford Hospital, Detroit, MI).
The risk of bleeding was greater with transcaval access than with femoral access but less than would be seen with a transthoracic (transapical or transaortic) route, Greenbaum said here at TCT 2016. The paper is also published online in    Journal of the American College of Cardiology with Greenbaum as first author.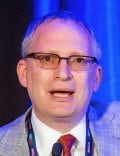 "In reality, not everybody's a candidate for transfemoral. We developed a technique of access to the aorta by crossing over from the inferior vena cava     [IVC], and there were some doubters, so the reason we did this prospective trial was to prove that it could be done safely," he said in a featured     clinical-research session.
The technique involves feeding a catheter up to the IVC, then crossing into the aorta via a calcium-free window into a prepositioned aortic-loop snare. The     catheter is exchanged for a rigid guidewire over which the TAVR sheath is delivered and the valve is placed. Closure is performed with a nitinol occluder.
"The physiology involves the fact that the retroperitoneal space is confined and of higher pressure than the accompanying IVC, so if you do a hole in the     IVC and the aorta next to each other during closure, the patient would remain hemodynamically stable," he said.
Patients at Extreme Risk
For the investigator-initiated, multicenter prospective trial, the authors enrolled 100 patients with severe symptomatic native aortic stenosis or     bioprosthetic aortic-valve failure requiring TAVR. The patients had to be at extreme risk or deemed to be inoperable for transfemoral, transapical, or     transaortic access as determined by a multidisciplinary heart team.
In addition, they had to be judged anatomically suitable for transcaval access on CT by a core lab. Patient factors that precluded or impeded transaortic     access included porcelain aorta, threatened grafts, chest radiation, and sternal-wound infection. Factors that made transapical difficult or impossible     include failed prior transapical attempt, chest radiation, chest wound, infection, or a fatty myocardium.
The device success rate, the primary end point, was 98%. This figure takes into account the case of a failed guidewire and a second case in which the     operator chose to perform the closure using a covered aortic stent rather than try to reposition a nitinol occluder that had been inadvertently fully     withdrawn during the procedure, Greenbaum said.
Four patients died before discharge; all four deaths were judged by an independent committee to be unrelated to either transcaval access or closure. There     were a total of eight deaths within 30 days of the procedure, seven from cardiovascular causes and one from other causes.
Bleeding and Transfusions
In all, 35% of patients required transfusion with a median of two units either during or after the procedure. From a patient perspective, the risks     associated with infusion are probably outweighed by the avoidance of thoracic surgery, Greenbaum suggested.
The median length of post-TAVR ICU was 1 day, and the median hospital stay was 4 days.
In all, 12 patients had bleeding that was independently adjudicated to be life-threatening, and of these, six were judged to be related to the transcaval     technique. In one case the cause was indeterminate, and in the remaining five cases the bleeding was chalked up to other causes. In addition, six patients     had major bleeding (five attributed to treatment) and 19 had minor bleeding (11 pegged to transcaval access).
Retroperitoneal hematoma was found by the core lab in 24% of patients before discharge and in 5% after 30 days. Most of the hematomas were considered to be     small or moderate.
The investigators also found that "experience matters," Greenbaum said, pointing to an analysis showing significantly better outcomes for bleeding, major     complications, and major adverse cardiac events at centers enrolling more than 10 patients, compared with centers with fewer cases.
"Innovative Approach"
"This is an innovative approach to a difficult problem," commented discussant Dr David O Williams (Brigham & Women's Hospital, Boston, MA). He added,     however, that the incidence of retroperitoneal bleeding warranted further investigation.
"Interestingly enough, there's not a lot of literature about retroperitoneal bleeds. You can't find a scoring scale, and what's mild or moderate is what your radiologist says," Greenbaum replied.
He added that the hematomas were detected because they were being looked for in the context of a clinical trial and that in actual practice small amounts of     bleeding into the retroperitoneal space would go undetected or would likely cause only minor problems.
A cardiologist who was not involved in the study says that the transcaval approach is likely to have broader application than in the extremely high-risk     population studied in the trial.
"I think there are a lot of times when we need to get big gear to the heart: Impella therapy, chronic total occlusion, where we need to put large sheaths into relatively small arteries," session comoderator Dr Steven P Marso (University of Texas Southwestern Medical Center, Dallas) told     heartwire from Medscape.
"While we've heard today for the first time about transaortic-valve applications, I think this procedure has broader applications to other coronary     interventional procedures," he said. "Stay tuned: I think this is going to be an interesting technology to watch being developed over time."
The trial was supported by the National Heart, Lung, and Blood Institute. Greenbaum is a         proctor for Edwards Lifesciences and St Jude Medical and his employer receives research support from St Jude Medical. Disclosures for the coauthors are         listed in the paper. Williams and Marso reported no relevant financial relationships.    
For more from theheart.org, follow us on       Twitter  and      Facebook.
Heartwire from Medscape © 2016  Medscape, LLC

Cite this: 'Transcaval' TAVR a Safe Femoral Alternative in High-Risk Cases - Medscape - Nov 01, 2016.