WASHINGTON, DC — The question of whether PCI with a drug-eluting stent (DES) should be preferred as an alternative to CABG surgery in patients with left main (LM) coronary artery disease was met with conflicting data from two late-breaking clinical trials presented at TCT 2016 that could shift practice depending on interpretations.
PCI with an everolimus DES was noninferior to CABG for the primary composite clinical end point in EXCEL[1], while PCI with a biolimus DES did not meet noninferiority for the primary end point of 5-year major adverse cardiac and cerebrovascular events (MACCE) in NOBLE[2].
Based on the EXCEL results, published online in the New England Journal of Medicine, co–principal investigator and TCT 2016 director Dr Gregg W Stone (Cardiovascular Research Foundation, New York, NY) concluded, "PCI may thus be considered an acceptable or even preferred revascularization modality for selected patients with LM CAD."
Moments later, senior NOBLE investigator Dr Evald Christiansen (Aarhus University Hospital, Skejby, Denmark), whose results were published simultaneously in the Lancet, concluded, "CABG was superior to PCI."
Commenting to heartwire from Medscape, American College of Cardiology board of governors chair-elect Dr B Hadley Wilson (Sanger Heart & Vascular Institute, Charlotte, NC) told heartwire , "Before, the indications were stenting in left mains for those who had acceptable anatomy but were also high surgical risk. And this suggests it's equal now to do this for lower- and intermediate-risk patients, so I think it will change practice and potentially could change that particular guideline."
Stone said in a press briefing that he anticipates the results of EXCEL, the largest trial performed in LM disease with a contemporary stent, "will affect guidelines."
Dr Martin B Leon (Columbia University Medical Center, New York, NY), who moderated the formal presentations, told heartwire the differences in the two trials were "profound" and that NOBLE was conducted in an earlier era and would have been better served with a different primary end point.
He agreed with Stone that choosing the right intervention strategy must involve a heart team, but "It's got to be equipoise; not just the interventionalist but the surgeon having a conversation with the patient and their family, understanding some of the strengths and weaknesses of the trials, some of the knowns and unknowns, and making individual decisions about whether or not it's time yet to suggest this is a good alternative to surgery."
Leon added, "I'm adamant that these patients require 10-year follow-up to get a complete picture. I'm not so worried about the repeat revascularization because I think that's something we can manage, but I am worried if there's going to be hard clinical end points like target vessel MIs and certainly mortality, especially if can be documented to be cardiac mortality, that will become manifest in years to come and that should influence our decisions."
EXCEL Details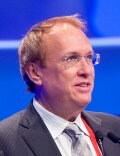 The study involved 1905 patients (mean age 66 years; 76% male) with LM CAD and low- or intermediate-risk SYNTAX scores (≤32) assessed by the local heart team who were randomly assigned to PCI with a second-generation fluoropolymer-based cobalt-chromium everolimus-eluting stent (Xience, Abbott Vascular) or CABG with or without pulmonary bypass at the discretion of the operator.
The composite primary end point of all-cause death, stroke, or MI at 3 years occurred in 15.4% of patients treated with PCI and in 14.7% of patients undergoing CABG. The difference was significant for noninferiority (P=0.018); but not for superiority (hazard ratio [HR] 1.00, 95% CI 0.79–1.26; P = .98).
At 30 days, there was a significant 39% reduction in the composite of death, stroke, or MI among the PCI patients (HR 0.61, P=0.008), driven largely by fewer large MIs in the PCI group.
Stone noted, however, that a post hoc landmark analysis revealed "a catch-up" between 30 days and 3 years in the PCI group vs the CABG group, with increases in primary-end-point events (11.5% vs 7.9%; P=0.02) and more ischemia-driven revascularization.
As Stone told heartwire , several studies have shown an uptick in event rates long term after PCI compared with surgery but that "stent thrombosis was not the reason in this situation; a little bit [was] target lesion revascularization, but whether the rest of it is incomplete revascularization vs areas that bypass grafts cover that stents don't, we need a lot more analysis."
Primary and Secondary Clinical End Points
| | | | | |
| --- | --- | --- | --- | --- |
| Clinical end point at 3 yars | PCI (n=948), % | CABG (n=957), % | Hazard ratio (95% CI) | P |
| CV death | 4.4 | 3.7 | 1.18 (0.74–1.87) | 0.48 |
| Non-CV death | 3.9 | 2.3 | 1.60 (0.91–2.80) | 0.10 |
| Stroke | 2.3 | 2.9 | 0.77 (0.43–1.37) | 0.37 |
| MI | 8.0 | 8.3 | 0.93 (0.67–1.28) | 0.64 |
| Periprocedural MI | 3.8 | 6.0 | 0.63 (0.42–0.96) | 0.03 |
| Ischemia-driven revascularization | 12.6 | 7.5 | 1.72 (1.27–2.33) | <.001 |
During a discussion of the studies, Dr Marc Ruel (Ottawa Heart Institute, Ontario, Canada) said EXCEL's primary end point was driven by the higher periprocedural incidence of MI and that "once past the 30-day landmark the noninferiority end point is not met for PCI."
Stone responded, "I agree with you that after 30 days, surgery was a more durable procedure, as practiced in EXCEL. There's a big up-front hit to take with surgery compared with PCI, and then if you get through that 30-day period you've got a more durable procedure. That's the trade-off."
NOBLE Details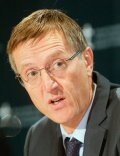 The investigators, led by Timo Mäkikallio (Oulu University Hospital, Finland), randomly allocated 1201 patients to CABG or PCI, with the first 10% of patients receiving the Cypher (Johnson & Johnson) stent and the remaining the BioMatrix Flex (BioSensors).
Kaplan-Meier 5-year estimates for MACCE at 5 years were 28.9% for the PCI group and 19.1% for the CABG group. The hazard ratio was 1.48, which exceeded the limit for noninferiority and was significant for superiority for CABG compared with PCI (P=0.006).
Five-year estimates for all-cause death were comparable with both treatments, while nonprocedural MI and the need for total repeat revascularizations, primarily due to de novo lesion, were higher with PCI. There was no difference in target LM coronary artery lesion revascularizations.
Five-year Estimates
| | | | | |
| --- | --- | --- | --- | --- |
| Outcome | PCI (n= 592), % | CABG (n= 592), % | Hazard ratio (95% CI) | P |
| All-cause death | 11.6 | 9.5 | 1.07 (0.67-1.72) | 0.77 |
| Nonprocedural MI | 6.9 | 1.9 | 2.88 (1.40-5.90) | 0.004 |
| Total repeat revascularizations | 16.2 | 10.4 | 1.50 (1.04-2.17) | 0.03 |
| Stroke | 4.9 | 1.7 | 2.25 (0.92-5.48) | 0.07 |
Very surprisingly, a subgroup analysis stratified by SYNTAX score revealed a low MACCE event rate in the CABG arm in patients with a low (1–22) score (HR 1.88, P=0.0031) but no differences in those with an intermediate (23–32) score (HR 1.16; P=0.48) or a high (≥33) SYNTAX score (HR 1.41; P=0.41).
"It seems that here, again as in EXCEL, PCI is immune to the SYNTAX score and CABG was dependent on the PCI score. This is quite opposite to the SYNTAX trial," Christiansen said.
Commenting to heartwire , former SYNTAX investigator Dr Ted Feldman (North Shore Medical Group, Evanston, IL) said the NOBLE results will take some time to interpret, but that he is "heavily swayed by the EXCEL results, being particularly concordant with the SYNTAX results."
He said striking differences between the two trials include a lower rate of ultrasound validation of stent deployment in NOBLE, "which you have to wonder  whether that contributed to the higher stent thrombosis rates in that trial," and the "glaring fact that repeat revascularization was one of the end points, which was a lesson we think we learned from SYNTAX that it's not equivalent to death or MI or stroke."
Feldman said he expects results from the two trials will influence current guidelines but pointed out the guidelines also recommend consideration for left main PCI in nonbifurcation disease. "It's notably that in SYNTAX, in NOBLE, and in EXCEL the majority of treated patients have bifurcation disease, and our outcomes are very good in this group; and I hope that that also emerges in this discussion."
In an editorial accompanying NOBLE[3], Dr Michael Mack (Baylor Scott & White Health, Plano, TX) and Dr David R Holmes (Mayo Clinic, Rochester, MN) write that "This trial will add to the level of evidence but is not sufficient by itself to change present guidelines."
They add that further comparative-effectiveness trials between the two strategies are unlikely give the cost, thus "It is probable that these two trials will serve as the evidence base for management of patients with left main disease for the foreseeable future."
In an editorial accompanying EXCEL[4], Dr Eugene Braunwald (Brigham and Women's Hospital, Boston, MA) wrote, "The take-home message from the EXCEL trial is that the majority of patients with unprotected left main coronary artery disease, which was a very serious, life-shortening, and disabling condition early in my professional lifetime, can now be managed equally well by means of two strategies of revascularization if carried out by expert, experienced teams."
He also emphasized that longer follow-up is needed, citing the acceleration between 30 days and 3 years in the primary end point events of death, stroke, or MI in the PCI group.
EXCEL was supported by Abbott Vascular. Stone reports receiving consulting fees from Velomedix, Toray, Matrizyme, Miracor, TherOx, Reva, V-Wave, Vascular Dynamics, Ablative Solutions, Neovasc, and Medical Development Technologies; serving as a consultant on prasugrel patient litigation paid for by Lupin Pharmaceuticals; and holding equity, stock options, or both in the MedFocus family of funds, Guided Delivery Systems, Micardia, Vascular Nanotransfer Technologies, Cagent, Qool Therapeutics, Caliber Therapeutics, Aria, and the Biostar family of funds; and that Columbia University receives royalties from Abbott Vascular for the sale of the MitraClip. Disclosures for the coauthors are listed in the paper. Wilson reported serving as a local EXCEL investigator; Feldman reported serving as an EXCEL investigator. Makikallio has received grants from Biosensors to the institution during the conduct of the study. Christiansen reported that he or his partner have received grant support or a research contract from Biosensors within the past 12 months. Braunwald, Mack, Holmes, and Ruel reported having no relevant financial relationships.
Follow Patrice Wendling on Twitter: @pwendl. For more from theheart.org, follow us on Twitter and Facebook.
Heartwire from Medscape © 2016  Medscape, LLC

Cite this: EXCEL, NOBLE Add Clarity and Confusion to PCI vs CABG in Left Main Disease - Medscape - Oct 31, 2016.