WASHINGTON, DC — Long-term follow-up of patients undergoing PCI with an everolimus-eluting bioresorbable vascular scaffold (BVS) (Absorb, Abbott Vascular) did not show any clinical advantages compared with an everolimus-eluting metal stent (Xience, Abbott Vascular) in two large, similar randomized trials[1,2].
According to the 3-year results of the ABSORB II trial, presented here at TCT 2016 and published simultaneously in the Lancet, the BVS was not noninferior to the everolimus DES for the co–primary end point of late lumen loss—indeed, late lumen loss seemed less with the Xience.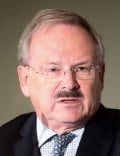 In addition, reported Dr Patrick W Serruys (Imperial College London, UK) here at the meeting, the trial also did not meet its mechanistic co–primary end point of superior vasomotor reactivity, "because Xience showed unexpected vasomotion, which had been hypothesized to be zero."
Also reported at the sessions, the 2-year results of the multicenter ABSORB China trial, which enrolled more than 400 patients, suggest no significant difference between the same two stents for a clinical composite end point and, separately, target vessel failure.
ABSORB II
The trial randomized 501 patients up to age 85 to receive either the Absorb (n=355) or Xience (n=166) stents.
For the mechanistic co–primary end point of vasomotor reactivity at 3 years, measured by angiography before and after intracoronary administration of nitroglycerin, there was no significant difference between the stents. The change in mean lumen diameter was 0.047 mm for Absorb (n=258) and 0.056 for Xience (n=130). Using intravascular ultrasound, they found the minimum lumen area to be 4.32 mm2 for Absorb and 5.38 mm2 for Xience ( P<0.0001).
The secondary patient-oriented composite end point (death, any MI, plus all revascularizations) did not differ significantly between the groups, according to Serruys.
However, he reported, they did find significant differences between groups for the secondary device-oriented composite end point (cardiac death, MI attributable to target vessel, plus clinically indicated target lesion revascularization), and the BVS came out behind.
That end point affected 10% of the Absorb group and 5% of the Xience group (hazard ratio 2.17; 95% CI 1.01–4.70), and Serruys said the difference was driven by target vessel MI (6% vs 1%, P=0.01), including periprocedural MI (4% vs 1%, P=0.16).
Overall, mortality was 2% in the Absorb group and 4% in the Xience group. Eight scaffold thromboses had occurred in the Absorb group and none in the Xience group.
ABSORB China
Dr Runlin Gao (Cardiovascular Institute and Fu Wai Hospital, China) reported 2-year results of the ABSORB China trial. In that trial, 480 participants were randomized to either Absorb BVS (n=241) or Xience V (n=239) at 24 sites in China.
The follow-up rates were 98.5% at 1 year and 96.3% at 2 years, Gao reported here at the sessions. And clinical outcomes were similar between the two stents, as well.
No significant differences were seen between the Absorb and Xience stents for the "patient-oriented" composite end point of all-cause death, any MI, or any revascularization (10.1% vs 11.4%), the "device-oriented" composite end points of cardiac death, target vessel MI, or target lesion revascularization (4.2% vs 4.6%), major adverse cardiac events (5.1% vs 5.1%), and target vessel failure (5.5% vs 6.8%).
The rate of cardiac death was low in both groups and not significantly different (0.4% vs 1.3%), as was the rate of target vessel MI (2.1% vs 0.8%).
Abbott Vascular funded the trials. Serruys reported receiving consulting fees from Abbott and other companies. Disclosures for the coauthors are listed in the paper. Gao reported receiving a research grant from Abbott.
Follow Larry Hand on Twitter: @LarryHand16. For more from theheart.org, follow us on Twitter and Facebook.
Heartwire from Medscape © 2016  Medscape, LLC

Cite this: ABSORB Trials Late Outcomes: No Clinical Gains for Bioresorbable Scaffold - Medscape - Oct 31, 2016.