Case Presentation
An 86-year-old woman presents to the emergency department with a 3-day history of abdominal pain associated with postprandial emesis without nausea. She has not tolerated solids since the onset of her symptoms.
Prior medical history includes hypertension and deep venous thrombosis, for which she takes warfarin. She was noted to be tachycardic, and physical exam reveals tenderness in the epigastrium without rebound or involuntary guarding.
After initial fluid resuscitation and placement of a nasogastric tube, the patient undergoes an upper gastrointestinal barium series (Figure 1), which demonstrates a decompressed stomach with organoaxial volvulus within a type IV paraesophageal hernia (PEH).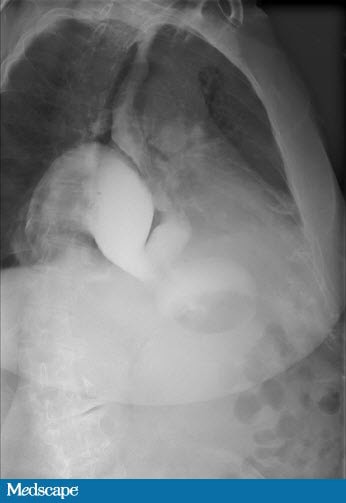 Traditional Management of Gastric Volvulus
Whether in the acute or chronic setting, the definitive treatment of gastric volvulus remains formal PEH repair, usually with the addition of a fundoplication.[1]
With the laparoscopic technique, this operation corrects the underlying anatomic abnormality, reduces the risk for recurrence, and, if present, treats gastroesophageal reflux disease.
However, many patients with PEH and gastric volvulus are elderly and can have multiple medical comorbidities.[2] Additionally, the operation is technically challenging[3]and often exceeds 2 hours of operative time.[4]
Role of Anterior Gastropexy
In high-operative-risk patients, anterior gastropexy represents an alternative that avoids a lengthy procedure and offers relief of obstructive symptoms caused by the volvulus. Gastropexy can be achieved through laparoscopic, endoscopic, or hybrid techniques.
Most published experience with this technique consists of small patient series and refers to gastropexy by fixation with single or double gastrostomy tubes.[5,6,7] This poses the potential for recurrence, however, or even for creating a fixation point around which volvulus recurs.[8]
We recently reported on our experience with laparoscopic gastropexy using multiple sutured fixation points.[9]We believe that with this technique, the stomach is better placed in its normal anatomic position, and theoretically the risk of recurrent volvulus around a single fixation point would be reduced. We have found that this procedure can usually be completed within 30 minutes.[1]
Medscape Gastroenterology © 2016 WebMD, LLC

Any views expressed above are the author's own and do not necessarily reflect the views of WebMD or Medscape.
Cite this: Laparoscopic Gastropexy for Gastric Volvulus in High-Operative-Risk Patients - Medscape - Nov 16, 2016.