COPENHAGEN — The new data presented earlier this week showing that immunotherapy with pembrolizumab (Keytruda, Merck & Co) beats chemotherapy when used as first-line treatment of non-small cell lung cancer (NSCLC) electrified sessions here at the European Society for Medical Oncology (ESMO) Congress 2016.
The presidential session at which the new data were reported and discussed was so packed that there was a mad scramble to get into the main hall, and four overflow rooms were hastily set up to accommodate the audience. A follow-on session discussing the implications of the new data was titled "The Earthquake of Immunotherapy in Lung Cancer."
Chemotherapy Has Been "The Big Gorilla"
Platinum-based chemotherapy has for years been the standard of care for NSCLC, noted Jean Charles Soria, MD, PhD, Institut Gustave Roussy, Villejuif, France, who acted as discussant. He described chemotherapy as "the big gorilla."
Then came the targeted agents for patients who had tumors with oncogenic drivers — and these are now first-line agents in about 15% of patients with NSCLC, he said.
A slightly higher estimate of 21% of patients with NSCLC was given in a New England Journal of Medicine editorial that discussed the new finding. It also named the first-line agents as gefitinib, erlotinib, and afatinib for the 15% of patients with mutations of epidermal growth factor receptor (EGFR), as well as crizotinib for both the 5% with rearrangements of anaplastic lymphoma kinase (ALK) and the 1% with rearrangements involving the gene encoding the ROS1 proto-oncogene receptor tyrosine kinase (ROS1).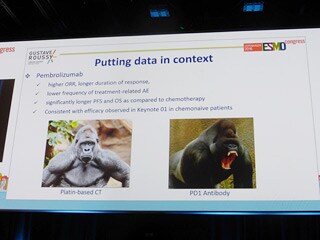 For the remaining 80% of patients with NSCLC, chemotherapy has until now been the first-line standard, but the new data with pembrolizumab demand that it should now be considered as a first-line option, several speakers at the meeting suggested.
The overall response rate (ORR) of 45% reported for pembrolizumab first-line is unprecedented, Dr Soria said. Together with the superior progression-free survival (PFS) and overall survival (OS), as well as the better tolerability, when compared with chemotherapy, these findings indicate that pembrolizumab is now "the new gorilla" in the treatment of NSCLC, and probably a new standard of care, he said.
But for which patients?
The new data come from the KEYNOTE-024 trial, presented at the meeting and simultaneously published in The New England Journal of Medicine.
This trial excluded patients with NSCLC who had EGFR and ALK mutations and included patients whose tumors showed a high expression of programmed death ligand-1 (PD-L1; ie, membranous PD-L1 expression on at least 50% of tumor cells, regardless of the staining intensity), which represented about 30% of the patients who were screened.
However, Dr Soria noted that the trial also excluded patients with brain metastases, those with autoimmune disorders, and those receiving steroids, and so he estimated that the patients who took part in this trial probably represent about 10% of those seen in clinical practice.
The editorial, written by Bruce E. Johnson, MD, from Dana-Farber Cancer Institute and Brigham and Women's Hospital, Boston, Massachusetts, notes that in this patient population, pembrolizumab achieved longer PFS than did chemotherapy (hazard ratio [HR] for disease progression or death, 0.50), as well as longer OS (HR for death, 0.60). In addition, grade 3, 4, or 5 treatment-related adverse events were half as frequent in the patients treated with pembrolizumab as in those receiving chemotherapy.
It also points out that previous studies with first-line targeted agents have shown a PFS benefit (HR for disease progression or death, 0.30 to 0.47), as well as better tolerability when compared with chemotherapy, but have not shown a statistically significant prolonged OS.
The patient populations who benefit from the two different approaches — targeted therapy and immunotherapy — are also quite different, the editorial notes.
Most patients in KEYNOTE-024 with pembrolizumab as first-line therapy were men, more than 90% were current or former smokers, and approximately 20% had squamous lung cancer.
In the trials of targeted agents used first line, about 90% of the three oncogenic drivers (EGFR mutations or ALK or ROS1 rearrangements) were found in patients with adenocarcinomas, and most of those patients were women and had never smoked.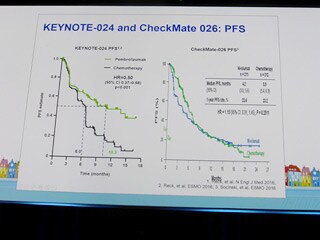 Reacting to the new findings, Corey Langer, MD, from the University of Pennsylvania, Philadelphia, commented at a press briefing that a key point is that all patients with newly diagnosed NSCLC should have biopsy samples tested for mutations and PD-L1 expression status, and "this testing should be done reflexively, as these patients cannot wait." Patients with tumors showing mutations (about 20% of all NSCLC cases) should be treated first line with targeted agents, and those with high PD-L1 expression (about 30% of the remaining 80%), with immunotherapy with pembrolizumab, he suggested.
For the rest, chemotherapy remains the first-line standard, but the proportion of patients with NSCLC who can be spared chemotherapy is growing ever larger.
Disappointment Over First-Line Nivolumab
Another presentation at the overflowing presidential session reported details of the surprising negative results with nivolumab (Opdivo, Bristol-Myers Squibb), a PD inhibitor similar to pembrolizumab, which was also compared with first-line chemotherapy in patients with NSCLC without mutations.
These were the results from the CheckMate 026 study, presented at the meeting by Mark Socinski, MD, executive medical director, Florida Hospital Cancer Institute, Orlando. This trial found no significant difference in PFS (4.2 months with nivolumab vs 5.9 months with chemotherapy; HR, 1.15; P = .25) or OS (14.4 months for nivolumab vs 13.2 months for chemotherapy; HR, 1.02).
So why was the trial with pembrolizumab so positive and the trial with nivolumab so negative?
Several explanations were proposed, but the major issue appears to be patient selection.
Whereas the pembrolizumab trial was conducted in patients whose tumors showed at least 50% PD-L1 expression, the nivolumab trial population was much broader and had a 5% or greater cutoff for PD-L1 expression.
However, in his presentation, Dr Socinski reported no significant difference in a small subgroup of patients who had at least 50% PD-L1 expression (with a PFS HR of 1.1, OS HR of 0.90, and ORR of 34% for nivolumab compared with 44% for pembrolizumab). But he cautioned that this was a small subgroup of patients, and the trial was not statistically powered for analysis of patients at this 50% or greater PD-L1 cutoff.
He also offered other explanations, noting that the OS in the chemotherapy group was better than historical standards. This could be due to an imbalance of patients in the two treatment groups, with the chemotherapy group having a greater proportion of women and Asian patients, he suggested. In addition, there was a high crossover among patients who progressed while receiving chemotherapy (60% went on to receive immunotherapy).
Discussing the trial, Naiyer Rizvi, MD, from Columbia University Medical Center, New York City, New York, also noted that there were more women in the chemotherapy group (45% vs 34% in the nivolumab group) and that women "tend to do better on chemotherapy," he commented. But he also noted that 37% of the trial participants had already received radiotherapy — these were patients with newly diagnosed lung cancer, and he wondered why they had received radiotherapy. Was it a treatment for lung cancer or as a palliative treatment for bone metastases?
The negative results were a disappointment, and also a surprise. Nivolumab as first-line therapy had shown "a promising response rate in a phase 1 trial in advanced NSCLC patients with 1% or greater PD-L1 expression in their tumor cells," Dr Socinski noted. Also, both nivolumab and pembrolizumab have shown similar efficacy in the second-line treatment of NSCLC.
The KEYNOTE-024 trial was supported by Merck. Disclosures for the study authors and editorialist are available with the full text at NEJM.org.
European Society for Medical Oncology (ESMO) Congress 2016. Abstracts LBA8_PR and LBA7_PR. Both presented October 9, 2016.
N Engl J Med. Published online October 9, 2016. Study full text, Editorial
Follow Medscape Oncology on Twitter: @MedscapeOnc
Medscape Medical News © 2016  WebMD, LLC

Send comments and news tips to news@medscape.net.
Cite this: Earthquake in Lung Cancer: Immunotherapy First-Line - Medscape - Oct 14, 2016.