A considerable proportion of medical reviewers working at the US Food and Drug Administration (FDA) go on to find subsequent work in the industry regulated by the agency, according to a new report published online September 27 in the BMJ.
When reviewers leave the FDA, 57.7% of them end up working or consulting for the pharmaceutical industry, the study found. These findings are worrisome, say the authors, Jeffrey Bien, MD, and Vinay Prasad, MD, both from Oregon Health and Science University, Portland. Even though the transition from being a regulator to advising companies seems like a logical step, they say "it raises concern as to whether regulators indefatigably act in the public interest."
Moving from a job as an FDA medical reviewer to one with the biopharmaceutical industry doesn't indicate that there was any sort of collusion, Dr Prasad emphasized in an interview with Medscape Medical News. "I don't believe that reviewers were actively thinking about a job they were going to take while they were reviewing, but I do think — and I think it's human nature — that if you know your job prospect is ultimately to go work on the other side of the table for one company or another you might be less likely to be a tough regulator, all things being equal.
"You may try to go with the flow to try to get drugs through, try to not make too much of a fuss, not to go against the grain, and I think it's the subtle bias that I worry about," he explained.
Dr Prasad noted that "we presently have an FDA that's making more and more attempts to bring reviewers and the industry together to shepherd applications through drug approval, and my concern is that this process results in a further bias against being a tough regulator."
Subsequent Work in the Industry
In their study, Dr Prasad and Dr Bien point out that when individuals leave their employment with government agencies, they do sometimes find work or consulting with the industries they once regulated. While the "revolving door" between regulatory agencies and the industry has met with criticism, it has not been studied, and the authors sought to measure how often this actually occurs at the FDA.
They used a set of FDA hematology-oncology drug approvals (2006 to 2010) as well as an FDA database to put together a list of all medical reviewers for these drugs between 2001 and 2010. They then searched publicly available information to ascertain subsequent jobs.
A total of 55 unique hematology-oncology medical reviewers were identified who reviewed applications between 2001 and 2010.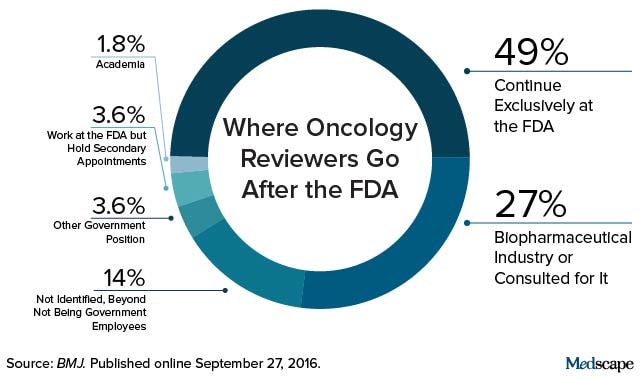 Of this group, 27 (49%) continue to work exclusively at the FDA, while 2 (3.6%) hold secondary appointments at the agency.
About half of the reviewers (n = 26) had left the FDA, and of the group, 15 (57.7%) subsequently found employment in the biopharmaceutical industry or consulted to it; 10 worked for the industry, 7 consulted for it, and 2 did both.
The authors were unable to verify the employment of 8 individuals (30.8%) who had also left the FDA, but they were not current employees of the US Department of Health and Human Services.
Because the employment of all former FDA reviewers could not be identified, the authors note that they are probably underestimating "the extent of this phenomenon."
One of the proposed solutions to the revolving door comes from former FDA Commissioner Margaret Hamburg, said Dr Prasad. "In an interview, she said that she's imposing a self-imposed cooling off period on herself before she consults for the industry. I think perhaps we will need such a policy.
"Finally, I think the FDA itself has internal statistics on this matter and can tell us not only what percent of reviewers leave to the industry but after what period of time before they go there," he added. "They should release these data."
The FDA Responds
In response to a request by Medscape Medical News to comment on the paper, the FDA noted that "employees leaving government for industry is a dynamic that is present across government agencies and is not unique to FDA.  The FDA has a strong set of rules in place to ensure that our employees are working in the public interest, not to advantage any company, organization or individual."
The FDA also pointed out that "federal laws and FDA ethics rules cover issues like outside employment, avoiding real and apparent conflicts of interest, recusals, disclosure requirements, protecting confidentiality, a ban on gifts from regulated industry, and avoiding conflicts should a federal employee choose to seek or negotiate outside employment.  Furthermore, past federal employees are bound by additional rules protecting the confidentiality of information they worked on while in federal service, a cooling-off requirement for senior employees, and other important rules against switching sides, contacting former employees, and contacting agency leaders."
Regarding the findings in this paper, the FDA explained they are unable to confirm the statistic that 27% of former reviewers went to work for industry, as "we do not have the researchers' dataset."
The authors have disclosed no relevant financial relationships.
BMJ. Published online September 27, 2016. Full text
Follow Medscape Oncology on Twitter: @MedscapeOnc
Medscape Medical News © 2016  WebMD, LLC

Send comments and news tips to news@medscape.net.
Cite this: 'Revolving Door' Between the FDA and Industry? - Medscape - Sep 27, 2016.