LONDON — Treatment with the antidepressant fluoxetine does not decrease progression in multiple sclerosis (MS), results of a new randomized controlled trial show.
First results released from the FLUOX-PMS trial, which included 137 patients with secondary progressive (SPMS) or primary progressive (PPMS) MS, showed that those who received 20 to 40 mg of fluoxetine daily did not have a significant increase in the 25-foot Walk Test or 9-Hole Peg Test after 108 weeks compared with those who received matching placebo (the primary endpoint).
"This type of study is very challenging because you have a lot of exclusion criteria, including current or prior use of antidepressants. The drug didn't stop MS progression, but there was a trend towards something positive," lead author Melissa Cambron, MD, University Hospital Brussels, Belgium, told Medscape Medical News.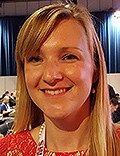 She added that she was also glad that the drug was well tolerated in this patient group. "So clinicians with patients who have MS and depression shouldn't worry about prescribing this antidepressant. In this situation, I would choose fluoxetine. It certainly doesn't harm the patient."
Dr Cambron presented these findings at a Late-Breaking News session here at the Congress of the European Committee for Treatment and Research in Multiple Sclerosis (ECTRIMS) 2016.
The study was also mentioned during the "Clinical Highlights" session that ended the meeting. Michael Hutchinson, MD, St Vincent's University Hospital, Dublin, Ireland, told attendees it was unfortunate that the trial did not meet its primary outcome.
"I think there was a question about power, as it was a small study. But the MRI data, which are reportedly still to come, will be very interesting," said Dr Hutchinson.
Reduces Axonal Degeneration?
Dr Cambron noted that there are currently "no disease-modifying treatments that stop or slow axonal degeneration, which leads to substantial disability in patients in the progressive phase of MS."
The investigators wanted to assess fluoxetine as a possible treatment for slowing down MS progression because of past research suggesting its neuroprotective effects, she said.
The drug "might theoretically reduce axonal degeneration through stimulation of the energy metabolism by enhancing glycogenolysis, increasing the production of brain derived neurotrophic factor, and dilating cerebral arterioles," write the researchers.
Recruitment for FLUOX-PMS started in February 2012, with the last study visit occurring in June 2016. The participants were aged 25 to 65 years (mean age, 53 years; 53% men) and had SPMS or PPMS.
All were randomly assigned to one of two treatment groups: fluoxetine (n = 69) or placebo (n = 68). The fluoxetine group started at one 20-mg tablet daily, with the dose titrated to two tablets, equaling 40 mg, by week 12.
Exclusion criteria included use of other antidepressants or any use of immunomodulatory or immunosuppressive drugs other than interferon β/glatiramer acetate.
The primary endpoint was time to confirmed disease progression, defined as an increase of at least 20% in the 25-foot Walk Test or in the 9-Hole Peg Test for at least 12 weeks. At the end of treatment, this measure was not significantly different between the groups (P = .07).
"There was a trend towards a slower progression in patients with fluoxetine. But unfortunately, Cox regression analysis and the log-rank test failed to show statistical significance," said Dr Cambron.
"A Trend That Cannot Be Ignored"
Secondary outcomes were also not significantly different, including the proportion with a stable Hauser Ambulation Index. In addition, the proportion of patients without sustained progression was 69.6% in the fluoxetine group vs 61.8% in the placebo group (P = .43).
Dr Cambron reported that the prestudy estimate for placebo for that latter measure was 45% "for our power calculation. So there were probably not enough patients who were progressive," she said. "This is very good for them but not so good for our study."
The most commonly reported adverse event (AE) was an eye disorder, with 15 cases in the fluoxetine group (6 mild, 8 moderate) vs 4 in the placebo group (2 moderate, 2 severe). This was followed by nervous system disorders (12 vs 4 cases, respectively), and psychiatric disorders (11 vs 3 cases).
As for severe AEs, there was 1 case each of nervous system disorders, skin disorders, and general disorders in the fluoxetine group.
"In summary, our study was inconclusive because we failed to show a statistically significant difference in progression between the treatment arms," said Dr Cambron.
"But I am convinced that there is a trend that cannot be ignored," she added. "Probably there was not enough progression in the study and possibly the study duration was too short."
She reported that cognitive testing questionnaire and MRI data from this study will be "coming soon."
More Data Needed
Dr Hutchinson told Medscape Medical News that he questions how the primary endpoint was measured in this trial.
"They did the 25-foot walking in each person's home, whereas we usually do that in the clinic. So I'm wondering if that played a factor in the results," he said.
"Could there have been some degree of variability there or in the other measures? Because clearly the two cohorts were separating with a P value of .07, and that was a trend."
Still, he added that he worries that fluoxetine might not actually be neuroprotective after all. "The argument could be that it's a mood enhancer so people did better because they felt better," said Dr Hutchinson.
That's why getting the brain MRI information will be so important, he stressed. "This will show results in relation to brain atrophy. And there may really be something there."
Dr Cambron reported nonfinancial support and traveling grants from Biogen, TEVA, Novartis, Genzyme, Merck-Serono, and Bayer, as well as honoraria and consulting fees from Genzyme, Novartis, and TEVA, all "outside this submitted work." Dr Hutchinson has disclosed no relevant financial relationships.
Congress of the European Committee for Treatment and Research in Multiple Sclerosis (ECTRIMS) 2016. Parallel Session 14: Late-Breaking News, oral presentation 253; and Plenary Session 2, oral presentation 258. Both presented September 17, 2016.
Follow Deborah Brauser on Twitter: @MedscapeDeb. For more Medscape Neurology news, join us on Facebook and Twitter
Medscape Medical News © 2016 WebMD, LLC

Send comments and news tips to news@medscape.net.
Cite this: FLUOX-PMS: Antidepressant Does Not Slow MS Progression - Medscape - Sep 26, 2016.