LONDON — The phase 2b SYNERGY trial missed its primary endpoint of significantly improved disability and neurophysical function after treatment with the novel remyelinating agent opicinumab (Biogen) in patients with relapsing multiple sclerosis (MS), investigators say.
Opicinumab, previously known as BIIB033, is a monoclonal antibody that blocks LINGO-1, a negative regulator of myelination. SYNERGY was a proof-of-concept trial for the drug, with more than 418 adults with MS.
Of the participants randomly assigned to 3 or 100 mg/kg of intravenous (IV) opicinumab, along with intramuscular interferon β-1a, 47% and 40%, respectively, had confirmed improvement on combined disability/neurophysical/cognitive function scores over 72 weeks vs 49% of those who received matching placebo.
The groups receiving the two middle doses of 10 or 30 mg/kg of concurrent opicinumab did have a greater proportion of improvement responders (63% and 65%, respectively) vs the placebo group, but the overall trend test for a "linear dose response" wasn't statistically significant, the researchers report.
Diego Cadavid, MD, Biogen, Cambridge, Massachusetts, told attendees here at the Congress of the European Committee for Treatment and Research in Multiple Sclerosis (ECTRIMS) 2016 that the results suggest an inverted U-shaped dose response to opicinumab.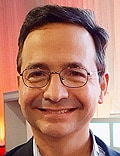 "There was also a higher proportion of improvement with shorter disease duration or less severe whole brain volume loss at baseline," said Dr Cadavid, but he added that more research is definitely needed.
"This was specifically a learning trial to try to get critical information about the dose, and about the type of patient that might benefit."
That thought was echoed by session chair Steven A. Goldman, MD, PhD, University of Rochester, New York, and the University of Copenhagen, Denmark. He told Medscape Medical News that although the study was negative, there's a "wait and see" feeling about the data.
"The results were a bit ambiguous, and the lack of clarity is a disappointment," said Dr Goldman.
"But the nature of the biology [of the drug] is such that neither the U-shaped dose-response curve they're reporting nor the preferential activity in younger patients is a surprise. It just means more needs to be done to sort it out," he said.
Previous Studies "Promising"
Dr Cadavid noted that preclinical models of the drug showed significant efficacy, while various phase 1 studies showed it to be "promising" and well tolerated.
In addition, as reported by Medscape Medical News from last year's ECTRIMS meeting, the 82-patient phase 2a RENEW study showed that the agent promoted remyelination in optic neuritis.
For SYNERGY, the investigators enrolled 418 patients aged 18 to 58 years (mean age, 39.5 years) who had a score of 2 to 6 on the Expanded Disability Status Scale (EDSS; mean baseline score ranged from 3 to 3.5). Of these participants, 330 had relapsing-remitting MS (RRMS) and 88 had secondary progressive MS.
A total of 412 were randomly assigned to a weekly 30-μg dose of interferon β-1a plus monthly infusions of opicinumab in doses of 3 (n = 45), 10 (n = 94), 30 (n = 91), or 100 mg/kg (n = 91) or matching placebo (n = 91) for 72 weeks. Final safety and efficacy analyses continued to week 84.
"This was a long, full dose ranging study that lasted almost 2 years," said Dr Cadavid. "The interferon was given to control inflammation," he added.
The primary composite outcome combined scores from the EDSS, Timed 25-Foot Walk, 9-Hole Peg Test, and 3-Second Paced Auditory Serial Addition Test.
A designation of "clinical improvement" was defined as a decrease from baseline of at least 1 point on the EDSS and/or a baseline improvement of at least 15% on the other measures for at least 3 months.
Testing a Novel Strategy
"The primary objective was to test something that had never been done before: Could we use a remyelination strategy to improve pre-existing disability in MS and previously lost neurological function? This study was designed to answer that question," said Dr Cadavid.
On the main measure, "we did not find a linear dose response, although, interestingly, we did see an increased proportion of improvement at 10 and 30 mg/kg," he said. "We also had a stronger placebo response than predicted."
When the researchers assessed confirmed improvement responders on individual components of the primary endpoint, the EDSS measurement showed that the odds ratios (ORs) vs placebo were 1.08 for the 3-mg/kg group, peaked at 1.58 for the 10-mg/kg group, and then fell to 1.09 and 0.97 for the 30- and 100-mg/kg groups — none of which were significant.
In fact, the only significant finding was improvement on the 9-Hole Peg Test with the nondominant hand for the 10-mg/kg opicinumab group, with an OR of 2.42 (95% confidence interval [CI], 1.0 - 5.7; P = .04).
"For every one of these assessments, there was a U-shaped response," said Dr Cadavid. However, he noted that the individual groups were not highly powered because of each one having so few members.
That said, efficacy on the primary endpoint by prespecified baseline demographic subgroup analyses showed significant improvement for the opicinumab-treated patients who:
Were younger than 40 years and were in the 10- and 30-mg/kg groups (unadjusted ORs, 2.7 and 4.0, respectively; P = .03 and .003);

Had RRMS and were in the 10- and 30-mg/kg groups (ORs, 2.1 and 2.2, respectively; P = .03 and .02); and

Had disease duration less than 8 years and were in the 3- and 10-mg/kg groups (OR, 3.1 in each; P < .05 and P = .02).
Baseline MRI subgroup assessments showed improvement for those who:
Had whole-brain diffusion tensor imaging (radial diffusivity) less than 0.73 × 103 mm2/s and were in the 3-, 10-, and 30-mg/kg groups (P = .02, .0002, and .02, respectively) or

Had normalized whole-brain volume of 1419.94 mL or greater and were in the 10- and 30-mg/kg groups (P < .05 and P = .02).
"This was a difficult, landmark study. But we learned a lot," said Dr Cadavid at the end of his presentation.
"We have identified candidate patient-population characteristics that seem to be showing stronger response to opicinumab. And we feel these biomarkers will be useful in informing future steps — and for a new, optimally designed study."
Strong Enough Signal?
Dr Goldman noted that amongst all the data, "there is an effect" from the study drug.
"There's a signal there. Whether it's a strong enough effect for the subgroups that they looked at to justify further effort is a decision that Biogen will have to make," he said. "Of course that will depend upon the size of the demographic in the subpopulation."
His session co-chair, Siddharthan Chandran, MD, PhD, director at the Center for Clinical Brain Sciences at the University of Edinburgh, United Kingdom, told Medscape Medical News he was disappointed when he first heard about the findings because "the unmet need remains so high."
That said, "I think there are some positives that you can take out of it. They're trying to develop novel, potentially important approaches to clinical trials so that you can try and extract a signal," said Dr Chandran.
"The end numbers, by their own recognition, are limited. So I wouldn't overinterpret either way," he said. "But there appears to be a potential window that could be worth looking at again. It might not have 'hit the headline,' but there's something there that might be worth further study."
The study was funded by Biogen. Dr Cadavid is an employee of and stockholder in Biogen. Dr Goldman has disclosed no relevant financial relationships with this study, although he was a consultant to Biogen "until a few years ago" regarding a different project. Dr Chandran has disclosed no relevant financial relationships.
Congress of the European Committee for Treatment and Research in Multiple Sclerosis (ECTRIMS) 2016. Parallel Session 9, oral presentation 192. Presented September 16, 2016.
Follow Deborah Brauser on Twitter: @MedscapeDeb. For more Medscape Neurology news, join us on Facebook and Twitter
Medscape Medical News © 2016 WebMD, LLC

Send comments and news tips to news@medscape.net.
Cite this: SYNERGY: Anti-LINGO Agent Misses Primary Endpoint in MS - Medscape - Sep 23, 2016.