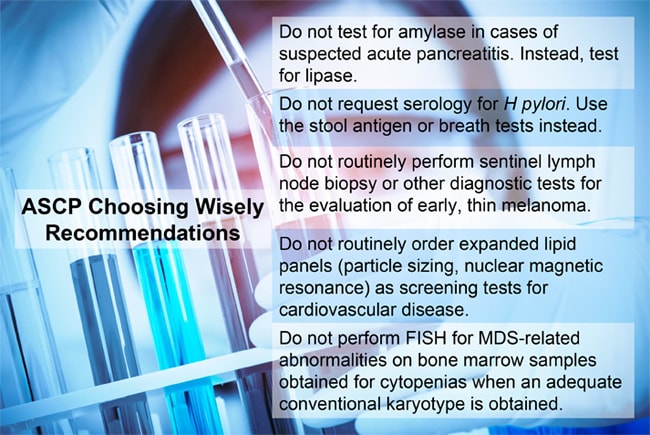 LAS VEGAS — New evidence- and consensus-based recommendations from the American Society for Clinical Pathology (ASCP) Choosing Wisely campaign are designed to reduce the overordering of unhelpful tests.
With five new recommendations to avoid tests that offer no benefit, are more costly than equally or more effective alternatives, or could actually be harmful, the ASCP list, presented here at Pathology and Lab Medicine 2016, now totals 15.
"We couched many of our recommendations within the framework of saying, 'don't do this, but instead do that'," said Lee Hilborne, MD, chair of the ASCP effective test utilization subcommittee and a past president of the organization.
Choosing Wisely is a joint initiative of the American Board of Internal Medicine Foundation and Consumer Reports. It was designed to reduce waste, medical errors, and potential harms from unnecessary practices in multiple clinical disciplines. To date, more than 75 medical societies have jumped on the Choosing Wisely bandwagon.
This iteration of the ASCP Choosing Wisely recommendations — the third — emphasizes the importance of changing habitual practices that have lost their purpose in modern healthcare, said Ilan Rubinfeld, MD, a trauma surgeon and cochair of the Lab Utilization Task Force in the Henry Ford Health System in Detroit.
Pathologists, Lab Directors in the Driver's Seat
In a review of lab orders, Dr Rubinfeld and his colleagues found that at some hospitals in the Henry Ford system, the option of automatic testing on a daily basis was available for 117 different orders. Many clinicians were writing orders for complete blood counts and electrolytes to be performed from the day of admission to the day of discharge.
"We started asking people what would be the exception if we got rid of this concept of daily labs," Dr Rubinfeld said. "Our pharmacy committee came up with three exceptions."
The daily option was retained for cyclosporine A levels and FK506 (tacrolimus) levels for organ transplant recipients.
The committee requested a daily option for a coagulation panel (prothrombin time, partial thromboplastin time, and international normalized ratio), but after alternatives were discussed with the anticoagulation team and the orders team, the request was withdrawn, he explained.
We started asking people what would be the exception if we got rid of this concept of daily labs.
Dana Altenburger, MD, a pathologist at the Advocate BroMenn Medical Center in Normal, Illinois, reported that contrary to an earlier ASCP recommendation, clinicians in her system continued to order creatine kinase–myoglobin (CK-MB) for the diagnosis of acute myocardial infarction, rather than the more specific cardiac troponin I or troponin T assay.
To reduce the improper use of CK-MB, she had discussions with the cardiology department and other affected departments, sent email reminders when an inappropriate order was submitted, eliminated the option from care maps, monitored orders and educated habitual users, and, finally, in June, made it impossible to order CK-MB for any inpatient.
To successfully reduce unnecessary test orders, Dr Altenburger explained, educate all laboratory staff (including phlebotomists, who are on the frontlines), provide a welcoming environment in which every lab worker is encouraged to buy in, and, for the project coordinator, get to every meeting necessary.
Changes are easier to implement in small systems, such as hers, she acknowledged. But if done right, the changes can result in more physician satisfaction, cost savings, fewer needle sticks, more patient satisfaction, better morale in the lab, and improved visibility for the pathology department and labs in the system.
Old Habits Die Hard
Although some clinicians struggle with change, most come on board when they understand how the recommendations can improve practice and patient care, said Dr Rubinfeld.
"For example, when a surgeon overuses labs, it tends to be preop labs prior to an operation," he told Medscape Medical News. "Why are they doing it? Because they don't want their cases cancelled. If they can be assured that their cases are not going to be cancelled, they're happy to cooperate, especially if it's not value-added stuff."
There are other ways of effecting positive change, said Dr Hilborne.
For example, to discourage the inappropriate use of low-risk human papillomavirus (HPV) testing — a previous ASCP Choosing Wisely recommendation put forward "because you don't do anything with the result" — the ASCP advocated for a change to Current Procedural Terminology coding, from a single code for HPV to codes for both low- and high-risk HPV, he reported.
"It didn't mean that you couldn't do it and that you couldn't report it, but now payers can make differential payment policies based on medical necessity," Dr Hilborne told Medscape Medical News.
Dr Altenburger and Dr Rubinfeld were honored as Choosing Wisely Champions at the meeting. Dr Hilborne, Dr Rubinfeld, and Dr Altenburger have disclosed no relevant financial relationships.
Pathology and Lab Medicine 2016: the American Society for Clinical Pathology (ASCP) Annual Meeting. Presented September 15, 2016.
Medscape Medical News © 2016 WebMD, LLC

Send comments and news tips to news@medscape.net.
Cite this: Five New Recommendations Added to List of Testing No-Nos - Medscape - Sep 16, 2016.