LONDON — Arbaclofen extended-release tablets (Biogen) can decrease spasticity related to multiple sclerosis (MS), with a better safety profile than the commonly used spasticity-fighting drug baclofen, new research suggests.
In a three-arm, phase 3 trial including more than 300 patients with MS, those who received arbaclofen extended-release (ER), 20 mg twice daily, had significantly less spasticity after 12 weeks of treatment than those who received matching placebo, and similar spasticity reductions as those who received baclofen, 20-mg tablets four times a day.
However, the arbaclofen-ER group had significantly less drowsiness and dizziness than the baclofen group, two adverse events often cited by patients as reasons they stop adhering to their medication, reported Daniel Kantor, MD, president of Kantor Neurology, Coconut Creek, Florida.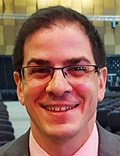 "We already knew that baclofen works, so the results about arbaclofen weren't surprising. They were what we were hoping for — in what appears to be a better version drug," he told Medscape Medical News.
He presented the findings here at the Congress of the European Committee for Treatment and Research in Multiple Sclerosis (ECTRIMS) 2016. The data have been submitted to the US Food and Drug Administration, "and discussions are ongoing," Dr Kantor said.
Alan J. Thompson, MD, dean in the faculty of brain sciences at University College London, United Kingdom, noted that although this study is interesting, "it'll be good to eventually see all the data" from it, especially more details about the participant dropouts.
"That said, we really need new treatments for spasticity," said Dr Thompson.
Multicountry Trial
Although oral baclofen, a γ-aminobutyric acid-b receptor inhibitor, is the standard treatment for spasticity related to MS, it's been shown to cause central nervous system-related adverse events.
Because the newer drug, arbaclofen-ER tablets (AERT), the R-enantiomer of baclofen, is taken just twice daily, it lets patients reduce their dosing frequency, note investigators.
For the study, 354 patients aged 18 to 65 years were enrolled in the United States, Russia, and the Ukraine. Of these participants, 59% had relapsing-remitting MS and 37% had secondary progressive MS.
All of the participants were randomly assigned to the AERT treatment group (n = 122), the baclofen group (n = 118), or the placebo group (n = 114). The treatment doses were titrated over 2 weeks, followed by a 12-week maintenance period.
The Total Numeric Transformed Modified Ashworth Scale (TNmAS), to measure spasticity in the most affected limb, and the Clinical Global Impression of Change (CGIC) were used at study's end and were the co-primary endpoints for AERT vs placebo.
Secondary endpoints included scores on the MS Spasticity Scale (MSSS-88), the Epworth Sleepiness Scale (ESS), and the Drowsiness Numeric Rating Scale.
At baseline, the average TNmAS score was 7.78 for the full group. The AERT group had a significantly greater decrease in score, signifying improvement, at the end of the maintenance period than did the placebo group (–2.9 vs –1.9, respectively; P = .0004).
In addition, TNmAS changes were significantly better for the AERT group at all time points, starting at 4 weeks.
Both the CGIC and MSSS-88 measurements also showed significantly greater improvements at 12 weeks for those receiving AERT than for those receiving placebo (P = .0003 and .02, respectively).
These measures did not significantly differ between the two active treatment groups.
There were also no differences between the AERT and placebo groups on the ESS. On the other hand, patients receiving baclofen had a significantly higher sleepiness score than those receiving placebo (P = .002).
The numbers of discontinuations were 27 in the placebo, 27 in the baclofen, and 16 in the arbaclofen groups.
In the AERT group, 54% reported any adverse event vs 70% of the baclofen group and 48% of the placebo group. The numbers of discontinuations related to adverse events were 3, 15, and 6, respectively. Serious adverse events were reported by 1, 1, and 2 members of the groups.
The mostly commonly reported adverse events included somnolence, dizziness, and asthenia.
Table. Adverse Events by Treatment Group
| | | | |
| --- | --- | --- | --- |
| Adverse Events | AERT, n (%) | Baclofen, n (%) | Placebo, n (%) |
| Somnolence | 17 (14.9) | 26 (22.0) | 6 (4.9) |
| Asthenia | 13 (11.4) | 21 (17.8) | 5 (4.1) |
| Muscle weakness | 12 (10.5) | 13 (11.0) | 3 (2.5) |
| Urinary tract infection | 9 (7.9) | 12 (10.2) | 6 (4.9) |
| Dizziness | 8 (7.0) | 12 (10.2) | 4 (3.3) |
| Pollakiuria | 4 (3.5) | 8 (6.8) | 3 (2.5) |
"In summary, arbaclofen administered twice a day was efficacious, safe, and well tolerated in MS patients," said Dr Kantor. And the improvements in spasticity were detected by most objective and subjective measures, he added.
"What this study shows clinicians is that we can do better. While treatment right now might be antiquated with dosing four times a day, and antiquated in terms of side effects, there is hope around the corner."
Is It "Good Enough"?
Right after Dr Kantor's presentation, Dr Thompson, who was the session co-chair, pointed out that "you skipped most of Europe in your study!"
He later told Medscape Medical News that this makes him question the study's generalizability a bit. "I wish there had been an interesting collection of centers and countries included."
When asked about this, Dr Kantor answered that the investigators wanted to include the United States and then also focus on areas where spasticity is undertreated, which includes Russia and the Ukraine.
Assessing patients in Germany, France, or England, for example, would not have yielded as many treatment-naive patients because those countries provide a wide variety of options, he explained.
Other concerns brought up by Dr Thompson included the study's short duration and the list of treatment-related adverse events with the drug.
"It's an interesting study but the question for me is: Can baclofen ever be made really good enough? And is making it a little bit more specific and getting a longer duration of action really going to make a difference?" he pondered.
"There were quite a few dropouts and the side-effect profile is quite high. It looks better than what we've currently got. But the question is: How much better is it?"
Still, he concluded that "it's great" that studies on spasticity are being conducted. "We haven't had a spasticity drug for a long time. And it would be good to see one."
The study was funded by Osmotica Pharmaceutical. Dr Kantor has received speaking and/or consulting fees from Osmotica, AbbVie, Acorda, Avanir, Bayer, Biogen Idec, Depomed, Genentech/Roche, Genzyme/Sanofi, Novartis, Otsuka, and Questcor/Mallinckrodt. Dr Thompson has disclosed no relevant financial relationships.
Congress of the European Committee for Treatment and Research in Multiple Sclerosis (ECTRIMS) 2016. Parallel Session 5, oral presentation 128. Presented September 15, 2016.
Follow Deborah Brauser on Twitter: @MedscapeDeb. For more Medscape Neurology news, join us on Facebook and Twitter
Medscape Medical News © 2016 WebMD, LLC

Send comments and news tips to news@medscape.net.
Cite this: Arbaclofen-ER Decreases MS Spasticity, Better Tolerated Than Baclofen - Medscape - Sep 16, 2016.