In 2015, 15 times more antidiabetic drugs (excluding insulin) were dispensed to outpatients in the United States compared with antiobesity medications, new research shows.
Moreover, the rate of adoption of the new antiobesity medications was much slower than that for the new antidiabetic drug class, sodium-glucose cotransporter-2 (SGLT2) inhibitors, which entered the marketplace at the same time.
The research, by Catherine E Thomas, MS, from the Comprehensive Weight Control Center at Weill Cornell Medical College, New York, and colleagues, is published in the September issue of Obesity.
Specifically, she and her team aimed to see how the US Food and Drug Administration (FDA) approval of the antiobesity drugs lorcaserin (Belviq, Eisai) and phentermine/topiramate (Qsymia, Vivus) in 2012 and bupropion/naltrexone (Contrave, Takeda) in 2014 affected prescribing.
They compared this with the prescribing of SGLT2 inhibitors empagliflozin (Jardiance, Boehringer Ingelheim/Lilly), dapagliflozin (Farxiga/Forxiga, AstraZeneca) and canagliflozin (Invokana, Janssen), which were approved by the FDA to treat type 2 diabetes around the same time, in 2013 and 2014.
They found an almost exponential uptake of the SGLT2 inhibitors, but only a linear rate of adoption of the new antiobesity drugs.
"I was not surprised, [since] the underprescribing of antiobesity pharmacotherapies is widely known," Ms Thomas told Medscape Medical News in an email, although this is the first study to quantify national dispensing, she added.
Lack of Insurance Coverage Is Big Barrier to Prescribing
Barriers to prescribing antiobesity medications include lack of insurance coverage, unrealistic weight-loss expectations, and a reluctance to prescribe these agents for long-term use prior to results of long-term safety studies (given the postmarketing safety issues that appeared with previous discontinued obesity drugs), according to the researchers.
Other factors include "inadequate training of providers [and] reluctance to recognize obesity as a chronic disease that requires medical care," point out Theodore K Kyle, MD, from ConscienHealth, Pittsburgh, Pennsylvania and Fatima Cody Stanford, MD, from Harvard University, Boston, Massachusetts, in an accompanying editorial.
"The unmet need for better obesity care is considerable," they stress. To achieve this "will require more work to quantify the outcomes that current therapies can deliver in real-world settings and a deeper understanding of the most important barriers to their adoption."
Lack of insurance coverage remains a top reason for the low uptake of these newer antiobesity drugs, which can cost roughly $200 a month, Charles Billington, MD, director of medical weight management at the University of Minnesota and past president and spokesperson for the Obesity Society, told Medscape Medical News. Interestingly, SGLT2 inhibitors also cause weight reduction, which may also have influenced some physicians to prescribe them, he speculated.
To increase the uptake of "the available FDA-approved antiobesity pharmacotherapies [for appropriate] patients who have not had success with a reduced-calorie diet and exercise regimen," more physicians should become certified by the American Board of Obesity Medicine (ABOM) — the fastest growing medical specialty in the United States — or refer patients to ABOM-certified physicians, Ms Thomas said.
116 Million Potential Candidates for Weight-Loss Drugs
In the United States, an estimated 116 million adults fit the criteria for the use of antiobesity pharmacotherapy (body mass index [BMI] ≥ 30 or ≥ 27 with hypertension, type 2 diabetes, or dyslipidemia) (Obesity. 2015;23;527–531),whereas 28.9 million adults have diabetes (21 million diagnosed), Ms Thomas explained.
Moreover, US studies have reported that 46% of adults meet the criteria for the use of antiobesity pharmacotherapy, but only 2% receive these drugs (Ann Epidemiol. 2012;22:349-353; Obesity. 2015;23:1721-1728); in contrast, of the 8.4% of adults with diagnosed diabetes, 86% receive antidiabetic agents.
Thus, Ms Thomas and colleagues performed a retrospective analysis of data from 2012 to August 2015 from the IMS Health National Prescription Audit and Xponent databases to examine the adoption rates of new antiobesity drugs vs SGLT2 inhibitors.
They found that 74.0% of the antiobesity drug prescriptions were for phentermine (which has been approved by the FDA for 3-month use since 1959) and only 18.6% were for the newer antiobesity drugs.
The mean increase in prescriptions/month was 25,259 for SGLT2 inhibitors, 5154 for new antiobesity pharmacotherapies, and 2718 for phentermine.
There were 15 times more dispensed antidiabetic drug prescriptions (excluding insulin) than dispensed antiobesity prescriptions.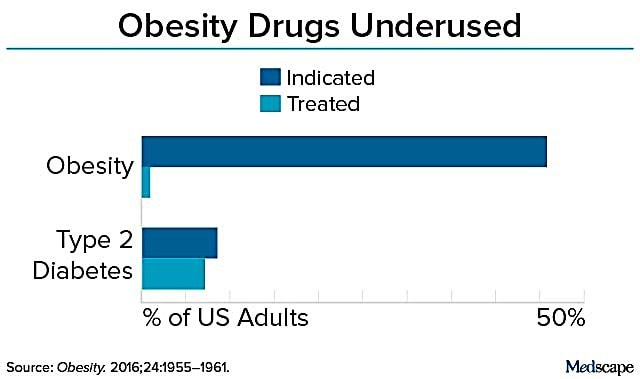 Specifically, there were 13,263,432 prescriptions for antidiabetic medications, which included metformin, sulfonylureas, thiazolidinediones, dipeptidyl peptidase (DPP-4) inhibitors, SGLT2 inhibitors, glucagonlike peptide-1 (GLP-1) receptor agonists, bromocriptine, pramlintide, meglitinides, and alpha-glucosidase inhibitors, Ms Thomas explained.
At the same time there were 870,658 prescriptions for antiobesity medications, which included benzphetamine, naltrexone/bupropion, diethylpropion, liraglutide, lorcaserin, orlistat, phendimetrazine, phentermine, and topiramate/phentermine.
The study was supported by material donated by Vivus. Thomas reports having no relevant financial relationships. Disclosures for the coauthors are listed in the article. Dr Kyle received fees from Eisai and Novo Nordisk unrelated to this editorial. Dr Stanford reports having no relevant financial relationships.
For more diabetes and endocrinology news, follow us on Twitter and on Facebook.
Medscape Medical News © 2016  WebMD, LLC

Send comments and news tips to news@medscape.net.
Cite this: 15 Antidiabetic Prescriptions for Every Antiobesity One - Medscape - Sep 09, 2016.