ROME, ITALY — Drug-eluting stents (DES) provide a clear benefit over bare-metal stents out to 3 years in patients undergoing saphenous vein graft (SVG) revascularization, the BASKET-SAVAGE trial indicates[1].
Major adverse cardiovascular events (MACE) occurred in 12.4% of DES-treated patients and 29.8% of bare-metal-stent–treated patients (P=.0012) at 3 years, driven by a fourfold reduction in target vessel revascularizations (4.5% vs 19.1%; P<0.001).
There was no difference between the DES and bare-metal-stent groups in cardiac deaths (4.5% vs 3.6%; P=0.95) or nonfatal MIs (6.7% vs. 15.5%; P=0.081), Dr Raban Jeger (University of Basel, Switzerland) said in a hot-line session at the European Society of Cardiology (ESC) 2016 Congress.
The 173-patient trial is the largest long-term SVG PCI outcome trial comparing these two types of stents and addresses concerns regarding an increased mortality risk observed after 1 year in other long-term trials such as DELAYED RRISC.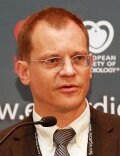 A key limitation, however, is that neither of the stents used in the prospective trial are available anymore in most countries around the world, Jeger said.
Invited discussant Dr Bernard Chevalier (Cardiovascular Institute Paris Sud, Massy, France) said the trial confirms the benefit of DES in SVG even when not using the best-in-class DES or systematic protection.
Patients (mean age 71 years; 90% male) with SVG disease were randomized to undergo stenting with the Taxus Liberté paclitaxel-eluting stent or bare-metal Liberté (Boston Scientific) stent. Use of GP IIb/IIIa inhibitors and distal-protection devices such as filter wires was strongly recommended.
The study was stopped early due to slow enrollment after reaching only 72% of its target sample size of 240 patients.
The primary end point of 12-month MACE occurred in 2.3% of DES-treated patients and in 17.9% of bare-metal-stent–treated patients (P<0.001), again driven by stark differences in target vessel revascularizations (0% vs 11.9%; P<0.001).
The overall results "are comparable to native-vessel PCI when drug-eluting stents are combined with distal-protection devices and glycoprotein IIb/IIIa inhibitors," Jeger concluded.
Chevalier, however, took up the broader clinical issue, observing that saphenous vein graft PCI is becoming "a relatively rare animal." In his own practice, for example, they constituted less than 1% of the 2065 PCIs performed over the past 12 months.
"This is due to the fact that there is a clear recommendation to promote native-anatomy PCI in case of vein failure after CABG and there is also a clear recommendation to avoid saphenous vein grafts when you do CABG," he said.
During a press briefing, however, Dr Steen Dalby Kristensen (Aarhus University Hospital, Skejby, Denmark) pointed out that SVG disease remains "a common problem in cardiology."
"It is more demanding, maybe not to do the procedure, but we know it's associated with more complications for the patient. It's a fairly nasty lesion to treat sometimes, and we need more information about how to do this," he commented to heartwire from Medscape.
Kristensen added, "It's fair to speculate that the newer drug-eluting stents will also work and they might even work better, in my opinion; So I would definitely go for a drug-eluting stent when I treat patients with vein-graft disease."
Dr Kaare Harald Bønaa (St Olav's University Hospital, Trondheim, Norway), whose NORSTENT was highlighted in the same briefing and hot-line session, pointed out that 400 of the roughly 9000 patients in that trial had SVG disease.
Jeger told the press he has not seen the shift toward arterial revascularization and that the SVG "is still a good option for surgeons" in cases where the right internal or left internal mammary artery can't be used.
Study funding was provided by the Swiss National Science Foundation, Basel Cardiovascular Research Foundation, and Boston Scientific Germany. Jeger reports no relevant financial relationships. Kristensen reports lecture fees from AstraZeneca and Aspen Pharmacare. Bønaa reports grant support from the Norwegian Research Council, the Northern Norway Health Authority, UiT–the Arctic University of Norway, the Western Norway Regional Health Authority, the Norwegian Council on Cardiovascular Disease, and St Olav's University Hospital and nonfinancial support from Northern Norway University Hospital, Haukeland University Hospital, Stavanger University Hospital, Sørlandet Hospital, Oslo University Hospital, and Feiring Heart Clinic during the conduct of NORSTENT.
Follow Patrice Wendling on Twitter: @pwendl. For more from theheart.org, follow us on Twitter and Facebook.
Heartwire from Medscape © 2016  Medscape, LLC

Cite this: DES Cut Clinical Events Long Term vs Bare-Metal Stents for SVG: BASKET-SAVAGE - Medscape - Sep 06, 2016.