Clinical Presentation
A 30-year-old black man presented to the emergency service with a chief complaint of sudden-onset pain in the left eye that has lasted for the past 3 days. He denied trauma and discharge but stated that he was very light-sensitive. His ocular history was remarkable for a diagnosis of keratoconus in both eyes since 2007. The patient was lost to follow-up after his last eye examination 2 years ago.
His systemic health history was remarkable for seasonal allergies, which were managed with oral cetirizine as needed.
On examination, best-corrected visual acuity was 20/250 in the right eye and light perception in the left eye. The pupil in the right eye was round and reactive to light, but the pupil in the left eye was not viewable due to dense corneal edema. Reverse testing showed no afferent pupillary defect. Ocular motility was normal and confrontation visual fields were full in both eyes.
Slit-lamp examination demonstrated a white and quiet right eye with inferior corneal steepening on an optic section and a light Fletcher ring. The left eye had stromal edema spanning the entire cornea, with overlying microcystic edema (Figure 1).
Intraocular pressures with Goldmann tonometry were 12 mm Hg for the right eye and soft with finger tension for the left eye.
Anterior segment optical coherence tomography (OCT) of the left eye demonstrated stromal edema and bullae (Figure 2). Fundus examination demonstrated a perfused, healthy, distinct optic nerve in the right eye with a 0.4/0.4 cup-to-disc ratio, clear macula, and no retinal pathology. The left eye fundus was not assessed due to dense corneal opacity.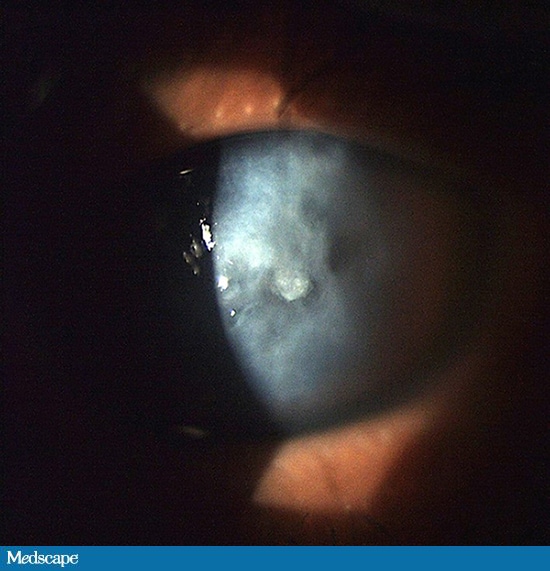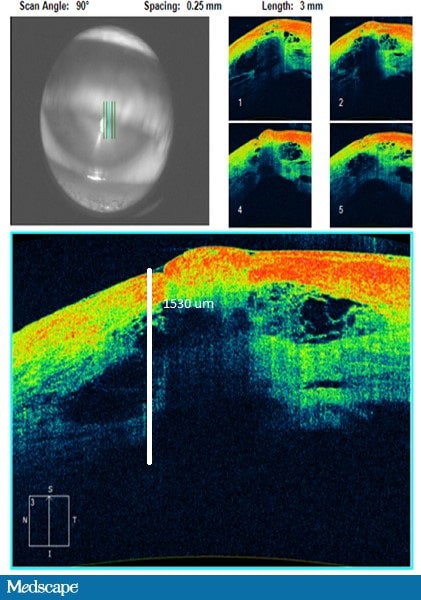 Medscape Optometry © 2016  WebMD, LLC

Any views expressed above are the author's own and do not necessarily reflect the views of WebMD or Medscape.
Cite this: A Cloudy and Painful Eye - Medscape - Sep 08, 2016.