ROME, ITALY — Reassuring data on restarting oral anticoagulation in AF patients who have suffered an intracranial hemorrhage (ICH) have come from a new Danish registry study[1].
The study, presented at the European Society of Cardiology (ESC) 2016 Congress, found a clear reduction in mortality and a trend toward reduced ischemic stroke rates in patients who resumed oral anticoagulation compared with those who didn't.
Results on recurrent bleeds were mixed—showing a nonsignificant increase in patients who had suffered a hemorrhagic stroke as the initial event but a significant reduction in those who had a traumatic induced ICH.
Lead author Dr Peter Brønnum Nielsen (Aalborg University, Denmark) commented to heartwire from Medscape: "This is a big problem about what to do with these patients who have been taking oral anticoagulants for AF but have suffered an ICH. Obviously the medication is stopped during the acute event, but the question is whether it should be restarted later."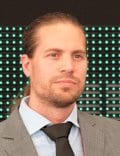 "We know anticoagulation reduces events in patients with AF, but after an ICH we have to balance this benefit with the additional bleeding risk. And evidence on benefit and harm for [oral anticoagulant] treatment following ICH is scarce."
Nielsen noted that there are no clear recommendations on the issue, but the latest ESC guidelines include a consensus statement saying that restarting oral anticoagulants 4 to 8 weeks after the ICH could be considered. This was based on a US observational study, which also suggested better outcomes for patients who restarted anticoagulation, although that study included a broader population—not just AF patients, he explained.
"Our results support the ESC consensus statement. They also confirm and extend the results of the US study," he said.
For the current study, the Danish researchers analyzed epidemiological data to investigate prognosis of resuming oral anticoagulant in ICH survivors stratified according to the cause of the bleeding.
The study used individual-level data from three nationwide registries. Patients included had been taking oral anticoagulants for AF and had had an incident hemorrhagic stroke or traumatic ICH. Those patients who survived the ICH were followed from 14 days after hospital discharge, and whether or not they resumed taking oral anticoagulants and how this affected future outcomes were examined.
The study end points were a primary diagnosis of an ischemic stroke/systemic embolism; a recurrent ICH; and all-cause mortality.
The study population included 2664 patients who had survived out to 14 days from hospital discharge following ICH. Of these, 1458 had had a hemorrhagic stroke and 1206 had had a traumatic ICH.
In terms of which type of oral anticoagulation they had been taking before the ICH, 91% were on warfarin or another vitamin K antagonist, 4% were taking dabigatran (Pradaxa, Boehringer Ingelheim), 3% rivaroxaban (Xarelto, Bayer/Janssen Pharmaceuticals), and 2% apixaban (Eliquis, Bristol-Myers Squibb).
Close to one-third of patients resumed oral anticoagulant therapy within the first year after hospital discharge. The researchers used a time-dependent variable for exposure to oral anticoagulation, as some patients may have had an event before treatment was resumed, Nielsen explained.
Patients were followed for a mean of 2.1 years, and outcomes associated with oral anticoagulation resumption were investigated by means of a Cox regression model and a propensity-matching sensitivity analysis.
Results showed that resumption of oral anticoagulation was associated with an overall reduced risk of all-cause mortality, a clear trend for a reduction in ischemic events, and no significant increase in recurrent ICH. Indeed, while patients who had had a hemorrhagic stroke showed a trend toward an increased risk of recurrent ICH if they resumed anticoagulation, those who had had a traumatic ICH event had a significantly lower recurrent ICH rate if they resumed treatment.
1-Year Event Rates Associated With Oral Anticoagulant Treatment: Patients With Previous Hemorrhagic Stroke
| | | |
| --- | --- | --- |
| Outcome | No treatment (%) | Oral anticoagulant (%) |
| Ischemic stroke/systemic embolism | 8.1 | 4.0 |
| Recurrent ICH | 5.1 | 6.9 |
| All-cause mortality | 34.0 | 21.0 |
1-Year Event Rates Associated With Oral Anticoagulant Treatment: Patients With Previous Traumatic ICH
| | | |
| --- | --- | --- |
| Outcome | No treatment (%) | Oral anticoagulant (%) |
| Ischemic stroke/systemic embolism | 3.6 | 1.9 |
| Recurrent ICH | 16.4 | 7.2 |
| All-cause mortality | 34.8 | 13.7 |
A propensity-matched sensitivity analysis including 599 hemorrhagic stroke patients and 530 traumatic ICH patients showed similar results.
For more from theheart.org, follow us on Twitter and Facebook.
Heartwire from Medscape © 2016  Medscape, LLC

Cite this: Safe, Still Works: Post-ICH Oral Anticoagulation for Atrial Fibrillation - Medscape - Sep 01, 2016.