ROME, ITALY — Using the factor Xa inhibitor edoxaban (Savaysa/Lixiana, Daiichi Sankyo) to anticoagulate patients about to undergo electrical cardioversion for their atrial fibrillation (AF) seems about as safe and effective as a more traditional strategy of using warfarin with heparin bridging, suggests a large randomized trial[1].
The ENSURE-AF trial, >2000 patients strong, suggests that the new generation of direct oral anticoagulants (DOACs) could potentially replace the cumbersome warfarin approach. In the case of edoxaban, the trial offers hope that the entire process of anticoagulation with AF cardioversion may routinely become as simple as starting with one pill 2 hours before the procedure, trialists and observers said here today at the European Society of Cardiology (ESC) 2016 Congress.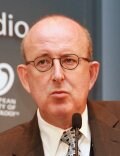 Rates of major bleeding and thromboembolism were low for patients getting edoxaban and comparable to those randomized to warfarin with enoxaparin bridging over 2 months of follow-up the trial, presented at the ESC sessions by Prof Andreas Goette (University Hospital Magdeburg, Germany), who is also first author the Lancet report released in tandem with his presentation.
"Edoxaban is an effective and safe alternative in this scenario, in the pericardioversion setting, in patients with nonvalvular atrial fibrillation, and it allows a very rapid onset of cardioversion after 2 hours from first administration of edoxaban," Goette said to the media before his formal presentation of the trial.
"Due to the fact that edoxaban kicks in within 2 hours, you can do the procedure 2 hours after the initiation of therapy, which with warfarin is definitely not possible," the rationale for using heparin bridging, he said.
The results were independent of whether cardioversion was guided by transesophageal echocardiography (TEE), which occurred in about half of patients in each of the edoxaban and enoxaparin groups. And they were independent of anticoagulation status and any other subgroup examined in the study, according the authors in the published report.
The edoxaban strategy can likely be used in "almost everyone" slated for AF cardioversion, even in patients with compromised renal function and in smaller patients, because there is the option of using the 30-mg rather than 60-mg dose as done in the trial, Goette said in an interview with heartwire from Medscape.
The trial's huge caveat, as noted by the authors, is the caution necessary in interpreting the results. "The trial was not adequately powered to show statistically significant differences for efficacy or safety end points." A noninferiority trial would have taken >10,000 patients, they write.
What the Trial Says
"For me, the 'clinical message' is more a strong promise than a message," according to Prof Joep Perk (Linnaeus University, Kalmar Sweden), speaking with heartwire . It's a challenging clinical setting, and the field wants something other than the warfarin strategy for these patients, he said. But for now, he said he would stick with the warfarin approach with heparin bridging.
But ENSURE-AF provides "convincing clinical evidence that we might be able to phase over to the new alternatives" to warfarin, said Perk, who is not associated with the trial.
Prospective randomized trials of DOACs with AF cardioversion have been rare, but there are some trial data supporting their efficacy and safety with the procedure. The X-VERT trial randomized about 1500 patients to the factor Xa inhibitor rivaroxaban (Xarelto, Janssen) or a vitamin K antagonist, as reported by heartwire , and although underpowered, suggested much the same parity between the two approaches.
"There's been no adequately powered trial of anticoagulation with cardioversion, ever, because the stroke risk is tiny," observed Dr Stuart Connolly (McMaster University, Hamilton, ON) in an interview.
But, he said, "I think the take-home message [from ENSURE-AF] is pretty clear. If you've got a patient on edoxaban coming in for cardioversion, do you need to switch him over to warfarin, or is it safe to carry on with edoxaban? And I think the message from this trial is that its safe to go on. Although it isn't definitive, it's safe."
Connolly was not involved in ENSURE-AF but was lead investigator of the RE-LY trial testing dabigatran against warfarin in nonvalvular AF.
Implications for TEE
Perk observed that European countries vary widely in whether they use TEE to guide AF cardioversion; some never do TEE, and 3 to 4 weeks of warfarin is their "first-line" approach.
ENSURE-AF, he said, carefully speculating, could potentially affect how TEE is used—it might make clinicians "more comfortable" with a decision not to go with TEE in some cases.
"In Europe at least, there are smaller hospitals where TEE is not a daily routine. And, especially in these hospitals, I think that [edoxaban] would make the procedure probably a bit safer. They will not be so strongly [inclined] to send patients to other hospitals that do TEEs."
ENSURE-AF randomized 2199 patients slated for electrical cardioversion of AF in 19 countries to an open-label anticoagulation strategy, either edoxaban 60 mg/day or 30 mg/day or warfarin with enoxaparin bridging.
About 27% of patients had not taken oral anticoagulants within the prior month. In the edoxaban group, 47% were on an oral vitamin K antagonist already and were transitioned to edoxaban, the group writes. For those getting TEE, that procedure and the cardioversion had to be performed within 3 days of randomization. In the warfarin group, those with an INR greater than 2.0 did not receive enoxaparin bridging.
The 1095 patients getting edoxaban and the 1104 on the more traditional plan averaged age 64, with a mean CHA2DS2-VASc score of 2.6, according to the researchers.
Warfarin management was tight; the group's mean time in the therapeutic INR range of 2 to 3 was 70.8%.
About 78% of patients getting edoxaban and 80% of patients in the warfarin group were successfully cardioverted.
The odds ratio (OR) for the primary intention-to-treat end point of stroke, systemic embolic event, MI, or cardiovascular mortality was 0.46 (95% CI 0.12–1.43) for edoxaban vs warfarin, on rates of 1% and nearly 1% respectively.
For the primary safety end point of major or "clinically relevant nonmajor bleeding," the rates were again 1% for both groups for an OR of 1.48 (95% CI 0.64–3.55). There were no intracranial bleeds, the group reports.
The results were essentially the same among patients in whom TEE was used, in both groups.
For the end point of net clinical benefit, which involved stroke, systemic embolic event, transient ischemic attack, MI, cardiovascular mortality, and major bleeding events, the edoxaban vs warfarin OR was 0.50 (95% CI 0.19–1.25).
"Based on the available data from these randomized controlled trials showing very low event rates of [DOACs] vs conventional vitamin K antagonist regimens, [DOACs] seem to be safe and effective first-line agents for patients with atrial fibrillation undergoing elective cardioversion, irrespective of TEE-guided strategy," write Dr Alexandros Briasoulis (Mayo Clinic, Rochester, MN) and Dr Luis Afonso (Wayne State University, Detroit, MI) in a commentary accompanying the ENSURE-AF publication[2].
ENSURE-AF was funded by Daiichi Sankyo.Goette reports serving as a consultant for Bayer, Boehringer Ingelheim, Bristol-Myers Squibb, Daiichi Sankyo, and Pfizer and as a speaker for AstraZeneca, Bayer, Berlin Chemie, Bristol-Myers Squibb, Boehringer Ingelheim, Daiichi Sankyo, Medtronic, Pfizer, and Sanofi. Disclosures for the coauthors are listed in the article. Briasoulis and Afonso had no relevant financial relationships.
Follow Steve Stiles on Twitter: @SteveStiles2. For more from theheart.org, follow us on Twitter and Facebook.
Heartwire from Medscape © 2016  Medscape, LLC

Cite this: ENSURE-AF Finds Edoxaban Safe, Effective as Warfarin at AF Cardioversion - Medscape - Aug 30, 2016.