ROME, ITALY — Head-to-head comparisons of two guideline-recommended drugs typically elicit great excitement and practice-changing data, but sometimes they just can't deliver[1].
The PRAGUE-18 trial pitted prasugrel (Effient, Lilly/Daiichi-Sankyo) against ticagrelor (Brilinta, Brilique, Possia, AstraZeneca) in patients with acute ST-segment MI (STEMI) treated with PCI but failed to show that one drug was more effective than the other in preventing the primary composite end point of death, reinfarction, urgent target vessel revascularization, stroke, bleeding requiring transfusion, or prolonged hospitalization at 7 days (odds ratio [OR] 0.98; P=0.93).
There also was no difference between the two drugs in the secondary end point of cardiovascular death, nonfatal MI, or stroke at 30 days (OR 1.06; P=0.864).
The data were presented in a hot-line session here at the European Society of Cardiology (ESC) Congress 2016 and published simultaneously in Circulation.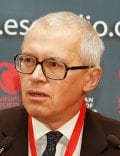 Study coauthor Dr Petr Widimsky (Charles University, Prague, Czech Republic) described the results as offering more freedom to clinicians when selecting an antiplatelet agent for their STEMI patients, but others suggested that the design and power of the study made it difficult to draw any firm conclusions.
Invited discussant Dr Keith Fox (Edinburgh Centre for Cardiovascular Science, Scotland) pointed out that no confidence bounds were presented and would likely be very wide given the lack of statistical power. By his calculations 14,190 participants would be required for the harder end points to show a 25% difference with a 4% event rate and 90% power.
The planned number of patients was 2500, but the phase 4 study was stopped early for futility after only 1230 patients were randomized.
"The study conclusions were that these [drugs] were similarly safe, but I do think we need to be cautious because of the limited size of the study and the wide confidence bounds," Fox said.
Dr Carlo Di Mario (Royal Brompton Hospital, London, UK), who was not involved in the study, commented to heartwire from Medscape, "It's better than nothing, but there are limitations." He questioned the rationale behind using a 7- rather than 30-day cutoff for the primary end point.
This point was also taken up by the panel, prompting Widimsky to reiterate that the patients had to cover the costs of the drugs after hospital discharge, and thus it was anticipated that some would switch after discharge to clopidogrel, which is fully reimbursed by local healthcare.
The problem with this argument, Fox said, is that some of the switching may be due to patient characteristics and not economic limits.
Of the 634 patients assigned to prasugrel, 28 switched to clopidogrel before day 7 and another 135 did so between days 7 and 30. Of the 596 patients assigned to ticagrelor, 29 and 185 patients, respectively, made the switch to clopidogrel.
Widimsky observed that the presumption of the study was that prasugrel would be superior during the first 7 days and that ticagrelor would have the edge later on. Both drugs carry a IB recommendation in the ESC guidelines for patients undergoing primary PCI.
Press moderator Dr Andreas Baumbach (University of Bristol, UK) threw his support behind PRAGUE-18, observing that a longer follow-up on a bigger scale is unlikely.
"It ended up a small study, but it's a clear indication that there is no obvious clinical difference, and in this case I think we should be grateful for that because I don't think that study will be done, ever again."
Administrative costs for the study were covered by the Charles University Cardiovascular Research Program. Widimsky reported receiving honoraria from AstraZeneca, Eli Lilly, and Daiichi Sankyo. Disclosures for the coauthors are listed in the article. Di Mario and Baumbach reported no relevant financial relationships.
Follow Patrice Wendling on Twitter: @pwendl. For more from theheart.org, follow us on Twitter and Facebook.
Heartwire from Medscape © 2016 

Cite this: PRAGUE-18: Prasugrel, Ticagrelor Equal in STEMI, but Questions Remain - Medscape - Aug 30, 2016.