ROME, ITALY — Remote monitoring of heart-failure patients with cardiac implantable electronic devices (CIEDs) failed to improve outcomes compared with usual care in the largest clinical so far in this area, according to results reported August 28, 2016 at the European Society of Cardiology (ESC) 2016 Congress.
"In the world's largest study of monitoring in the modern era of digital health, we could find no evidence of additional benefit from remote monitoring," Dr Martin R Cowie (Imperial College London, Royal Brompton Hospital, UK) told conference attendees. "We've treated a total of 1650 patients, an order of magnitude larger than many of studies in this area, in a median follow-up of just under 3 years, so a lot of data here," he said.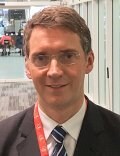 In the Remote Management of Heart Failure Using Implantable Devices (REM-HF) trial[1], conducted at nine British hospitals, researchers found that remote monitoring did not reduce mortality or the number of cardiovascular hospitalizations compared with usual care.
Patients (mean age 70 years) had one of three types of CIEDs equipped for remote monitoring: a cardiac resynchronization therapy (CRT) device with pacemaker, a CRT device with defibrillator function, or an implantable cardioverter-defibrillator (ICD).
Researchers analyzed automatically downloaded weekly data from patient devices and advised the patients about medication, lifestyle, the need for clinic visits, or other recommendations.
Usual-care patients did not have automatic downloads but had usual remote monitoring every 3 to 6 months plus usual care for heart failure.
The automatic remote monitoring "did not meaningfully change the combined primary outcome of all-cause mortality and cardiovascular optimization. There were no significant differences between any of our end points, primary or secondary," Cowie said, while "70% of the patients had additional actions taken by looking at the remote data.
"I think our conclusion in the clinical world is please do not rush to demand additional work or change the way that you deal with these [patients] unless you're convinced you'll have a better outcome for these patients," he said, adding, "Politicians love digital health. They think that it will reduce healthcare costs and modernize therapy. I think the clinical community is saying 'you need to examine that.' "
Outcomes Not Improved but Costs Saved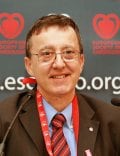 In another presentation the same day[2], Dr Giuseppe Boriani (University of Modena and Reggio Emmilia, Modena, Italy) described results of a study that showed that, for heart-failure patients with biventricular defibrillators (CRT-D), remote monitoring of their condition did not yield extra benefit compared with patients monitored during in-clinic visits.
However, he said, remote monitoring led to a reduction in healthcare costs.
The results were simultaneously published in the European Journal of Heart Failure.
"What was new in the study is the evidence of a reduction in emergency-department admissions, around a 30% reduction, and a 41% reduction in outpatient visits," Boriani said.
Boriani and colleagues conducted the Monitoring Resynchronization Devices and Cardiac Patients (MORE CARE) trial. They enrolled 917 patients, but the trial was terminated due to slow enrollment, which made it underpowered to assess for the primary end point of mortality and hospitalizations for cardiovascular or device-related causes.
Patients were randomized to either undergo remote monitoring alternated with in-office visits or to have all monitoring during in-office visits. After a median follow-up of 24 months, the researchers observed no significant difference in the rate of the primary end point.
Remote monitoring, however, showed some improvement in secondary outcomes of cost and healthcare utilization. A reduction in scheduled office visits for the remote monitoring arm reduced costs by €2899 per 100 patients (hazard ratio 0.59, P<0.001).
"Remote monitoring may also be cost saving from the perspective of the patient," Boriani said. He estimated that a reduction in travel costs over 2 years would come to €145 per patient.
ESC spokesperson Jose Ramon Gonzalez Juanatey (University Clinical Hospital, Santiago de Compostelo, Spain), told heartwire from Medscape in an interview, "I think it's important from a public-health perspective that this is a way to reduce the costs of the health system and reduce the need for a clinic visit."
Earlier in August, a Duke University Medical Center study showed that only 37% patients with CIEDs underwent remote monitoring, but those who did experienced fewer hospitalizations.
Cowie reported conducting research for Bayer, ResMed, and Boston Scientific. The MORE CARE study was sponsored by Medtronic, and Boriani reported receiving speaker's fees from Boston Scientific, Boehringer Ingelheim, and Medtronic; disclosures for the coauthors are listed in the article.
Follow Larry Hand on Twitter: @LarryHand16. For more from theheart.org, follow us on Twitter and Facebook.
Heartwire from Medscape © 2016  Medscape, LLC

Cite this: Remote Monitoring in Heart Failure: No Additional Benefit - Medscape - Aug 28, 2016.