ROME, ITALY — Individuals with an infected implantable cardiac device face more complex extraction procedures, worse clinical outcomes, and higher complication rates if previously abandoned leads are in place, a new study suggests[1].
"We understand that this study is probably not going to solve the debate, but it raises the question of whether or not we should extract those leads early on before they get an infection," Dr Mohamed Bassiouny (Cleveland Clinic, OH) said at the European Society of Cardiology (ESC) Congress 2016, where he reported the results on behalf of the investigators.
The study involved all 1386 consecutive patients undergoing transvenous lead extraction of infected ICDs at the Cleveland Clinic between August 1996 and September 2012. Of these, 323 had previously abandoned leads and 1063 did not.
Results showed that the group with abandoned leads were less likely than those without abandoned leads to achieve procedural success, defined as the successful removal of the device, all leads, and all lead material (13% vs 3.7%; P<0.0001).
Procedural Profiles and Outcomes
| | | | |
| --- | --- | --- | --- |
| Outcome | Patients with abandoned leads | Patients without abandoned leads | P |
| Procedure time, min | 170 | 115 | <0.0001 |
| Fluoroscopy time, min | 13.2 | 6.6 | <0.0001 |
| Specialized tools required (%) | 94.4 | 81.8 | <0.0001 |
| Rescue femoral workstations (%) | 14.9 | 2.9 | <0.0001 |
| Any complication (%) | 11.5 | 5.6 | 0.0007 |
Intraprocedural deaths were rare in both groups (0.6% with vs 0.2% without leads; P=0.02).
Retained lead material, however, was more common in the group with abandoned leads (11.5% vs 2.9%; P<0.0001) and was associated higher 1-month mortality compared with those without lead material left behind (7.4% vs 3.5%; P not provided).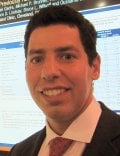 Notably, 16.2% of patients with lead material left behind required open-heart surgery to remove lead remnants and 41.2% required long-term antibiotics due to concerns of incomplete eradication of the infection, Bassiouny reported on behalf of the investigators, led by Dr Amr Barakat (Cleveland Clinic).
Session cochair Dr Christine Alonso (Ambroise Paré Clinic, Neuilly-sur-Seine, France) observed that lead removal at ICD revision or upgrade is a very important topic and questioned whether guidance should be changed based on the findings.
Bassiouny said at this point they assess the need for lead removal on a case-by-case basis but would extract abandoned leads if the patient is young, healthy, and their risk of having a major complication from the procedure is low, especially if the device is not yet infected. Patients who are frail, in more dire circumstances, or septic pose a greater challenge.
He suggested that when more hardware is present in the vascular space it tends to fibrose and stick together, allowing for vegetation to "stick in," and pointed out that vegetations on the leads were more common in patients with abandoned leads (27% vs 16.9%; P=0.002) and were larger (5 mm vs 1 mm; P=0.0003).
Dr Avraham Shotan (Heart Institute, Hillel Yaffe Medical Center, Hadera, Israel), who was not involved in the study, commented to heartwire from Medscape that two-thirds (67.8%) of patients in the study presented with device-pocket infection only, and that contrary to prior reports, these patients can be successfully managed in more than 80% of cases by cleaning the area and using very high-dose vancomycin and gentamicin for 9 days.
"If you have infection in the lead, you have no choice, you have to take it out, but sometimes it's difficult and you need expertise to do it . . . but about 60% of infections are just in the pocket. Actually, our rate of success in 53 patients: 44 were left, one [patient] died, and the other eight we extracted."
Asked about this strategy, Bassiouny told heartwire that about 40% of patients who present with pocket infection will have evidence of intravascular infection like sepsis or bacteremia when cultured. "So we believe that even if you present with a pocket, most likely it's just a matter of time before you find it in the blood."
The authors and Dr Shotan reported no relevant financial relationship.
Follow Patrice Wendling on Twitter: @pwendl. For more from theheart.org, follow us on Twitter and Facebook.
Heartwire from Medscape © 2016  Medscape, LLC

Cite this: Extract, Don't Abandon ICD Leads, for Better Infection Care - Medscape - Aug 27, 2016.