Clinicians in the South are more prone to prescribe red-flagged, high-risk medications (HRMs) such as barbiturates and alpha blockers for elderly patients than their colleagues elsewhere, according to Medicare Part D data for 2014, released by the government last week.
The drugs considered high risk by the Centers for Medicare & Medicaid Services (CMS) are derived from a list maintained by the nonprofit Pharmacy Quality Alliance. This group, in turn, relies on recommendations from the American Geriatrics Society on drugs that persons 65 years of age and older should avoid because the risk for adverse events is high, and safer drugs may be available.
The list also includes vasodilators for dementia, long-duration sulfonylureas for type 2 diabetes, the antithrombotic ticlopidine (Ticlid, Roche), skeletal muscle relaxants, and first-generation antihistamines.
The national average for prescribing HRMs is 0.86 claims per elderly beneficiary, according to CMS. In a swathe of Southern states from Arkansas to North Carolina, the rate of HRM prescribing was 1.09 to 1.31 claims per beneficiary, or 27% to 52% higher than the national average. States with the lowest HRM prescribing rates were in the far West, the upper Midwest, and New England.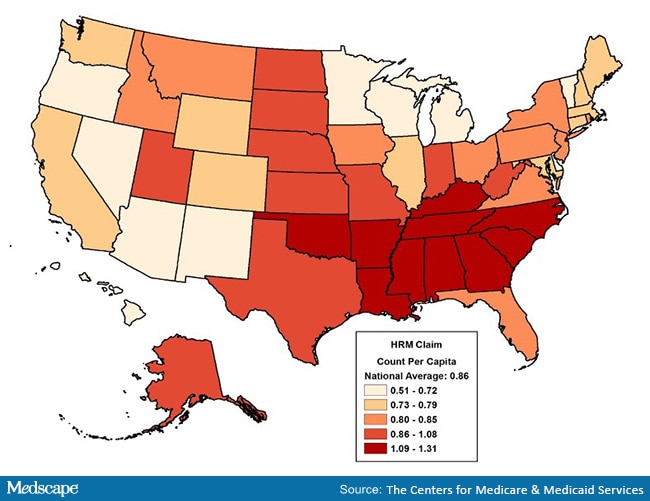 The figure shows high-risk medication fills per elderly Medicare beneficiary for 2014.
CMS also looked at geographic patterns in antibiotic prescriptions for Medicare beneficiaries and found that states with the highest rates — 1.57 to 1.85 claims for antibiotics per beneficiary — were in the South and Midwest. The national average is 1.39. CMS has worked to reduce promiscuous antibiotic prescribing to curb the rise of antibiotic resistance and its dangerous consequences for patients.
These kinds of geographic variations in prescribing, particularly as they pertain to the South, have surfaced before in the medical literature, said Julie Kuhle, RPh, vice president of measures operations at the Pharmacy Quality Alliance. The reasons why HRM and antibiotic prescribing would be higher in Southern states remain unclear, inviting further study, Kuhle told Medscape Medical News.
"I have never seen a good reason for variation," she said.
Researchers have their suspicions, however, as evidenced by a study of HRM prescribing among elderly enrollees in Medicare Advantage plans published in the Journal of General Internal Medicine in 2012. Possible explanations for Southern prescribing patterns, the authors said, include a greater prevalence of chronic disease and polypharmacy in the South, patient preferences for drugs, differences in health-plan formularies, and how Southern physicians are educated and trained.
Kuhle suggests a cultural explanation.
"It could be the idea that, 'Hey, we've done this for 10 years, 15 years. It's still okay to do, because I've never had a problem with it.' " she said.
The Sovaldi Cost Bulge
This is the second year in a row that CMS has released data on prescription drugs paid for by Medicare's Part D program. The data reflect not only national trends but also the prescribing habits of individual clinicians.
The data set, available on the CMS website, covers more than 1 million physicians and other clinicians who prescribed $121.4 billion worth of drugs in 2014 for 38 million Medicare Part D enrollees. These patients represent about 70% of all Medicare beneficiaries. The statistical treasure trove shows the total number of prescriptions dispensed (the original script plus refills) and the total cost for each prescriber and drug. Total costs don't reflect manufacturer rebates paid to Part D plan sponsors or point-of-sale rebates.
Because the data are limited to Medicare beneficiaries with Part D coverage, they may not necessarily reflect the overall prescribing patterns of an individual clinician, who also may treat patients with traditional Medicare, Medicaid, private insurance, and other forms of coverage.
The grand total of $121.4 billion in Part D costs in 2014 represents a 17% increase over the $103.7 billion in 2013. In contrast, spending on prescription drugs by all payers, public and private, rose by 12.6% during this period.
A major contributor to the Part D spike was sofosbuvir (Sovaldi, Gilead Sciences), the drug that cures hepatitis C at a cost of $84,000 for a 12-week regimen. The US Food and Drug Administration approved it in December 2013, so 2014 was its first full year on the market. By cost, it led all Part D drugs in 2014, at $3.1 billion. Subtract that from $121.4 billion for all Part D drugs in 2014, and the year-to-year cost increase was 14%.
Table. Top 10 Drugs in Medicare Part D by Costs, 2014
Drug Brand Name
Total Drug Cost (in Billions)
Beneficiary Count
Prescriber Count
Sovaldi
$3.1
33,028
7,323
Nexium
$2.7
1,405,570
286,927
Crestor
$2.5
1,752,423
266,499
Abilify
$2.5
405,048
130,933
Advair Diskus
$2.3
1,420,515
281,775
Spiriva
$2.2
1,211,919
253,277
Lantus SoloSTAR (insulin pen)
$2.0
972,882
224,710
Januvia
$1.8
789,828
190,741
Lantus
$1.7
787,077
223,502
Revlimid
$1.7
27,142
9,337

Source: Centers for Medicare & Medicaid Services
Rising costs for other brand name drugs — which have become an issue in this year's presidential campaign — also contributed to the Part D spending increase of 17%. The total cost of Lantus SoloSTAR (Sanofi Aventis), an insulin pen, rose by 47%. The total cost of Januvia (Merck Sharp Dohme) went up 22%.
However, in terms of total claims for Part D drugs, inexpensive generics led the way, constituting the entire top 10. As in 2014, lisinopril was number one, at 38.3 million claims on behalf of 7.4 million beneficiaries.
More information about Part D data for 2014 is available on the CMS website.
Follow Robert Lowes on Twitter @LowesRobert
Medscape Medical News © 2016 WebMD, LLC

Send comments and news tips to news@medscape.net.
Cite this: High-Risk Meds for Elderly Most Prescribed in South, CMS Says - Medscape - Aug 25, 2016.