Hormone replacement therapy (HRT) with a combination of estrogen and progestogen (although not HRT with estrogen alone) increases the risk for breast cancer to a much greater extent than has previously been reported, and the longer the duration of use, the greater the risk, new research shows.
"Our research shows that some previous studies are likely to have underestimated the risk of breast cancer with combined oestrogen-progestogen HRT," senior author, Anthony J. Swerdlow, MD, professor of epidemiology, the Institute of Cancer Research (ICR), London, United Kingdom (UK), said in a statement.
"We found that current use of combined HRT increases the risk of breast cancer by up to threefold, depending on how long HRT has been used," he reported.
The new findings are published in the British Journal of Cancer and made headline news in the United Kingdom.
Breast Cancer Risk
The increased risk for breast cancer with combination HRT was first reported in 2002 from the Women's Health Initiative and in 2003 from the Million Women study, and at the time, the news led to a dramatic fall in the use of HRT. Since then, however, some more recent studies have suggested there is no increase, or little increase, in breast cancer risk.
In the latest guidelines on managing women's overall midlife health from the International Menopause Society, issued earlier this month, the authors state that the risk for breast cancer attributable to combination HRT is less than 1 per 1000 women per year of use, a risk that is similar to or lower than that seen with such lifestyle factors as obesity and alcohol consumption.
However, the UK researchers of the latest report argue that investigators in previous studies failed to use follow-up questionnaires to update HRT status or duration of use up to the point of diagnosis of breast cancer, as they themselves did.
"Without such follow-up information...we found that the excess breast cancer risk for combined MHT [menopausal hormone therapy] would be underestimated by ~53%," they note.
To arrive at the new estimates of HRT-attributable breast cancer risk, the UK researchers collected information from serial questionnaires administered to the Breakthrough Generations Study cohort to ascertain HRT use and menopausal status at study entry and during prospective follow-up.
"The first follow-up questionnaire was completed at 2.5 years after recruitment, a second at ~6 years, and a third at 9.5 years," the team writes.
On recruitment to the study, women had used estrogen-only HRT for a median of 6.5 years, while women taking the combination of estrogen plus progestogen had done so for a median of 5.5 years. For other types of HRT (over half of which was tibolone), the median duration of use was 4.5 years.
Almost two thirds of women who were using HRT when they entered the study stopped taking it later on.
During a median follow-up of 6 years, 775 invasive or in situ breast cancers were identified among 39,183 women whose age at menopause was known.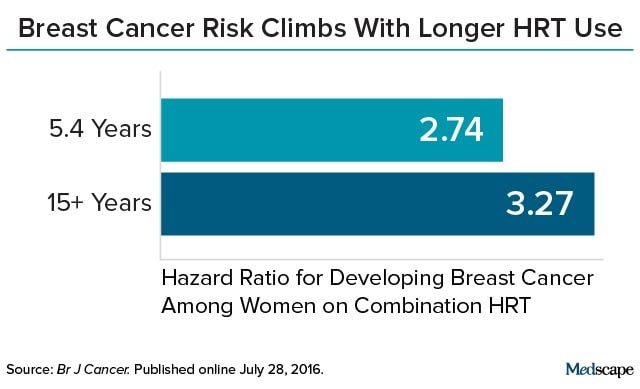 Among current users of HRT, there were 52 breast cancer cases among women taking combined HRT, 23 cases among women taking estrogen-only HRT, and 15 cases among women taking other or unknown forms of HRT.
Current users of combination HRT who had been taking the product for a median of 5.4 years had almost a three-fold greater risk for breast cancer, at a hazard ratio (HR) of 2.74, compared with those with no prior HRT use (P < .001).
After at least 15 years of combined HRT use, this risk increased over threefold, at a HR of 3.27 (P = .002).
For unspecified types of HRT, breast cancer risk increased significantly with current use compared with no history of use (P < .001), but duration did not appear to alter that risk.
Past HRT use and the type of HRT product used did not significantly increase breast cancer risk, Dr. Jones added.
Overweight/Obesity Also Increased Risk
Dr Jones and colleagues also noted that as body mass index (BMI) increased, breast cancer risk also increased significantly among never users and past users of HRT (P < .001 and P = .39, respectively).
Breast cancer risk also increased among current users of combined HRT within each category of BMI, Dr Jones noted.
However, the relative increase in breast cancer risk among current HRT users was smaller as BMI increased, and women with the lowest BMI of less than 25 kg/m2 had more than a threefold increased risk for breast cancer (P < .001) as well.
An analysis of the news on the National Health Service's Behind the Headlines webpage points out that the study included a large cohort of women. However, the risk increase for combined HRT is based on only 52 of the 39,183 women taking the combined pill who developed breast cancer.
Of these, only 7 women had been taking the pill for more than 15 years. Therefore, the analysis was based on a very small number, which may mean the risk associations are not completely accurate.
In addition, assessments were based on self-report questionnaires, so recall bias is possible, the report notes.
In response to the news, Heather Currie, MD, spokesperson for the Royal College of Obstetricians and Gynaecologists, and chair, British Menopause Society, said in a statement that HRT is an effective treatment for menopausal symptoms, particularly for the management of hot flushes.
"However, the risks and benefits are different for each woman, depending on her own medical history, her family history and her menopausal symptoms," she observed.
"To take or not take HRT or other treatments for menopausal symptoms is an individual choice [but] for many women, any change in breast cancer risk is outweighed by the benefit on their quality of life, bearing in mind that there are many other factors that increase the risk of breast cancer, for example, lifestyle factors," Dr Currie said.
Also reacting to the news, Baroness Delyth Morgan, chief executive of the research charity Breast Cancer Now, commented: "On balance, some women will feel HRT to be a necessity."
"But in order to minimize the risk of breast cancer during treatment, it is recommended that the lowest effective dose is used for the shortest possible time," she said.
"The good news is that the increased risk of breast cancer begins to fall once you stop using HRT," she added.
The study was funded by Breast Cancer Now, the ICR, and the Royal Marsden/ICR National Institute for Health Research Biomedical Research Centre. The authors have disclosed no relevant financial relationships.
Br J Cancer. 2016;115:607–615. Full text
Follow Medscape Oncology on Twitter: @MedscapeOnc
Medscape Medical News © 2016 WebMD, LLC

Send comments and news tips to news@medscape.net.
Cite this: Risk for Breast Cancer With HRT Higher Than Thought? - Medscape - Aug 24, 2016.