Weekly training with brain-machine interface (BMI) technology can eventually re-engage spinal cord nerves injured by trauma that led to lower-limb paralysis — even in patients who have been paralyzed for more than a decade, new research suggests.
The multistage BMI-based neurorehabilitation program used virtual reality, touch technology sleeves, robotic walkers, and a custom-designed "brain-controlled robotic exoskeleton."
Although the study was small, with only eight patients, investigators say the results were huge. All eight experienced partial improvements in pain localization and fine/crude touch sensation after 12 months of training. They also regained voluntary muscle control in areas below the level of the spinal cord injury (SCI), leading to an improved walking index.
In addition, half of the patients were upgraded from a diagnosis of complete to incomplete paralysis.
One of the more dramatic findings involved a woman who had been paralyzed for 13 years. But after a year of training, she could "walk" using braces and a body-weight support system. At the start of training, the patient couldn't even stand with the braces.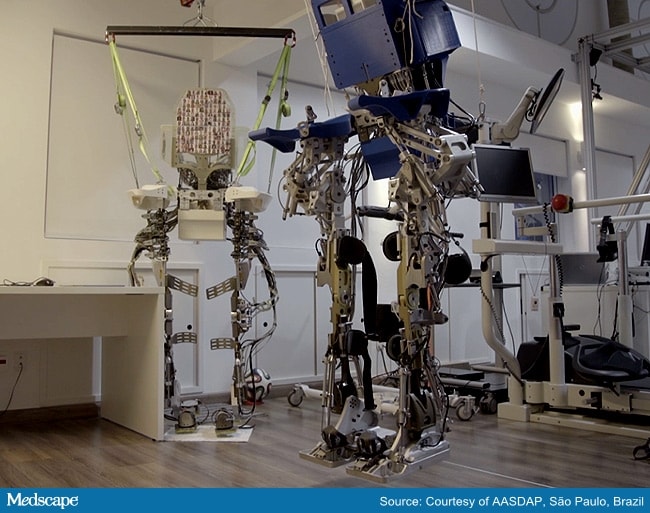 "Watching these patients has been the most touching experience of my career, and I've been in science for 33 years," principal investigator Miguel A.L. Nicolelis, MD, PhD, professor of neurobiology at Duke University, Durham, North Carolina, and co-director of the Duke Center for Neuroengineering, said to Medscape Medical News.
The study was published online August 11 in Scientific Reports.
Dr Nicolelis noted that the results were a wonderful surprise to the entire team.
"Nobody expected we would see what we found: which is partial neurological recovery of sensorimotor and visceral functions," he said in a statement. "Until now, nobody has seen recovery of these functions in a patient so many years after being diagnosed with complete paralysis."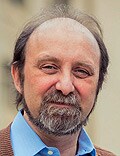 Recording, Interpreting Neuron Signals
BMI systems connect brain communication with computers and even prosthetics. Figuring out how to record neuron signals, extract motor commands from them, and then generate movement has been something Dr Nicolelis has worked on for almost 20 years.
In 1999, he published a paper showing that rats with brain-implanted microelectrodes could learn to control a robotic lever to dispense water by only using brain activity.
Further research with primates that used a virtual reality system to control three-dimensional avatar movements and robotic limbs, along with a brain activity–recording study in humans published in 2004, led to better understanding of "how the brain codes movement," said Dr Nicolelis.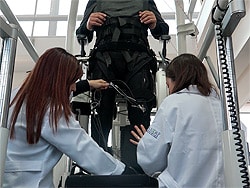 "Yet, no study in animals or in human subjects has indicated that long-term BMI training could induce any type of clinical recovery," write the investigators.
The current study is part of the Walk Again Neurorehabilitation project of São Paulo, Brazil, which collaborates with 100 scientists in 25 countries dedicated to helping those with various conditions, including SCI, regain mobility. Dr Nicolelis is originally from Brazil.
The eight patients, all of whom had had an SCI for more than a year, were enrolled in a center in São Paulo in 2014. They began with 2 hours of BMI training per week and were fitted with caps lined with 11 noninvasive electrodes to record brain activity through the use of electroencephalography (EEG).
At first, the patients, while seated, learned to operate avatars of themselves within an immersive virtual reality environment using brain activity. Another part of the process used walking devices with weight-supported, overhead harnesses.
Other training systems included lower-limb exoskeletons and a haptic feedback sleeve. These sleeves use different vibrations so that patients would experience one sensation when, for example, the avatar walked on sand and another sensation when it walked on grass.
"The tactile feedback is synchronized and the patient's brain creates a feeling that they are walking by themselves, not with the assistance of devices," said Dr Nicolelis.
100% Had Improvements
After 1 year of training, 100% of the patients "experienced neurological improvements in somatic sensation…in multiple dermatomes," report the researchers.
"EEG analysis revealed clear signs of cortical functional plasticity, at the level of the primary somatosensory and motor cortical areas, during the same period," they add.
Four of the patients improved their classification on the American Spinal Injury Association (ASIA) Impairment Scale over 12 months. Three moved from an ASIA A to C classification, and one moved from a B to a C classification.
In addition, all eight patients showed improvements in gastrointestinal function and overall skin condition. Peak bowel function was reached at the 3-month point, with frequency correlating with increased standing/walking hours.
Improvements in tactile, vibration, and nociceptive perceptions began at 7 months before reaching their peaks at 10 months. Temperature perception did not improve, although the researchers note that that could be due to a lack of specificity in the measurement.
"These findings suggest, for the first time, that long-term exposure to BMI-based protocols enriched with tactile feedback and combined with robotic gait training may induce cortical and subcortical plasticity capable of triggering partial neurological recovery," the investigators summarize.
They add that this shows that "BMI applications should be upgraded from merely a new type of assistive technology to help patients regain mobility…to a potentially new neurorehabilitation therapy."
Reawakening Spinal Nerves
Dr Nicolelis noted that past research has suggested that patients diagnosed with complete paralysis may still have some intact spinal nerves. They just "went quiet" after not being used for years. But BMI could reawaken those nerves.
"No matter how small the number of nerves that survive the original trauma, you may be able to rekindle them enough to send a message from the brain to the spinal cord."
He reported that the patients are still being followed and that a new paper will describe benefits after 28 months of training.
"People may think a year or 2 years of training is a lot because they think with their own values. But to a person with a diagnosis of complete paralysis, this time frame is acceptable," he said.
In addition, he said that they are conducting another trial that will compare patients with long-term SCI to those with earlier injuries to see if effects from BMI methods are greater in the latter group. So far, 16 patients have been recruited, and it is hoped that "significantly more" will be added.
The study was funded by grants from the Brazilian Financing Agency for Studies and Projects; the Brazilian Ministry of Science, Technology, and Innovation (MCTI); and the Itaú Unibanco SA. The study authors have disclosed no relevant financial relationships.
Sci Rep. Published online August 11, 2016. Full text
Follow Deborah Brauser on Twitter: @MedscapeDeb. For more Medscape Neurology news, join us on Facebook and Twitter
Medscape Medical News © 2016 WebMD, LLC

Send comments and news tips to news@medscape.net.
Cite this: 'Brain-Controlled Robotics' Re-engage Spinal Cord Nerves in Patients With Paralysis - Medscape - Aug 12, 2016.