High levels of physical activity can reduce the risk for five major diseases, including type 2 diabetes, new research shows.
Findings from the systematic review and meta-analysis were published online August 9 in the BMJ by Hmwe H Kyu, PhD, of the University of Washington, Seattle, and colleagues.
The data, from a total 174 studies comprising 149,184,285 total person-years of follow-up, suggest that the more total regular daily physical activity one engages in — including recreation, transportation, occupational activity, and/or daily chores — the lower the risks for breast cancer, colon cancer, diabetes, ischemic heart disease, and ischemic stroke.
However, significant reductions in those conditions were seen only with total activity levels considerably higher than the minimum 600 metabolic equivalent (MET) minutes per week recommended by the World Health Organization for health benefits. That 600 METs equates to about 150 minutes/week of brisk walking or 75 minutes/week of running. (A MET is defined as the ratio of the metabolic rate during that activity to the metabolic rate when resting.)
Risks of the five conditions dropped significantly with an increase in MET minutes per week from 600 to 3000 to 4000, with less additive benefit seen above that level.
For reference, the authors say, "a person can achieve 3000 MET minutes/week by incorporating different types of physical activity into the daily routine — for example, climbing stairs 10 minutes, vacuuming 15 minutes, gardening 20 minutes, running 20 minutes, and walking or cycling for transportation 25 minutes on a daily basis would together achieve about 3000 MET minutes a week."
But any physical activity is better than none, senior author Mohammad H Forouzanfar, MD, PhD, assistant professor of global health at the University of Washington, told Medscape Medical News.
"This amount might seem a bit large, but this is about total activity across all domains of life.…For people who currently don't exercise, clinicians could encourage them to incorporate physical activity into their daily routines, [such as] turning household chores into exercise. It is also important to consider that we didn't detect a threshold for the benefits, and more activity at every level is recommended, considering the overall condition of individuals."
Another recent meta-analysis of trials involving more than one million individuals indicated that an hour of moderate-intensity activity, such as brisk walking or cycling, offsets the health risks of 8 hours of sitting. The message that physical inactivity is a killer — leading to 5.3 million premature deaths annually worldwide, which is as many as caused by smoking and twice as many as associated with obesity, has been emerging over the past few years, with warnings that "sitting is the new smoking."
Dose-Response Relationship
This new research is the first meta-analysis to quantify the dose-response association between total physical activity across all domains and the risk of five chronic diseases. The 174 prospective cohort studies included 35 for breast cancer, 19 for colon cancer, 55 for diabetes, 43 for ischemic heart disease, and 26 for ischemic stroke. (Some included more than one end point.)
For studies that measured physical activity quantitatively but not in METs, the authors calculated MET minutes/week based on the reported duration and intensity of activity, assigning 4 METs to the time spent in moderate-intensity activities and 8 METs to vigorous activities.
Higher levels of total physical activity were associated with lower risks of all five outcomes.
With the development of diabetes, for example, compared with no physical activity, those with 600 MET minutes per week (the minimum recommended level of activity) had a 2% lower risk. That risk reduction jumped by an additional 19% with an increase from 600 to 3600 METs/week. Gains were smaller above that, with the increase of total activity from 9000 to 12,000 MET minutes/week yielding only an additional 0.6% diabetes reduction.
Overall, compared with insufficiently active individuals (total activity < 600 MET minutes/week), the risk reduction for those in the highly active category (≥ 8000 MET minutes/week) was 14% for breast cancer; 21% for colon cancer; 28% for diabetes; 25% for ischemic heart disease; and 26% for ischemic stroke.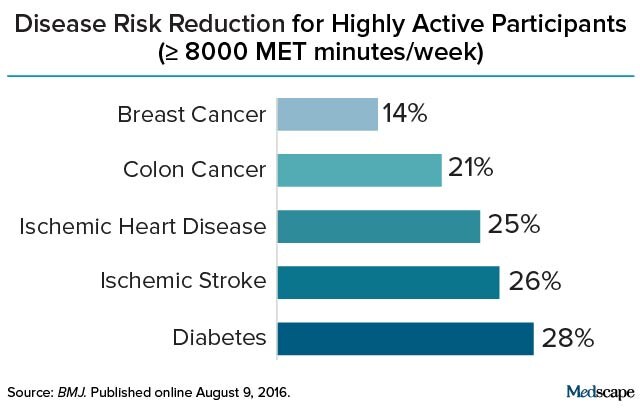 How Should Physical Activity Be Quantified?
In an accompanying editorial, Dr Philippe Autier of the University of Strathclyde Institute of Global Public Health, Glasgow, Scotland, and the International Prevention Research Institute (iPRI), Lyon, France, and Cécile Pizot, MS, a research statistician at iPRI, write that the study "represents an advance in the handling of disparate data on a lifestyle factor that has considerable importance for the prevention of chronic diseases."
However, they also point out that the current classification system developed to normalize the assignment of METs to specific physical activities does not resolve the issue of heterogeneity across trials.
"Because the study is based on the MET — a measure of volumes of activity combining intensity, frequency, and duration — it cannot tell us whether risk reductions would be different with short-duration intense physical activity or longer-duration light physical activity."
To that, Dr Forouzanfar countered, "Standardizing physical activity into METs, rather than using largely heterogeneous and noncomparable activity measures across different types of activities, is a strength of using METs."
In addition to the heterogeneity problem with using METs, Drs Autier and Pizot say, "This study cannot identify those factors likely to modify the association between physical activity and health outcomes" such as the influence of hormone-replacement therapy, which would "abolish the protective properties of physical activity."
Future studies assessing the health benefits associated with physical activity should rely on standardized internationally validated questionnaires like the International Physical Activity Questionnaire (IPAQ), they recommend.
Dr Forouzanfar told Medscape Medical News that he agrees the IPAQ is "by far the best tool to capture all types of activities, but its assessment and eventually MET value still rely on self-report. Moreover, the MET value of activities varies across different populations and the amount of METs per activity varies significantly even in [the same] person."
Physical activity measurement can be improved significantly by calculating the duration and intensity by more objective methods such as pedometers and accelerometers, he added.
Nonetheless, he said that the current study shows that "the incremental benefit by increasing physical activity is promising and has a message for everybody with different levels of activity. The significant health benefits by increasing physical activity up to 3000 MET minutes per week is very promising and doable for many people."
The study was funded by the Bill and Melinda Gates Foundation. The authors and the editorialists have no relevant financial relationships.
For more diabetes and endocrinology news, follow us on Twitter and on Facebook.
Medscape Medical News © 2016 WebMD, LLC

Send comments and news tips to news@medscape.net.
Cite this: Get Moving: High Physical-Activity Level Reduces Risk of 5 Diseases - Medscape - Aug 10, 2016.