Between electronic health records (EHRs), mountains of paperwork, and the pressure to see as many patients as possible, the medical profession is experiencing skyrocketing rates of burnout. Some specialties report burnout levels as high as 55%, according to Medscape's most recent lifestyle survey of nearly 16,000 physicians across 25 specialties.
To continue the ongoing dialog with physicians, on July 28, Medscape held a panel discussion, Beating Burnout: Essential Help for Physicians, in an effort to determine the primary sources of stress and what can be done about it.
Arthur Caplan, PhD, a medical ethicist at New York University (NYU) Langone Medical Center, New York City, who is also a Medscape contributor, moderated the panel of four top experts in the field, including Carol A. Bernstein, MD, associate professor of psychiatry and neurology, NYU School of Medicine; Robert W. Brenner, MD, senior vice president and chief physician, Valley Health System, Ridgewood, New Jersey; Richard I. Levin, MD, president and CEO of the Arnold P. Gold Foundation; and Christine Sinsky, MD, vice president of professional satisfaction for the American Medical Association (AMA).
One major contributor to burnout, the panel concluded, is the introduction of EHRs. Some recent studies suggest that spending time inputting patient records into a computer has slashed patient face time to just 10% of the workday, Dr Levine said. EHRs create a bureaucratic burden that feels more like secretarial work than practicing medicine, Dr Brenner added.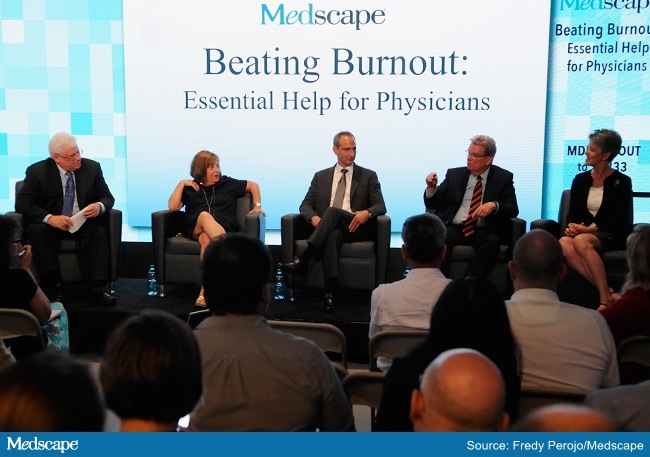 Dr Arthur Caplan (left) and panelists at the Medscape Burnout event on July 28, 2016.
This point is mirrored by the results of the Medscape lifestyle report. Bureaucratic tasks, including tasks involving EHRs, were cited among the top reasons for feelings of burnout among physicians, the report found. Physicians also complained of long hours, difficult patients, and difficult colleagues. Compassion fatigue, income concerns, and loss of control over their work also contributed significantly to their stress.
The topic of burnout certainly seemed to resonate with the 120 physicians who attended the event at Medscape's headquarters in New York City.
"Burnout is much worse today because of the way medicine is delivered now," said Dorian Roye, MD, who has been a pediatrician for 42 years with NYC Health + Hospitals. "More patients, more paperwork, less time, more stress."
Several physicians, including Alok Patel, MD, a pediatrician with Columbia Doctors in New York City, also pointed out that when you can't give your best, it has a ripple effect on patient satisfaction and outcomes.
"It leads to inconsistencies in the healthcare workload," he said. "I definitely see how it affects my ability to take care of patients."
"The healers can't heal without caring for ourselves," added Jamin Brahmbhatt, MD, a urologist from Orlando, Florida. "We need to sleep, we need to exercise. We are young doctors, and we are the future of medicine."
Acknowledging that physicians are susceptible to burnout is an important first step in fixing the problem, the panel concluded. It also helps to readjust attitude, Dr Sinsky, of the AMA, said.
"Joy in practice is the flipside of burnout," Dr Sinsky said. She told the audience that 7 years into her practice as an internist, she realized she was on the verge of burnout herself. Rather than sinking deeper into depression, she chose to realign her thinking to highlight the more positive aspects of her work.
This, she said, has helped her learn to embrace medicine once again.
Work/life balance is also an important strategy for combating burnout.
"Take every moment of your vacation time," Dr Roye, advised. "Work hard, but play hard. That's the best antidote to burnout."
Medscape Medical News © 2016 WebMD, LLC

Send comments and news tips to news@medscape.net.
Cite this: EHRs a Major Factor in Physician Burnout, Panel Says - Medscape - Aug 01, 2016.