Due to the presumed distal source of infection and necrosis of the volar pulp of the fingertip, a diagnosis of late-stage felon was made. X-rays were obtained to rule out a foreign body or possible underlying fractures and to investigate for radiographic evidence of osteomyelitis. The x-ray of the hand showed erosive changes to the index finger distal phalanx, most pronounced at the tuft, consistent with acute osteomyelitis.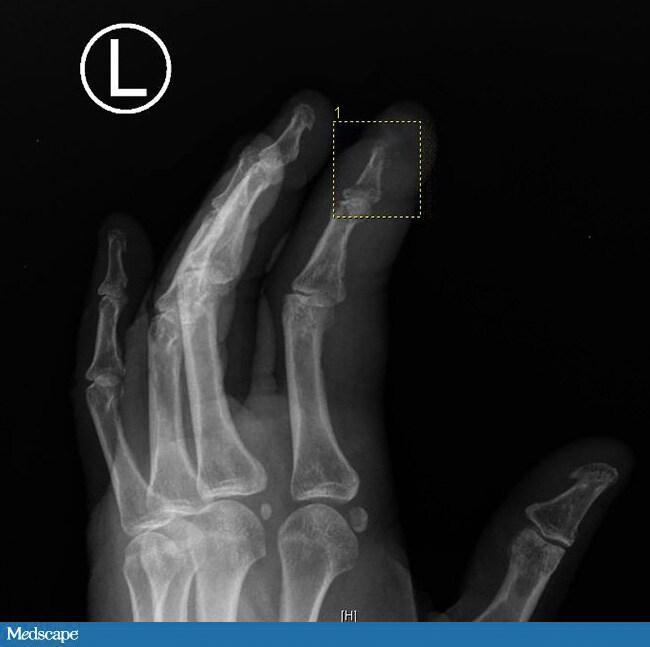 Management Plan
Intravenous antibiotics with broad-spectrum and methicillin-resistant Staphylococcus aureus (MRSA) coverage were initiated upon presentation. Following the diagnosis of felon, the finger was prepped for incision and drainage. A central longitudinal incision was made through the volar skin of the distal segment. Foul-smelling pus and necrotic soft tissue were immediately expressed. Cultures were sent. The hand was soaked in warm saline and betadine solution for 30 minutes. The incision was kept open with a small wick, and the hand was dressed.
The patient was admitted for continued IV antibiotic therapy. The level of necrosis was allowed to fully demarcate. Amputation at the level of the PIP joint was offered to the patient, but she refused.
Question 2.
Medscape Plastic Surgery © 2016 WebMD, LLC

Any views expressed above are the author's own and do not necessarily reflect the views of WebMD or Medscape.
Cite this: Case Challenge: A Diabetic Woman With Left Index Finger Pain - Medscape - Jul 28, 2016.