Physical Examination
The patient's left index finger exhibits fusiform swelling with extensive skin changes from the tip to mid-palm, including bullae and erythema. The distal aspect of the finger is cool to the touch, with firm skin and loss of underlying soft tissue bulk. There are no open wounds or sites of active drainage. The finger is tender to palpation proximal to the DIP joint but is nontender distally. There is no capillary refill in the nail bed, but the radial and ulnar digital arteries have audible Doppler signals proximal to the DIP joint. Sensation is diminished distal to the PIP joint, with two-point discrimination greater than 15 mm. Patient is noncooperative with motor examination, presumably because of pain. Aside from fusiform edema and flexed posturing, there are no other signs of flexor tenosynovitis. The hand exam is otherwise normal.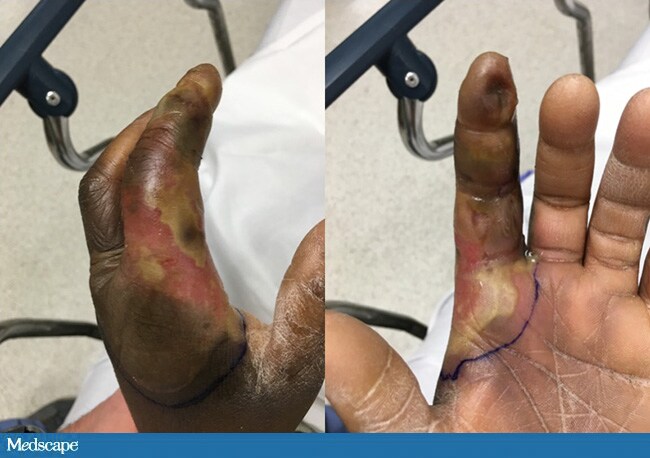 Question 1.
Medscape Plastic Surgery © 2016 WebMD, LLC

Any views expressed above are the author's own and do not necessarily reflect the views of WebMD or Medscape.
Cite this: Case Challenge: A Diabetic Woman With Left Index Finger Pain - Medscape - Jul 28, 2016.