The US Food and Drug Administration (FDA) has approved the first focused ultrasound device (ExAblate Neuro, Insightec) for the treatment of essential tremor in patients who have not responded to other treatments.
The system uses MRI during the procedure to guide delivery of focused ultrasound to ablate the ventralis intermedius area of the thalamus, which is thought to cause the tremors.
"Patients with essential tremor who have not seen improvement with medication now have a new treatment option that could help them to avoid more invasive surgical treatments," said Carlos Peña, PhD, MS, director of the Division of Neurological and Physical Medicine devices in the FDA's Center for Devices and Radiological Health, in a statement from the agency. "As with other treatments for essential tremor, this new device is not a cure but could help patients enjoy a better quality of life."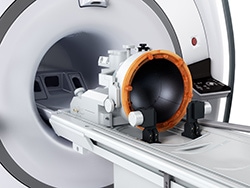 Treatments for essential tremor including β-blockers or anticonvulsant drugs; approaches to refractory tremor include deep-brain stimulation or surgical thalamotomy. Focused ultrasound thalamotomy has the advantage of being noninvasive.
Approval was based on a randomized, sham-controlled trial of 76 patients, 56 of whom received treatment with the device and 20 who received a sham procedure. In an open-label extension, 19 of 20 patients in the sham group crossed over to active treatment.
Results of the trial were presented recently at the 20th International Congress of Parkinson's Disease and Movement Disorders by William Ondo, MD, director of the Movement Disorders Clinic at Houston Methodist Neurological Institute in Texas and reported by Medscape Medical News at that time.
The procedure is conducted on an awake patient. MRI guidance of focused ultrasound allows the creation of precise stereotactic thalamic lesions through an intact skull. Ultrasound transducers converge energy onto a spot, heating it to 55 to 60 degrees Celsius for 10 to 30 seconds.
At 3 months, the primary analysis of the trial, treated patients showed a nearly 50% improvement in tremor and motor function (composite tremor/motor function score) compared with their baseline score. Patients in the control group had no improvement, and some experienced a slight worsening after the sham procedure before they crossed over to the treatment group.
At 12 months after the procedure, the treatment group retained a 40% improvement in these scores compared with baseline, the FDA statement notes.
Adverse events with treatment were consistent with those reported for thalamotomy surgery, including numbness/tingling of the fingers, headache, imbalance/unsteadiness, ataxia, or gait disturbance. Other side effects identified as possibly related to treatment with MRI-guided focused ultrasound treatments include tissue damage in an area other than the treatment area, hemorrhage in the treated area requiring emergency treatment, skin burns with ulceration of the skin, skin retraction, and scar formation and blood clots.
Treatment is contraindicated for patients who cannot have MRI, including those who have a non–MRI-compatible implanted metallic device, such as a cardiac pacemaker, those with allergies to MR contrast agents or those with body size limitations, the FD said.
It should also not be used in women who are pregnant, patients with advanced kidney disease or on dialysis, those with unstable heart conditions or severe hypertension, patients exhibiting any behavior consistent with ethanol or substance abuse or patients with a history of abnormal bleeding, hemorrhage and/or coagulopathy, the agency adds. Patients currently taking anticoagulant drugs or drugs known to increase the risk for hemorrhage, patients with a history of cerebrovascular disease (strokes) or brain tumors, and patients who are not able to tolerate the prolonged stationary position during treatment also should not have the procedure, they note
More information can be found at the FDA website.
The system received CE Mark approval in Europe in 2012 for essential tremor, tremor-dominant Parkinson's disease and neuropathic pain, the InSightec website notes, and received approval for essential tremor from Health Canada in May of this year.
For more Medscape Neurology news, join us on Facebook and Twitter.
Medscape Medical News © WebMD, LLC

Heartwire © WebMD, LLC

WebMD Health News © WebMD, LLC

Reuters Health Information ©

Send comments and news tips to news@medscape.net.
Cite this: FDA Okays Ultrasound Device (ExAblate Neuro) for Essential Tremor - Medscape - Jul 11, 2016.