The degree of disruption to the blood-brain barrier disruption assessed on MRI in patients with acute stroke is associated with the risk for and severity of intracerebral hemorrhage (ICH) after acute endovascular intervention, a new study has shown.
Previous studies have suggested a similar relationship between blood barrier disruption and ICH in stroke patients receiving thrombolysis, and it is hoped that such imaging may be used in the future to select patients for reperfusion therapies.
The current study — an analysis from the DEFUSE-2 study — was published online June 17 in Neurology.
"We found that if there was only mild blood-brain barrier disruption before treatment, then the risk of parenchymal hematoma was low," lead author, Richard Leigh, MD, from the National Institute of Health's National Institute of Neurological Disorders and Stroke, Bethesda, Maryland, commented to Medscape Medical News. "But if there was severe blood-brain barrier disruption, then there was an increased risk of parenchymal hematoma."
Every 10% increase in blood-brain barrier disruption led to a 1.69 times increased risk in the chance of parenchymal hematoma. However, a reliably predictive threshold was not identified, he said.
"We are hopeful that this information could be used to identify patients at high risk of bleeding from reperfusion therapies. Blood-brain barrier disruption is a measure of how injured the brain is. If it is too injured, we don't want to use reperfusion therapies as there is a higher risk of hematoma."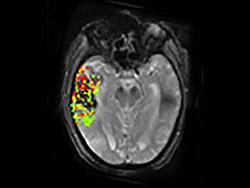 He added: "At present very few stroke patients get reperfusion treatment. We believe there are many patients who could benefit from either tPA [tissue plasminogen activator] or endovascular treatment beyond the current time limits."
They think there is a substantial population who could benefit up to 12 hours, and by using information about blood-brain barrier disruption together with other measures, such as the size of the stroke, perfusion lesion, and blood flow abnormalities, it may be possible to identify those who could both benefit from treatment and are not a high risk of bleeding, Dr Leigh added, "There is a feeling that we can identify these patients better than we are doing now."
In the paper, Dr Leigh and colleagues note that several randomized trials have now shown benefit of endovascular treatment in stroke in patients with a blocked vessel, with a greater absolute benefit achieved when imaging was used to exclude patients with large ischemic core or poor collateral blood flow.
The DEFUSE 2 trial identified an MRI profile most likely to benefit from endovascular therapy simply by using lesion volumes from diffusion-weighted imaging and perfusion-weighted imaging. However, the current analysis assessed additional information from multimodal MRI to assess the integrity of the blood-brain barrier.
The researchers examined MRI scans from 100 patients before they underwent endovascular therapy, within 12 hours of stroke onset. Of these patients, 24 developed parenchymal hematoma after endovascular treatment.
Combining the new data with findings from the DEFUSE-2 study revealed that large degrees of blood-brain barrier disruption were associated with severe bleeding after endovascular therapy. In addition, the results showed a link between the location of blood-brain barrier damage and post-treatment parenchymal hematoma.
The researchers note that ideally, blood-brain barrier disruption detected on MRI before treatment would be used to guide treatment decisions. Specifically, patients at high risk for parenchymal hematoma would be excluded from therapy. Conversely, patients who currently may go untreated because of other factors may be identified as able to safely undergo treatment based on blood-brain barrier analysis.
"Future analyses will focus on understanding the relationship between BBB [blood-brain barrier] disruption and ICH in an attempt to improve the predictive value of this measure," they conclude. "Combining BBB permeability with other measures of tissue injury may yield the best model for predicting ICH grade after treatment."
To Medscape Medical News, Dr Leigh added: "The imaging methodology we used — a postprocessing algorithm — is not available on standard MRI yet. We analyzed the data in this study in a retrospective manner. The new methodology needs to be incorporated into the scanner so the blood-brain barrier disruption can be assessed in real time. Then we would need to do another prospective study.
The DEFUSE-3 trial is now underway; researchers will use imaging data to select patients for endovascular therapy up to 16 hours after stroke onset. The patients' recovery will be closely monitored for 3 months after the treatment.   
Dr Leigh et al explain that the exact mechanism of blood-brain barrier disruption in acute stroke is unclear and may involve multiple pathways. Animal models of ischemia have identified a biphasic pattern to the disruption: Early, potentially reversible damage occurs within hours, followed by delayed, inflammatory disruption occurring days later.
Noting that the present study measured blood-brain barrier disruption within 12 hours of onset, the authors suggest that this is most likely representative of the early phase.
This study was supported by the National Institutes of Health. Dr Leigh has disclosed no relevant financial relationships.
Neurology. Published online June 17, 2016. Abstract
For more Medscape Neurology news, join us on Facebook and Twitter.
Medscape Medical News © 2016  WebMD, LLC

Send comments and news tips to news@medscape.net.
Cite this: Blood-Brain Barrier Disruption Could Guide Stroke Therapy - Medscape - Jul 01, 2016.