SAN DIEGO — Mounting research suggests that targeting calcitonin gene-related peptide (CGRP), a small protein that plays a role in the initiation, transmission, and heightened sensitivity to migraine pain, might improve outcomes for patients.
Two such studies were presented here at the American Headache Society (AHS) 58th Annual Scientific Meeting.
There are two main approaches for targeting CGRP in migraine: monoclonal antibodies given by injection to prevent attacks and small molecule, orally absorbable agents for use as acute treatment.
The first study, a phase 2b study, investigated a single intravenous (IV) dose of 100 or 300 mg ALD403, a monoclonal antibody targeted to CGRP.
The double-blind study included 662 patients with chronic migraine (>15 headache days per month) who were randomly assigned to a single intravenous dose of ALD403 300, 100, 30, or 10 mg, or to placebo.
The average number of migraine days per month was about 16 for all study groups at baseline. Headache days varied between 21.0 and 21.7 per month.
The primary endpoint was percentage of patients achieving at least a 75% reduction in migraine days per month at 12 weeks. Of the randomized patients, 588 were included in the efficacy analysis.
The study found that 33% of patients in the 300-mg group (P < .05) and 31% of patients in the 100-mg group (P < .05) had a 75% reduction in migraine days a month compared with 21% of patients in the placebo group.
"A 75% reduction in migraine days for these patients means a reduction of 12 or more migraine days a month, which equates to giving patients back roughly 2 weeks of their life each month," said Randall C. Schatzman, PhD, president and chief executive officer at Alder BioPharmaceuticals Inc, the company developing the product.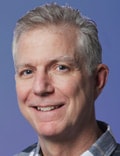 As well, there was a significant difference in the proportion of patients receiving ALD403 who met the secondary endpoint of at least a 50% reduction in migraine days: 57% of patients receiving 300 mg, 54% 100 mg, and 55% 30 mg compared with 41% in the placebo group.
The 10-mg dose was judged to be "sub-therapeutic," said Dr Schatzman. "One of the goals of the study was to identify such a dose, which is of interest to regulators. It also helps identify where the effective doses are on the dose–response curve."
The infusion was well tolerated, with adverse events among patients taking ALD403 being similar to those of placebo-treated patients.
"These results offer additional validation of the efficacy of agents targeting CGRP biology and extend our knowledge of the clinical and safety profile," commented Dr Schatzman.
There is "clearly" a need for new therapeutic options to prevent migraine, said Dr Schatzman, noting that drugs approved and/or used to prevent migraine were initially developed for other indications.
"This class of CGRP preventative therapies, if approved, would be the first new drugs specifically developed to prevent migraine and would be the first novel class of migraine treatments since the 1990s."
Dr Schatzman added that most drugs used to prevent migraine have significant tolerability and safety issues.
"The majority of patients who are prescribed these medicines are unable to tolerate them or have a limited response to them. Compliance is frequently an issue with long-term use as well."
It is expected that if and when approved, ALD403 would be administered to patients once every 3 months via injection, said Dr Schatzman. The company is examining subcutaneous and intramuscular as well as intravenous routes of administration.
He points out that there are currently no approved preventive drugs against CGRP or its receptor, although two other CGRP peptide antibodies are being studied in clinical trials of patients with migraine. An antibody directed at the CGRP receptor is also in clinical trials, he said.
It is too early to say how any of these agents, if approved, would be used in clinical practice to prevent migraine, but Dr Schatzman said experts hope "they will enhance patient and physician choice."
Migraine is a significant cause of disability worldwide. It generally affects individuals between the ages of 20 and 50 years, which are "peak productive years," Dr Schatzman said.
Acute Treatment
The second study presented at the meeting investigated ubrogepant, an oral CGRP receptor blocker. The phase 2b double-blind trial randomly assigned patients to treat a single migraine attack with ubrogepant (1, 10, 25, 50, or 100 mg) or placebo.
The analysis included 640 patients: 527 who received a dose of ubrogepant and 113 who received placebo.
The coprimary endpoints were pain freedom and headache response (reduction in headache severity from severe or moderate to mild or none) at 2 hours.
The study uncovered a positive response trend across ubrogepant doses, as measured by the proportion of participants who achieved 2-hour pain freedom (P < .001 for trend test). The 100-mg dose was significantly superior to placebo for 2-hour pain freedom (25.8% vs 8.9%), but not for the 2-hour headache response endpoint.
First author Richard Lipton, MD, professor and vice chair of neurology, Albert Einstein College of Medicine, and director, Montefiore Headache Center, New York City, noted that placebo rates were high in this study because there were so many groups.
Overall adverse events were similar between patients receiving ubrogepant and those receiving placebo.
The agent is targeted to patients with migraine with and without aura.
Not only does ubrogepant provide "a unique acute treatment," but it appears to be "free of known cardiovascular liability," Dr Lipton said.
There are currently no available acute treatments that work through the same mechanism, he said. Other small molecule CGRP receptor blockers are in development, but ubrogepant "is the furthest along," said Dr Lipton.
Triptans, which are currently the main acute treatment for migraine, cannot be used in patients with cardiovascular disease, he noted.
The next research step for this agent is to conduct phase 3 studies, he concluded.
Commenting on the ubrogepant study, Benjamin W. Friedman, MD, associate professor, Emergency Medicine, Albert Einstein College of Medicine, Bronx, New York, who helped develop guidelines for acute migraine treatment in the emergency department, said the headache world "is eagerly awaiting the availability of treatments that target CGRP and its receptors."
"These would be entirely new weapons in our armamentarium against migraine. It is becoming increasingly clear that targeting this mechanism is efficacious. We hope that long-term safety data supports approval of these various medications."
Dr Schatzman is a founder, employee, and shareholder of Alder. Dr Lipton has consulted for many companies developing migraine treatments. Dr Friedman has disclosed no relevant financial relationships.
American Headache Society (AHS) 58th Annual Scientific Meeting: Abstract LB02, presented June 11, 2016; Abstract OR09, presented June 12, 2016.
Medscape Medical News © 2016 WebMD, LLC

Send comments and news tips to news@medscape.net.
Cite this: Drugs Targeting CGRP Show Promise in Migraine - Medscape - Jun 22, 2016.