COPENHAGEN — A new refinement in the use of anti-CD19 chimeric antigen receptor (CAR) T cells involves pretreatment with low-dose chemotherapy. This approach has shown impressive, durable responses in the treatment of advanced lymphoma, with potentially less toxicity, which in these lymphoma patients is mainly neurological.
"Anti-CD19 CAR T cells preceded by low-dose chemotherapy have significant activity against advanced lymphoma," said coauthor Stephanie L. Goff, MD, a surgical oncologist with the Surgery Branch of the National Cancer Institute, National Institutes of Health, Bethesda, Maryland, who presented the findings here at the European Hematology Association (EHA) 2016 Congress.
With the antigen CD19 expressed on malignant and normal B cells, but not other normal cells, the use of genetically modified T cells to express CARs targeting CD19 has been shown to have strong activity against B-cell malignancies.
Dr Goff's team previously published a study demonstrating increased efficacy of the anti-CD19 therapy in inducing durable remissions in patients with relapsed or refractory B-cell malignancies after a high-dose chemotherapy conditioning regimen, which had been shown to enhance the activity of the transferred T cells.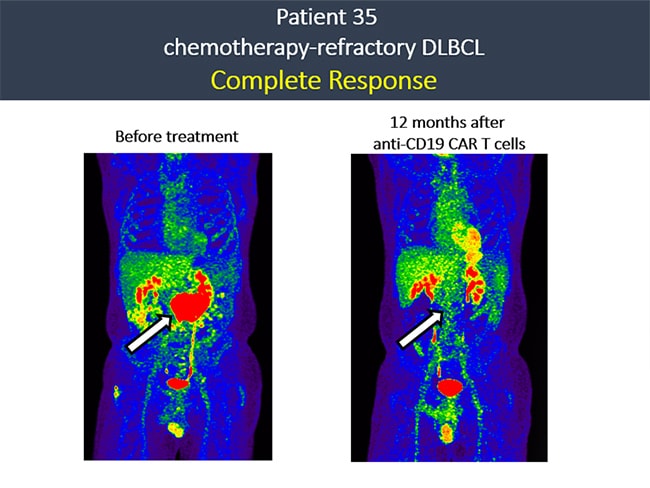 The researchers were concerned, however, that the high-dose chemotherapy may have been masking the effects of the CAR T cells.
"The chemotherapy we used was a high dose of cyclophosphamide, and that led to some concern that the responses we were seeing were simply due to a high level of an alkylating agent," Dr Goff said.
To determine whether similar efficacy could be achieved with a less toxic and easier-to-administer lower dose of chemotherapy, the researchers enrolled 22 patients with advanced lymphoma.
Nineteen of the patients had diffuse large B-cell lymphoma, a particularly aggressive lymphoma, including 11 who were chemotherapy refractory, whereas two of the patients had follicular lymphoma and one had mantle cell lymphoma.
Eighteen of the patients were treated with cyclophosphamide 300 mg/m2 daily for 3 days, and the remaining four were treated with cyclophosphamide 500 mg/m2 on the same schedule, both low-dose chemotherapy regimens.
The patients were also treated with fludarabine 30 mg/m2 on the same schedule as the cyclophosphamide, and they also received a single dose of CAR T cells 2 days after the completion of chemotherapy.
The results showed an overall response rate for the 22 patients to be 73%, with 12 patients (55%) having a complete response and four (18%) having a partial response.
Among the 19 patients with diffuse large B-cell lymphoma, the overall response rate was 68%, including complete response in nine patients (47%) and partial response in four (21%).
The complete responses lasted in duration from 6 to 20 months, and none of the patients with a complete response has yet relapsed.
The low-dose conditioning chemotherapy resulted in notable changes in mean serum proteins: interleukin 15 (IL-15) levels increased from 4 pg/mL before administration of chemotherapy to 32 pg/mL after chemotherapy, and other significant changes were seen in IL-7, monocyte chemoattractant protein-1 (MCP-1), and Perforin (all P < .0001). Dr Goff noted that those changes were "solely the result of the chemotherapy pretreatment, and not the use of the CD19."
The median peak blood CAR+ cell concentrations that were reached were 47/μL (range, 4 - 1217/μL).
High peak levels of the CAR T cells were significantly associated with remission (P = .026); however, they were also associated with neurologic toxicity (P = .003), which occurred at grade 3 or 4 levels in 12 (55%) of the 22 patients.
In trying to identify characteristics of patients more likely to have neurotoxicities, the researchers looked at a 41-protein biomarker panel and found that patients with neurotoxicities had higher peak levels of IL-10, granzyme B, and IL-15.
"In contrast to most reported anti-CD19 CAR trials in leukemia, the most troublesome side effect[s] in our lymphoma patients have been neurologic," Dr Goff said.
The neurologic effects included confusion, dysphasia, encephalopathy, and gait disturbances.
"The effects ranged anywhere from small trouble with word-finding to complete mutism (inability to speak), and would last anywhere from 4 to 5 days," Dr Goff said. She noted that all toxicities completely resolved, usually within less than 2 weeks.
Four (18%) of the 22 patients had grade 3 or 4 hypotension.
Dr Goff noted that in taking a more conservative approach in intervention that has been reported in other studies, her group only used tocilizumab twice and dexamethasone once in the study patients.
The new findings should help in the refinement of how anti-CD19 CAR T cells can be best implemented, Dr Goff said.
"Anti-CD19 CAR T cells will probably become an important part of lymphoma therapy in the near future," she said.
In other anti-CD19 CAR T-cell research presented at the meeting, researchers updated early results from the ZUMA-1 phase 1-2 study evaluating a single dose of KTE-C19, which uses the same CAR construct as in Dr Goff's trial, but manufactured in a streamlined 6- to 8-day process.
In the report on seven patients with diffuse large B-cell lymphoma of various subtypes, the results were similar to Dr Goff's study, with an overall response rate of 71% and a complete response rate of 57%.
Ongoing complete responses of 3 to 6 or more months were reported in three patients who had previously had disease progression within 6 months of autologous stem cell transplantation.
In that study, one patient had a dose-limiting toxicity of grade 4 cytokine release syndrome and neurotoxic adverse events. All other grade 2 or higher cytokine release syndrome and neurotoxic adverse events resolved within a month, and no other adverse events were reported after 1 month posttreatment.
"Additional follow up of patients enrolled in the ZUMA-1 trial demonstrated durable complete remissions after a single dose of KTE-C19, with no new KTE-C19-related adverse events," the authors reported.
Unmet Medical Need
Bertram Glass, MD, from the Department of Hematology and Stem Cell Transplantation, Asklepios Hospital St. Georg, Hamburg, Germany, said that with continued poor outcomes in aggressive B-cell lymphoma, interest in the CAR T-cell approach is high.
"Treatment of refractory aggressive B-cell lymphoma is an urgent unmet clinical need," he told Medscape Medical News.
He noted another study reported here at the meeting, showing overall response rates of patients to be as low as 26%, with long-term progression-free survival below 20%.
"The most effective modality of the standard repertoire, allogeneic stem cell transplantation, is confined with substantial short- and long-term toxicities. Any new treatment modality such as CAR-T cells, for which significantly higher overall response rate and long-term progression-free survival rates are claimed, therefore, are regarded to be of very high scientific, clinical, and also regulatory interest."
That being said, Dr Glass expressed the need for studies to report the overall numbers of patients enrolled in the entire program. "Only with this number can the overall response rate be meaningfully interpreted on the background of the results of current standard practice."
With some reports of patients having disease progression while waiting for CAR T cells that were delayed because of manufacturing problems, the implementation of a streamlined manufacturing process described in the ZUMA-1 study is important, he noted.
"The ultimate benefit of the whole method very much depends of the speed and efficacy of the manufacturing process, and all results should be reported on an intent-to-treat (ITT) basis," he said.
Such accuracy will be critical in determining the risks vs benefits of the therapy.
"Acute toxicity of the procedure seems to be quite high, and production costs are enormously high," Dr Glass said.
"This would be justified if the overall response rate and long-term progression-free survival rates calculated on an intent-to-treat basis at some time in the future are as high as calculated on a patients-treated basis," he said.
The study received support from a research agreement between Surgery Branch, the National Cancer Institute, and Kite Pharma. Dr Goff had no disclosures to report. Dr Glass is an employee of hospital company Asklepios and has received honoraria and/or financial support for scientific work from Roche, Celgene, Takeda, Janssen, Amgen, and MSD.
European Hematology Association (EHA) 2016 Congress: Abstracts S791 and S792. Presented June 12, 2016.
Medscape Medical News © 2016 WebMD, LLC

Send comments and news tips to news@medscape.net.
Cite this: CAR T Cells Effective in Advanced Lymphoma - Medscape - Jun 15, 2016.