A Booming Business
If you make foot orthotics, you can expect an exploding business in coming years. As baby boomers age and continue to participate in sports, more and more are suffering from foot injuries, such as plantar fasciitis and hallux valgus. And researchers have proposed the inserts as treatments for back, hip, knee, and ankle ailments as well.
But as the market swells, it is running into a countertrend: the argument advanced by kinesiologists that movement training and physical therapy provide better solutions to the problems for which for foot orthotics are prescribed.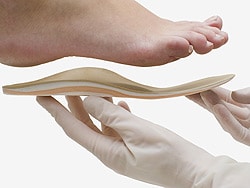 The controversy can make it hard for orthopedists to know which patients to refer to which specialists.
The market for foot orthotics reached $4.7 billion in 2015[1] and will continue to grow rapidly at least through 2021, market analysts say.[2] "The crucial driving factors accelerating the market are rapid increase in aging population; high incidence of chronic diseases and disabilities and rise in sport injuries," according to a report by IndustryARC.[2]
Patients can find an array of prefabricated orthotics available over the counter, or they can have custom orthotics made. Although custom orthotics used to require casts of the patients' feet, digital scanners have now made it easier for a wide range of practitioners to offer them, and some shoe stores are selling them.
How Orthotics Work
By affecting the way people stand and move, foot orthotics might change the pattern of forces and stresses throughout the musculoskeletal system. They provide one of the mainstays of treatment for plantar fasciitis[3] and some types of metatarsalgia.[4] They are often prescribed for hallux valgus[5] and have been studied for ankle instability.[6]
Excessive foot pronation might cause excessive internal rotation of the lower limb, resulting in strain at both the sacroiliac and lumbosacral joints, according to a recent literature review.[1] Although few randomized controlled trials have put orthotics to the test as a way of correcting this problem, the US Veterans Administration recommends them as a treatment for work-related low back pain.[7]
Lateral-wedged insoles can reduce the peak knee adduction moment and thus medial compartment loading of the knee, and have been proposed for treatment of knee osteoarthritis.[8]
In one uncontrolled study, 67 older adults reported that arch supports, on average, reduced pain in their hips, backs, feet, and knees.[9]
"I get a lot of referrals for hip pain, knee pain, and back pain," says Jeffrey DeSantis, DPM, an Orange County, California, podiatrist and trustee for the American Podiatric Medical Association. "It's usually patients who are overpronators."
He is happy to reassure patients that contemporary foot orthotics are softer and more flexible, and thus more comfortable, than those made in decades past. Some patients can get satisfaction with prefabricated orthotics, but many are better off with the custom-made variety, he says.
Medscape Orthopedics © 2016 WebMD, LLC

Any views expressed above are the author's own and do not necessarily reflect the views of WebMD or Medscape.
Cite this: Do Orthotics for Foot Injuries Really Work? - Medscape - May 26, 2016.