WASHINGTON, DC — Since the launch of the semipostal, or fundraising, breast cancer research stamp in 1998, about $90 million has been raised for the National Institutes of Health and the Department of Defense.
"This is the only stamp I'm aware of that literally saves lives," said Balazs Bodai, MD, from the University of California, Davis, in Sacramento, who engaged in a one-man lobbying campaign to create the stamp.
He recounted the history of that effort and gave an overview of some of the projects that have received money from the stamp here at the American Congress of Obstetricians and Gynecologists 2016 Annual Clinical Meeting.
The stamp has been adopted in 23 other nations, which are using the proceeds to support local research, Dr Bodai told Medscape Medical News. And China will soon create its own stamp, he reported.
In 1996, when he first floated the idea of a stamp costing more than its face value, with the difference going directly to federal breast cancer research programs, the postal service was not interested, and neither was Congress.
But Dr Bodai — whose family fled the 1957 Russian invasion of Hungary after living in a bomb shelter for 6 months — was not easily dissuaded.
Stamp collectors tried to block him, too. And, "very interestingly and very sadly, multiple breast cancer organizations opposed my efforts," Dr Bodai, who is also director of the Breast Health Center at Kaiser Permanente in Sacramento, California, told a rapt audience.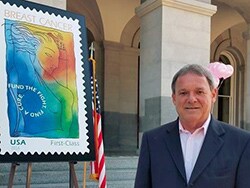 After a persistent, targeted campaign to get Members of Congress on board, in August 1997, President Bill Clinton signed the Stamp Out Breast Cancer Research Act into law.
Stamp Out Breast Cancer
The Stamp Act was quite a feat, considering that it takes an average of 7 years and $10 million for a bill to become a law, Dr Bodai said. He accomplished his goal in a 18 months, and it only cost $130,000.
Susan G. Komen has "supported the stamp since it was first issued in 1998," according to a spokesperson for the advocacy organization. And it has worked to support reauthorizations of the stamp ever since, most recently in late 2015.
The initial print run was 10 million. The stamp does not have a denomination; "it was the first 'forever' stamp," Dr Bodai told Medscape Medical News. In December 2015, the postal service sold the one-billionth stamp, he said.
This is the only stamp I'm aware of that literally saves lives.
Currently, about 11 cents of every stamp sold goes to research. But sales have taken a hit as more people move to pay bills online. "Many people don't even know the stamp exists," Dr Bodai said.
The money raised so far has moved many projects forward, he reported. The National Cancer Institute (NCI) has received 70% of the nearly $90 million raised to date, and the Department of Defense has received the rest.
Genomic Profiling, Nanotechnology Get Funds
About $8.5 million from the stamp proceeds have gone to TAILORx — the Trial Assigning Individualized Options for Treatment. The NCI-sponsored study is examining whether the genes frequently associated with risk for recurrence in women with early-stage breast cancer can be used to assign patients to the most appropriate and effective treatment. The study "might not have gotten off the ground without the stamp dollars," Dr Bodai said.
The Department of Defense has used some of the money to support projects that use special imaging to identify circulating tumor cells, which helps determine whether a therapy is effective. That project benefits not just breast cancer, but all cancers, he explained. And some of the money has gone to investigate the roles telomeres play in cell division and the use of nanotechnology to deliver chemotherapy directly to a tumor.
Sally DeNardo, MD, one of Dr Bodai's colleagues at the University of California, Davis, has used stamp proceeds to help fund a study on the use of radiolabeled nanotubes to deliver monoclonal antibodies to tumors.
Dr DeNardo is among the fortunate ones, he pointed out. About five of six research applications do not get funded, and some of those could hold a critical key to solving the cancer riddle.
His dream, he said, "is for stamp money to fund the research project that finds that key to the cure for breast cancer."
Dr Bodai and Dr DeNardo have disclosed no relevant financial relationships.
American Congress of Obstetricians and Gynecologists (ACOG) 2016 Annual Clinical Meeting. Presented May 14, 2016.
Medscape Medical News © 2016 WebMD, LLC

Send comments and news tips to news@medscape.net.
Cite this: Breast Cancer Research Stamp Funded $90 Million in Projects - Medscape - May 23, 2016.