ATLANTA ― Electroconvulsive therapy (ECT), an effective treatment option for treatment-resistant depression, may also be effective for patients with schizophrenia, new research suggests.
In a large retrospective study presented at a press briefing here at the American Psychiatric Association (APA) 2016 Annual Meeting, ECT achieved a 76.7% response rate and a 9% rate of adverse cognitive effects (ACEs).
"ECT is effective for acute treatment of schizophrenia. We saw that three quarters of our patients respond to this treatment, and it was unexpectedly associated with minimal cognitive impairment," lead researcher Tyler Kaster, MD, a second-year psychiatry resident at the University of Toronto, Canada, told reporters.
Dr Kaster explained that much of the research examining the efficacy of ECT for schizophrenia is older and does not reflect current treatment regimens with respect to ECT methods, equipment, and medications.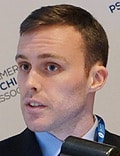 Furthermore, he noted, there is a "very high failure rate" of antipsychotics in this patient population, highlighting the need for more effective therapies.
A study by Georgios Petrides, MD, from the Zuckerside Hillside Hospital, in Glen Oaks, New York, and that was colleagues published in 2015 in the American Journal of Psychiatry showed that in patients with treatment-resistant schizophrenia, ECT yielded a substantial 50% response rate when used as adjunctive therapy with clozapine (multiple brands).
This research, said Dr Kaster, formed the rationale for the current study.
"The goal of our study was to determine treatment response and cognitive impact of ECT in a large sample of patients with schizophrenia and also examine factors associated with response," he said.
Low Rate of Cognitive Impairment
The retrospective study included data from the clinical records of 144 patients diagnosed with schizophrenia or schizoaffective disorder who attended a single, urban academic psychiatric hospital in Toronto to receive acute ECT.
The investigators found that treatment with ECT resulted in a 76.7% response rate.
"We found that three quarters [76.7%] of our patients responded to ECT. So, based on clinician notes, they either had an excellent or good response that translated into a dramatic improvement in their symptoms," Dr Kaster told Medscape Medical News.
Factors associated with treatment response included a lack of concomitant antiepileptic medication (17.9% vs 3.9%, P = .0071), a previous good response to ECT (36.4% vs 15.4%, P = .0174), and primary indication for ECT other than failed pharmacotherapy (89.7% vs 69.8%, P = .0174).
Factors that were not associated with ECT response included patient age (P = .1355), treatment with clozapine (P = .8552), and treatment with benzodiazepines (P = .4887).
The identification of factors that predicted response may aid in the future selection of patients for ECT.
Dr Kaster said he and his colleagues were surprised by the 9% rate of ACEs, which was "surprisingly low."
"It's important to mention that no patient developed severe cognitive impairment," he said.
Unfortunately, he added, they were not able to identify any factors associated with cognitive impairment, likely because only a very small number of patients developed it.
He noted that future research should aim to determine factors linked to cognitive impairment in order to further aid patient selection.
"This work highlights the fact that ECT is an important treatment option for these patients who are really experiencing a great deal of suffering as a result of their symptoms," said Dr Kaster.
Commenting on the findings for Medscape Medical News, Jeffery Borenstein, MD, APA chair of the Council on Communications and president and CEO of Brain and Behavior Research, who moderated the briefing, said the findings were promising.
Like Dr Kaster, Dr Borenstein believes ECT may provide a much needed treatment option for patients with schizophrenia.
Dr Kaster and Dr Borenstein report no relevant financial relationships.
American Psychiatric Association (APA) 2016 Annual Meeting: Poster 56, presented May 14, 2015.
Medscape Medical News © 2016 WebMD, LLC

Send comments and news tips to news@medscape.net.
Cite this: ECT an Effective Treatment Option for Schizophrenia - Medscape - May 19, 2016.