A Devil's Bargain for Athletes
Missing menisci find their way into the headlines every few weeks. Over the past year, Gaelic football player Kevin Dyas of Armagh, Northern Ireland[1]; soccer player Jérémy Mathieu of Barcelona, Spain[2]; and baseball player Michael Saunders of Toronto, Canada,[3] have all parted with portions of their menisci.
In past years, athletes could make such decisions blithely, because recovery is usually rapid and they can typically return to play with few symptoms.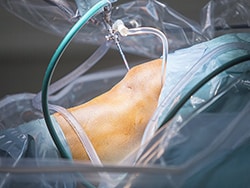 Today a procedure leaving less than 70% of a meniscus intact looks increasingly like a devil's bargain. As I discussed in last month's column, in exchange for the quick recovery, the patient faces a great risk for eventual osteoarthritis. Pros must weigh the short-term benefits to their careers against the long-term risk for crippling pain in middle age.
"I decided to have the meniscus removed, for my national team and for my club," Mathieu said, according to Sport magazine.[2] "We'll see about [the effects] when I retire. When I'm 62, maybe I will be limping."
The Best Hope for Cartilage Protection?
Mathieu will be lucky if he's pain-free for that long. While I understand the motivation of a career in the spotlight, I recommend that athletes and other young patients whose menisci are torn beyond repair get allograft replacements if and when it is timely and possible.
We don't know yet from randomized controlled trials whether a meniscus transplant can prevent arthritis, but the procedure does appear to offer the best hope for cartilage protection that we have in these patients.
Various alternatives to an allograft have cropped up over the years, such as a collagen or polyurethane scaffold. These are in early stages of clinical study.[4,5]
Some surgeons have used meniscus analogs made out of a variety of hydrogels. They may be of particular use in patients with significant arthritis, but as far as I know, no one has published results from any clinical trials.[6]
On the other hand, allograft tissue has shown significant clinical efficacy in a large percentage of cases.
In one long-term study, orthopedic surgeon Peter Verdonk, MD, PhD, of Ghent University Hospital in Ghent, Belgium, and colleagues followed 38 patients for a mean of 12 years after providing them with allograft menisci. The patients had all been experiencing pain and disability after previous meniscectomy. The transplant didn't eliminate the symptoms but it did improve them, and the improvement lasted throughout the follow-up period.[7]
Only seven of these patients needed replacement arthroplasty. Imaging suggested that the transplanted menisci were providing some protection to the patients' articular cartilage.[7]
Medscape Orthopedics © 2016 WebMD, LLC

Any views expressed above are the author's own and do not necessarily reflect the views of WebMD or Medscape.
Cite this: I Favor Allograft Replacement for Menisci Torn Beyond Repair - Medscape - May 20, 2016.