ATLANTA ― Adolescent boys with eating disorders carry a higher psychiatric load, particularly depression, and present for treatment later than their female counterparts, new research suggests.
Behavioral health professionals and pediatricians "should continue to be vigilant in screening for eating disorders as well as psychiatric comorbidities in the young male population," said Samuel Ridout, MD, PhD, Department of Psychiatry and Human Behavior, Butler Hospital, Providence, Rhode Island.
Dr Ridout reported the findings here at the 2016 American Psychiatric Association (APA) 2016 Annual Meeting.
Sex Differences
Eating disorders are the third most common chronic illness in adolescent girls, and in recent years, increased attention has been paid to eating disorders in adolescent boys, Dr Ridout noted. Limited evidence suggests there are sex differences in disease presentation and patient history.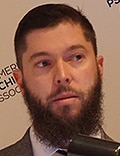 To investigate further, Dr Ridout and colleagues conducted a retrospective chart review of 127 adolescent girls and 21 adolescent boys hospitalized for treatment of an eating disorder. The mean age was about 15 years.
They found that adolescent boys had premorbid illness for a longer period than adolescent girls (348 vs 172 days; P = .04) and that the boys lost more weight before being hospitalized (15.5 vs 8.8 kg; P = .007).
Boys were also more apt to have comorbid depression, substance use, and a history of suicidal ideation.
| | | | |
| --- | --- | --- | --- |
| Psychiatric Comorbidities | Female | Male | P Value |
| Depression | 55 (43%) | 14 (67%) | .046 |
| Suicidal ideation history | 32 (25%) | 9 (43%) | .11 |
| Substance use | 4 (3%) | 2 (10%) | .008 |
Despite the higher psychiatric load, adolescent boys were less likely to have a history of psychiatric admission (21% vs 10%, P < .0001) or to have received treatment for their eating disorder (69% vs 52%, P = .13).
"These are early findings, but they do suggest that there is greater psychiatric comorbidity load in the male adolescent patients...and that males present later," Dr Ridout said.
These findings are of "particular significance," he noted, "because males complete suicide at much higher rates, at about 3 to 1." Therefore, consequences of missed opportunities for intervention may be higher in young male adolescents, Dr Ridout said.
Need for Early Detection
Cynthia M. Bulik, PhD, distinguished professor of eating disorders, Department of Psychiatry, University of North Carolina at Chapel Hill, cautioned that the sample size for the boys in this study is "exceedingly small, so we have to be very careful about generalizing from those small numbers."
Nonetheless, this study and others in the literature "argue for early detection and intervention (especially in boys) and vigilance for both depression and suicidality in all individuals with eating disorders, regardless of sex," said Dr Bulik, who was not involved in the study.
Anu Raevuori, MD, PhD, who recently published a review of eating disorders in male adolescents, told Medscape Medical News that "it's important to recognize that adolescent boys arriving in clinical attendance have even higher risk for comorbid depression than girls; and in order to reach good outcome in treatment, it is important to actively treat both eating disorder and comorbidity/ies.
"From previous research, we know that higher comorbidity in general, such as higher risk for depression, is associated with more severe eating disorder," added Dr Raevuori, adjunct professor in adolescent psychiatric epidemiology, Clinicum, Department of Public Health, University of Helsinki, Finland, who also was not involved in the current study.
"Previous studies also suggest that males with eating disorders have more somatic and psychiatric comorbidities than females with eating disorders. It might be that only those males with more severe eating disorders are detected in the clinical setting, while males with milder symptoms simply go unnoticed," Dr Raevuori explained.
"However, there is also some evidence from epidemiological studies and from family and twin studies suggesting that the same discrepancy in comorbidities might apply to males and females who have never been detected by any treatment systems and therefore have not received treatment for their eating disorder. In that case, it might be that in order to develop an eating disorder, males require a stronger genetic predisposition and/or more adverse environmental factors than females," Dr Raevuori said.
"Evidence from other gender-deviant disorders in psychiatry, such as conduct disorder/antisocial personality disorder, which are more common in boys and men, support the latter theory in that greater vulnerability or more comorbidities are required in individuals who develop disorders atypical for one's sex and against traditional gender roles."
The study had no funding. Dr Ridout, Dr Raevuori, and Dr Bulik report no relevant financial relationships.
American Psychiatric Association (APA) 2016 Annual Meeting: Abstract 6844, presented May 14, 2016.
Medscape Medical News © 2016 WebMD, LLC

Send comments and news tips to news@medscape.net.
Cite this: Boys With Eating Disorders Carry Higher Psychiatric Load - Medscape - May 16, 2016.