Editor's Note:
The recent conclusion of the junior doctors' strike in the United Kingdom provides illustration of the subject of this commentary: the call for physician unity to protect autonomy. To protect confidentiality, all personal names have been deleted and names of all organizations fictionalized.
A person can become free through acts of disobedience by learning to say no to power.... At this point in history the capacity to doubt, to criticize and to disobey may be all that stands between a future for mankind and the end of civilization.
-Erich Fromm, On Disobedience[1]
Disobedience
I confess: I am a disobedient doctor.
After a career in academic medicine and public health, I decided to work part-time in a rural health program. There I began to understand the loss of control over the conditions of medical practice that has affected so many doctors. Administrative demands multiplied and constrained my ability to care for my patients in the ways I thought best.
So I decided to disobey. A seemingly minor training requirement for the International Classification of Diseases, 10th edition (ICD-10), became the administrative demand that pushed me over the line to disobedience. But the struggle might have involved any other segment of clinical medicine, where employer mandates infringe on a doctor's freedom to practice.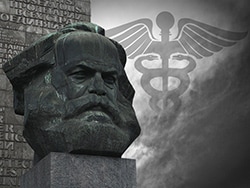 Proletarianization
Intrinsically, I have nothing against being a proletarian. I supported much of my education by working as a proletarian—for instance in a tire factory, where I learned first-hand about life as a worker in our capitalist society. Throughout my medical career, I have befriended many "nonprofessional" health workers—wonderful people whose services usually go underappreciated. Such people spend most of their waking lives doing tasks assigned by supervisors, and they enjoy little or no control over the conditions and rhythm of their work.
Medicine, I thought, would provide a way to seize control of my own work process and creativity by organizing at least a large part of the work week as I preferred. A position in academic medicine actually did allow me that liberty, despite the challenges of university bureaucracies—though there, too, autonomy started to erode, a phenomenon usually linked to financial shortfalls and measures of productivity.
However, entering the world of a nonacademic medical employee revealed the awesome scope of proletarianization—a change in doctors' previous social class position. Until the 1980s, doctors for the most part owned or controlled their means of production and conditions of practice. Although their work often was challenging, they could decide their hours of work, the staff members who worked with them, how much time to spend with patients, what to write about their visits in medical records, and how much to charge for their services.
Now the corporations for which doctors work as employees usually control those decisions. Loss of control over the conditions of work has caused much unhappiness in the profession. Early on, an esteemed clinician and mentor described medical proletarianization when it was first emerging as "working on the factory floor."[2] Most doctors have become highly paid employees of hospital and health system corporations,[3] and around one half of doctors report feeling burned out.[4,5] Owing to the mystique of professionalism and their relatively high salaries, doctors often do not realize that their discontent reflects in large part their changing social class position.
Medscape Internal Medicine © 2016 WebMD, LLC

Any views expressed above are the author's own and do not necessarily reflect the views of WebMD or Medscape.
Cite this: Doctor-Workers: Unite! - Medscape - May 20, 2016.